NCAA Scores 2012: Teams That Look Impressive Moving into Round 3
March 15, 2012

Ronald Martinez/Getty Images
The Wisconsin Badgers and Murray State Racers look excellent moving into the third round of the 2012 NCAA tournament.
Sometimes it's easy to start off a big tournament like this slow, especially with all the hype that surrounds March Madness.
There's a ton pressure on the coaching staff and players to succeed, and you can't find a bigger stage in college basketball.
Truthfully, you may not find a bigger stage in the whole sport. Even people who don't care about basketball tune into March Madness.
That's why you'll often see even the favorites come out and clank shots, play sloppy and look out of sync in the second round.
This was not the case for Wisconsin or Murray State. Here's a breakdown of their second-round wins...
Wisconsin 73, Montana 49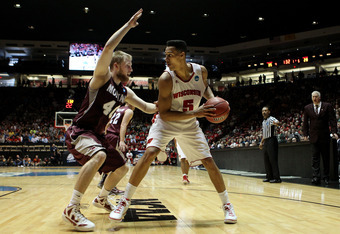 Christian Petersen/Getty Images
The Badgers came out in the second round and looked great against a far inferior opponent. This is exactly what they needed, as it's tough to tell what to expect from this team.
They shot a hot .479 from the field and hit 10 of 19 from behind the three-point line. Junior forward Ryan Evans scored 18 points and grabbed eight boards and guard Jordan Taylor added 17 points, and this was all off of the Badgers bench.
If they get production from the bench like this in the upcoming rounds, they all of a sudden become one of the more dangerous teams in the tournament. Wisconsin will match up with either No. 5 Vanderbilt or No. 12 Harvard in the Round of 32.
Murray State 58, Colorado State 41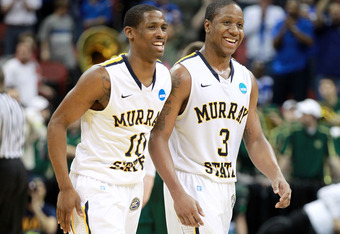 Andy Lyons/Getty Images
Murray State absolutely took care of business against the Rams, and this was a very important win and momentum-builder, being that they have to match up with No. 3 Marquette in the third round. 
The Racers got contributions from everybody on the team in the point column, but the biggest contribution came from the starting backcourt.
Guard Donte Poole notched 13 points while and Isaiah Canaan had a game high 15 points to go along with seven boards.
They only have eight players, so getting a double-digit win is huge. Marquette is going to be incredibly tough, but Murray State will be coming into the game with confidence now.