NFL Free Agency: CB Tracy Porter to Visit Cincinnati Bengals Today
March 15, 2012

Grant Halverson/Getty Images
ESPN's Adam Schefter reported earlier that former New Orleans Saints cornerback and current free agent Tracy Porter will be visiting the Cincinnati Bengals today.
The 25-year-old is also reportedly talking with the Oakland Raiders as well as the Saints, where he's played for the last four seasons.
Of those three teams, the Bengals may have the best shot at landing Porter, if only for their immense amount of salary cap space. Clearly the secondary is an area in which the Bengals would like to see improvement, and the addition of Porter would be a step in the right direction.
Over the last four years, Porter has notched 161 tackles, pulled down seven interceptions (one for a touchdown) and recovered three fumbles.
The meeting with Porter is extra important for the Bengals. They also hosted cornerback Aaron Ross today, but Pro Football Talk reports that if Ross leaves Cincinnati without a deal, he will meet with the Washington Redskins tomorrow, and any chance of the Bengals landing him after that point are likely very slim.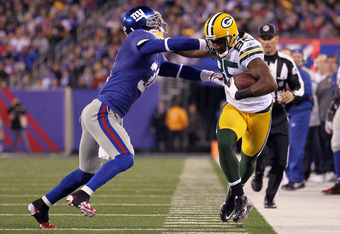 Nick Laham/Getty Images
If Cincinnati cannot come to an agreement with Ross, then having Porter in their pocket is certainly their next-best option.
In Ross' five seasons with the New York Giants, he notched 10 interceptions (two returned for touchdowns), three forced fumbles and 162 tackles. He's also a skilled punt returner.
Ross is clearly the Bengals' top option when it comes to adding a veteran corner, but Porter's a seasoned, proven veteran in his own right. I would be surprised if both of these players leave Cincinnati without a deal.