Peyton Manning Rumors: The Latest on QB to Titans, Broncos
March 16, 2012

Al Messerschmidt/Getty Images
As each day passes, the football world is beginning to grow more and more impatient with waiting on Peyton Manning's decision. 
However, at least we have narrowed the chase to approximately two teams, with a few others, such as Arizona, looking over shoulders to try to get in on the action. Here is the latest news on the Titans, a new favorite; and the Broncos, who were the first team to get a visit from Mr. Manning. 

Tennessee Titans
After abandoning their original plans to make a push for prized defensive end Mario Williams (who has just signed with the Buffalo Bills), the Titans have begun a new all-out crusade for Tennessee native Manning. 
Owner Bud Adams seems hell bent on bringing Manning back home to Tennessee, as he has reportedly offered Manning a "contract for life." In other words, Adams is prepared to offer Manning something beyond just a contract to play football—he wants to make Manning a part of the Titans organization after his playing days are over, such as offering him a front office position. 
To me, this sounds very illegal, offering a player something of value that would not count against the cap. Should something like this happen, it would set quite a precedent for future prized free agents looking for something more than just money. 
In the end, I would be surprised if such an offer would be of any value to Manning in the first place. He could get any job he wants in broadcasting or sit an an analyst's chair for the rest of his life if he wanted. Plus, would he really want to taint his legacy with the Colts by sitting in the Titans front office after his jersey is retired?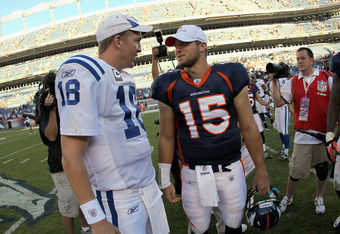 Doug Pensinger/Getty Images
It is also worth noting the Titans have landed guard Steve Hutchinson, which only adds an incentive for Peyton to come to Tennessee. 
Denver Broncos
Not much has changed in terms of what Denver has to offer, but the Titans have clearly gained a lot of ground to make this a 50-50 race. 
They must be nervous about Bud Adam's "contract for life" and hometown advantage, but they are far too deep to back out now. The PR hit they will take from turning their back on Tebow could be quite significant, but they had to know that going into this. 
Either way, the Broncos need this to end sooner than later so they can make a decision on how they are going to approach the offseason. Unlike the Titans, the Broncos are faced with the issue that they essentially have two different teams with Manning and Tebow at quarterback. Tennessee at least has a fallback plan in Jake Locker if things don't work out.