Philadelphia Eagles: DeSean Jackson Tribute, Video Style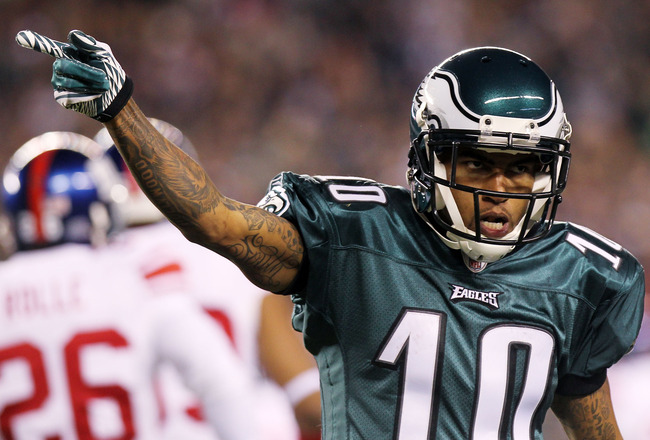 Nick Laham/Getty Images
Thanks to DeSean Jackson's shiny new $47-$51 million contract with the Philadelphia Eagles, he's going to be a bird for the next five seasons. So, in celebration, I've decided to pay a quick tribute, video-style, to the explosive little man from the left coast.
But first, I just wanted to give my official stamp of approval for this move. It was a good decision by Andy Reid and Howie Roseman to sign Jackson long-term rather than letting him play the upcoming season on a one-year franchise deal.
Jackson is an important part of the Eagles offense and is a big-play guy.
In 2011, he struggled through some maturity issues in how to handle his contract situation while still playing football. Even in somewhat of a half-hearted season, he still put up almost 1,000 yards receiving and four TDs. A happy and more focused Jackson should lead to more explosive production, and therefore, better looking stats.
The long-term deal comes as somewhat of a surprise, though. The only reports that came out about negotiations were that the sides were far apart on numbers. Basically, there were no signs that they were getting close on a deal.
There were also times it seemed questionable as to whether he'd even be back, period.
Jackson was deactivated for a game against the Arizona Cardinals due to missing a special teams meeting, was benched in the game against New England for poor play and received criticism for appearing disinterested during a game against Seattle.
However, Andy Reid defended DeSean Jackson through all of heat he received this past season. That tells me that, at the least, Reid likes Jackson, and he never viewed him as being an arrogant, pain-in-the-ass diva.
Plus, Reid probably felt a little guilty because the Eagles kind of screwed Jackson a little bit last year. They paraded in free agent after free agent and spent all kinds of money, but none on one of their star players.
They paid the likes of Vince Young and Steve Smith more than four times what Jackson made last year, for crying out loud! Talk about a slap in the face!
That would be like watching your boss triple the salaries of the biggest morons in your office while ignoring you as if you were a salad on Andy Reid's dinner table.
But anyway, I'm happy that this drama about what he's worth has finally ended. No further distractions and no further excuses for not producing. It's time for fun, big plays and big wins with DeSean Jackson.
In other words, it's time for more things like the following...
Walk-off Punt Return Touchdown
Of course, we'd have to start with a video of what is arguably the most exciting play in Philadelphia Eagles history.
This play capped an amazing comeback by the Eagles over the Giants in what became known as the "Miracle of the New Meadowlands."
Only three words can describe this play: Un Believe Able!
91-Yard Touchdown vs. Cowboys
This is a good example of what happens when DeSean Jackson breaks into the open field.
Big fourth-quarter play with the game tied at 20. Only a 10-yard pass, and he turns it into a 91 yard touchdown. Not too many players out there who can do that!
You can say his little backwards fall into the end zone was "childish" or stupid, but I thought it was quite funny, especially because it was against the hated Cowgirls.
Monday Night Football vs. the Redskins
Who can forget the opening play of this Monday Night Football game in Washington?
Remember the pre-game skirmishes and LaRon Landry talking smack on DeSean? Then to see Jackson light him up on the first play was priceless!
*Side note: I'd still take Landry in free agency on a one-year deal. Jackson makes a lot of safeties look like this!
DeSean Jackson Just Loves the Redskins!
There must be something about the Washington Redskins that brings out the best on DeSean Jackson. Here he is with two explosive touchdowns!
Seeing him score on an end-around reverse is further evidence that this guy can score from anywhere on the field. Just get the ball in his hands, and he has a chance to break a big one.
The 57-yard touchdown reception wasn't too shabby, either.
Jackson Showing Some Hustle
Instead of scoring a touchdown, this is Jackson saving a touchdown. This kind of play shows a lot about a player. It shows that he's a competitor and willing to do what it takes to help his team.
This is arguably a better play than any of his touchdowns.
Awesome Touchdowns...Almost
Damn, who snuck these in here?
DeSean and Andy
This shows why Andy Reid stoutly defended Jackson through the controversy this past year. He genuinely likes the kid!
Maybe they did another one of these after the deal was finalized?
Keep Reading

Philadelphia Eagles: Like this team?