Pittsburgh Steelers Free-Agent WR Jerricho Cotchery Drawing Interest
March 15, 2012

Justin Edmonds/Getty Images
Mike Wallace isn't the only wide receiver the Pittsburgh Steelers might not have on the roster in 2012.
Jerricho Cotchery, currently an unrestricted free agent, spent the 2011 season with the Steelers, playing in 13 games and catching 16 passes for 237 yards and two scores as the team's No. 5 receiver.
He expressed clear interest in returning to Pittsburgh in an interview last month with the Newark Star-Ledger's Jenny Vrentas. Cotchery desires a multi-year deal, something the organization is amenable to, but only if they have the cash on hand, and he does understand the Steelers' cap constraints.
The Steelers are about $6 million under the salary cap, enough to sign their incoming rookie class but potentially not enough to extend a long-term deal to Cotchery. If he returned, he could be the team's No. 4 or No. 3 receiver depending on what happens with restricted free agent Wallace.
In the meantime, Cotchery and the Steelers must play a waiting game, one that may result in Cotchery moving on before the Steelers are able to put together an offer for him.
Manish Mehta of the New York Daily News reports that Cotchery's old team, the New York Jets, are interested in bringing him back to the squad, and the Kansas City Chiefs also have "significant interest" in him.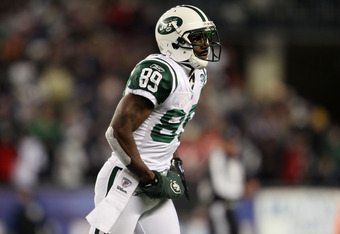 Elsa/Getty Images
If Cotchery's comments to Vrentas last month are any indicator, he wouldn't be open to a reunion with the Jets, a team he characterized as "changed" when asked about their much-publicized locker room troubles.
However, the Chiefs are working, yet again, to build a competitive squad and adding a veteran like Cotchery to the fold will likely benefit that team just as it did for the Steelers in 2011 where he fit right in very quickly.
The Steelers are likely waiting to see what ultimately happens with the Wallace situation to make a move for Cotchery, but if that process gets drawn out, they may find themselves both without Wallace this season and the chance to re-sign Cotchery. Time, as always, is the major factor.