Ronaldo, Barcelona, and 5 Bold Predictions for La Liga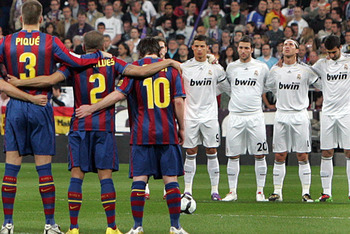 Real Madrid may have essentially clinched La Liga already, but nothing else is certain at this point.
With over a dozen clubs still very much fighting for the six European qualification spots, there are endless possibilities for how the league tables will look come May.
Levante lost its spot in fourth last week after holding on to it for much of the season. It could now miss out on European competition entirely.
In another tight race, Lionel Messi is just two goals behind Ronaldo for the Pichichi Trophy.
Last year, Ronaldo finished strong to break the league record for goals scored in a season.
But can he replicate that form this spring?
With Barcelona now shifting its focus to the Champions League, will they be forced to hold the Guard of Honor for Real Madrid?
What follows are five rather bold predictions for the remainder of La Liga's season.
Ronaldo to Retain Pichichi Trophy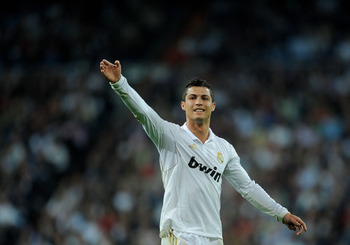 Denis Doyle/Getty Images
Cristiano Ronaldo will beat out his rival, Lionel Messi, as the top goalscorer in La Liga.
I do not care if he has 10 more penalties than Messi at the end of the season. Goals are goals and Messi has already missed three PKs.
Besides, Real Madrid's 's fast-paced, spread out attack makes the chances of a penalty being awarded for a risky or last-ditch challenge more likely than Barcelona's slower-to-build attacking play.
Ronaldo will deserve the award regardless of how many of his goals are penalties. If anyone thinks penalties should not count—or are certain when attempted—just look at Messi's conversion rate from the spot.
Let's not even get into the amount of diving that goes on to award those penalties. An accusation from either side might as well be at a mirror than at their rivals.
Ironically, Ronaldo's second Pichichi will already give him more than Messi.
I actually expect both players to break CR7's record of 41 he set just last year and Messi could even break the continental record.
Ronaldo will simply do at least one better than Messi in La Liga. I predict a goal in el Clasico for only Ronaldo.
Malaga to Qualify for the Champions League
In La Liga, there are still seven teams within striking distance of the final Champions League qualifying spot. Tenth-placed Rayo Vallecano are only six points out of fourth.
Even though there are seven teams in the running, most will argue that Athletic Bilbao, Atletico Madrid and Malaga are the three best teams going into the last two months of play.
Athletic Bilbao is probably the best right now, but they also have the toughest remaining league schedule of the three.
They could easily drop nine points in the next month with Valencia, Atletico and Barcelona on tap.
Bilbao also has the Europa League to worry about—as does Atletico Madrid. Neither side has tremendous depth, especially at the forward position.
Malaga has the least difficult schedule and is also free of European competition. They will finish fourth this season.
With Valencia continuing its poor second-half form in Europe this week, third may even be a long-shot for the Andalusians.
Bilbao to Miss out on Europe
Michael Regan/Getty Images
Sort of. They at least will not finish top six in La Liga.
Athletic Bilbao has been excellent this season. Marcelo Bielsa has turned this club into one of the most exciting to watch in all of Europe.
They have a spectacular midfield of young stars and are still alive in two competitions outside of La Liga. They are arguably the best Spanish squad outside of Real Madrid and Barcelona this season.
Some even argue that they are now favorites in the Europa League after soundly beating last year's Champions League runners-up.
With La Liga so cluttered when it comes to the Champions League spots, Bilbao will miss out. Malaga will take the fourth spot.
With Malaga & Valencia taking up the final two Champions League spots and Atletico, Levante, and Osasuna filling the two Europa League places, Bilbao will fail to qualify for either competition via league position.
Thankfully for Bilbao, they made the Copa finals against Barcelona (who will be in the Champions League) and can take a little more focus off of the league.
Spain to Rule Europe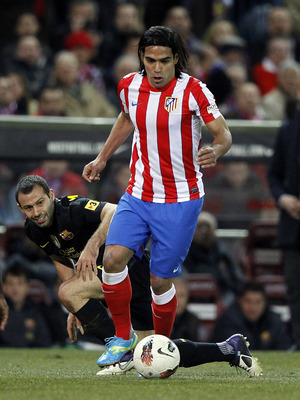 Angel Martinez/Getty Images
With three Spanish clubs moving on to the quarterfinals of the Europa League and with Real Madrid & Barcelona favored to win the Champions League, Spain looks like the dominant force in Europe this season.
I predict that a Spanish club will win both competitions.
All three clubs left in the Europa League are capable of winning the competition.
Athletic Bilbao looks like the best of the three, but Atletico Madrid and Valencia are both capable of being crowned champions. A lot will depend on the draw.
Remember that Athletic Club beat Atletico Madrid 3-0 at San Mamés this season and Valencia played Bilbao tough the first time around.
Bilbao actually get to play both clubs in the next two weeks, starting with Valencia.
In Europe's elite competition, the Champions League, only one Spanish club can be the victor.
Rather than tell you who that will be, let me tell you who it will not be...
Barcelona to Go Trophyless to End the Season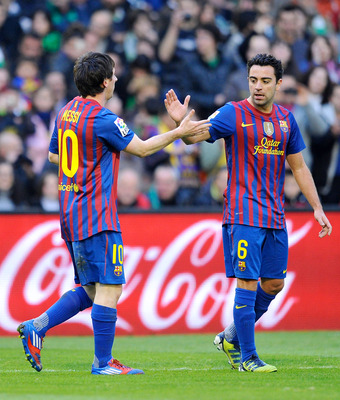 Denis Doyle/Getty Images
Barcelona is still the team to beat this season.
They are reigning champions of Spain and Europe and are once again in the Copa del Rey final.
Regardless of how this season ends, Barcelona will still be considered by many to be the best club in the world—a bit unfair to other clubs, to be sure.
That dominance and status puts a huge target on their backs.
Every club they face looks at the fixture against La Blaugrana as one to measure themselves against. Beating Pep Guardiola's men would make the entire season a success for some clubs.
That is why they will finish this season without any more trophies—beyond the three they already have won.
This goes without mentioning their defensive problems that just got much worse with Eric Abidal's upsetting absence.
Real Madrid will win the double in Spain and Europe. Whether they face the Catalans in the final—or at all—Real Madrid will give Jose Mourinho his third Champions League trophy.
In La Liga, Barcelona fans are now just hoping to avoid holding a Guard of Honor for Real Madrid. The league has been lost for a while now.
Atheltic Bilbao will defeat Barcelona in the Copa del Rey final—a well deserved potentially second trophy to show for the Lions incredible season.
Seeing how well Bilbao played Barcelona the first time and knowing that this is a winner-take-all match, Athletic Club will have as good a shot at the title as Barcelona will.
This will put the Lions in the Europa League after all. They may not qualify via their finish in La Liga, but their spot in the Copa del Rey will assure them a place in the competition anyway.
Conclusion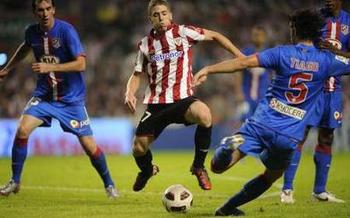 What are your opinions on these predictions?
Was I completely off on any or all of them?
Who do you think will finish in the top-six spots in La Liga and who will win the European tournaments?
I appreciate and welcome all feedback.
Thanks for reading!
Keep Reading

FC Barcelona: Like this team?