Chad Henne vs. Blaine Gabbert: Who Has Edge in Jacksonville Jaguars' QB Battle?
J. Meric/Getty Images

According to Tania Ganguli of the Florida Times-Union, the Jacksonville Jaguars have signed quarterback Chad Henne:
Don't know if this is out there, but the #Jaguars signed Chad henne to a two year deal.

— Tania Ganguli (@taniaganguli) March 14, 2012
This is good news for Jaguars fans, because it creates a quarterback competition between Henne and Blaine Gabbert.
Both definitely need to improve, so a competition will definitely force each guy to step up. And with an offensive-minded head coach in Mike Mularkey, Henne and Gabbert will develop as did Matt Ryan when Mularkey was in Atlanta.
To that end, which quarterback has the advantage? Well, let's breakdown some important positional attributes and find out.
Begin Slideshow

»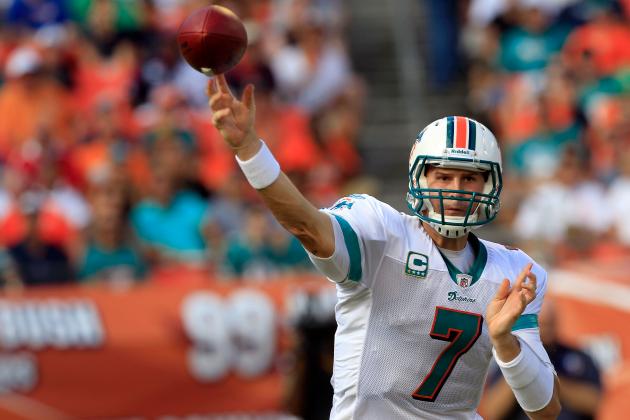 Sam Greenwood/Getty Images

Both have decent mechanics and are roughly the same size.
Henne, however, knows how to set himself up in the pocket and really drive off his back foot and get his body into the throw.
The downside of that, though, is Henne has had the tendency on more than one occasion to really overthrow an open target. As for Gabbert, he still has to develop from under center and learn how to quickly transition his momentum forward after dropping back.
Gabbert also just needs to get stronger, whereas Henne has plenty of strength to launch the rock downfield, even off his back foot.
Also, Henne is four years older than Gabbert, who was a rookie in 2011, so building strength obviously comes with development.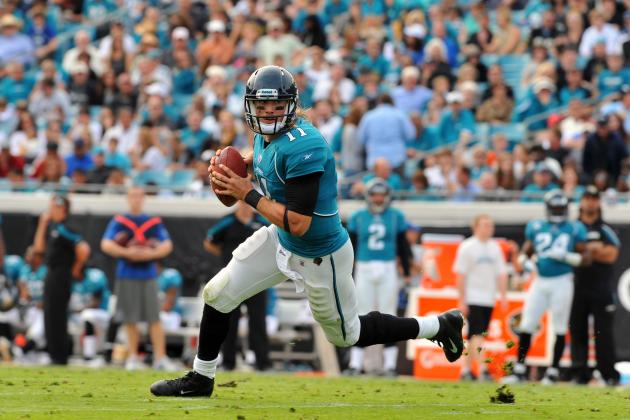 Al Messerschmidt/Getty Images

It never hurts to be a mobile or elusive quarterback, just as long as the guy is still trying to make plays downfield and only scramble as a last resort.
And despite Gabbert still needing to feel the rush while in the pocket, that comes with simply taking more snaps and getting continuous reps.
And if he reads a blitz pre-snap, Gabbert can audible the pass protection accordingly. Henne in his own right, is more mobile than given credit for, but not as much as Gabbert.
Henne has developed into your prototypical pocket passer, but his inability to adjust on the fly cost him last season.
On the year, Gabbert was sacked 40 times in 15 games played, which averages to 2.67 times sacked per week. Henne only played in four games but was sacked 11 times, a slightly higher average at 2.75.
The Jaguars' offensive line also allowed 44 sacks to Miami's 52, so had Henne not gotten injured, it's likely that he still gets pressured more.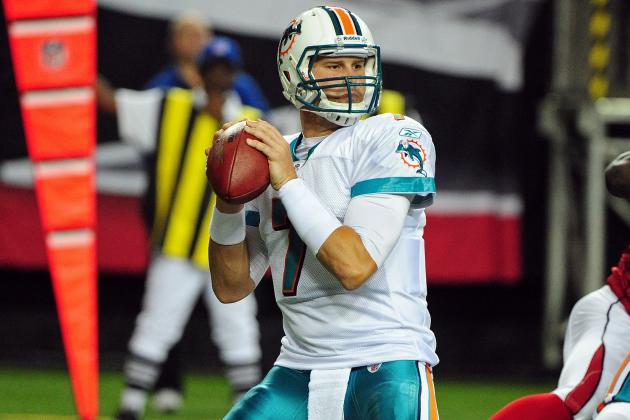 Scott Cunningham/Getty Images

It's rather unfair to compare accuracy, simply because Henne has been in the NFL since 2008.
And for either quarterback, the accuracy is not pretty to begin with.
For his career, Henne has a 60.7 completion percentage and during his two most participatory seasons (2009, 2010), he had completed only 61.1 percent.
2010 was the slightly better season as it was Henne's first year teamed up with Brandon Marshall.
Gabbert unfortunately, was much worse. Through 15 games played in 2011, Gabbert completed just 50.8 percent of his throws, which is getting into Tim Tebow accuracy territory.
Favoring Gabbert, however, comes in the form of arguably the worst receiving corps in the league. The Jaguars' best target ended up being tight end Marcedes Lewis, who isn't even close to the threat that Marshall presents.
Henne gets the nod on accuracy, but we're basically splitting hairs until the evidence from training camp, the preseason and then the regular season occurs.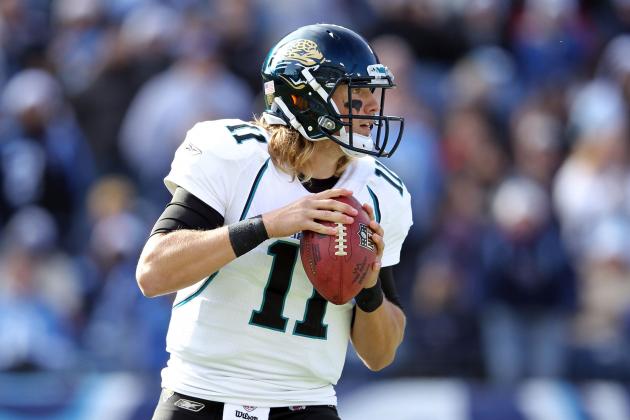 Andy Lyons/Getty Images

Chad Henne may have the arm strength, the slight nod in accuracy and have played in the league longer, but Blaine Gabbert has more potential.
A big reason comes from Gabbert being more careful with the ball and still having more time to develop.
Last season the Jacksonville Jaguars finished dead last in passing offense and only managed to average 136 passing yards per game.
As previously mentioned, though, Gabbert literally had no presenting targets that forced a defense on its heels or a guy who could derive attention from the running game. Still, Gabbert compiled over 2,200 yards and had 12 touchdowns to 11 picks.
Henne has yet to play a season where he throws more touchdowns than interceptions. In 2009, he had 12 touchdowns to 14 picks (first season as a starter, technically his rookie campaign) and a year later, threw just 15 touchdowns to 19 picks.
Lest we forget about Henne's durability, which although can happen to anyone, some quarterbacks are just less fortunate. Gabbert has the mobility to remain healthier longer, and throwing more touchdowns than picks as a rookie is worth noting.
Especially when you look at the differences between Jacksonville's and Miami's receiving corps last season.
Andy Lyons/Getty Images

Another comparison in favor of Chad Henne, courtesy of him being older. It's never a bad thing to have more experience.
Yes, it's a cliche, but with age comes wisdom and after Henne threw for 416 yards and two touchdowns in the Week 1 loss to New England, it was reasonable to suspect that Miami had its franchise quarterback.
Then Week 2 happened and Henne didn't even reach 200 yards against the Houston Texans. If anything, those two games eventually taught us the difference between the Pats' and Texans' defenses, not Henne's overall ability.
Gabbert, on the other hand, likely would not have been so impressive against New England and when playing Houston twice, he was basically eaten alive (one touchdown to three picks, 39.05 completion percentage).
Henne at least provides more insight as to game-plan for defenses and making checks, reads and audibles.
These are all things that Gabbert still has to learn and will learn from Henne.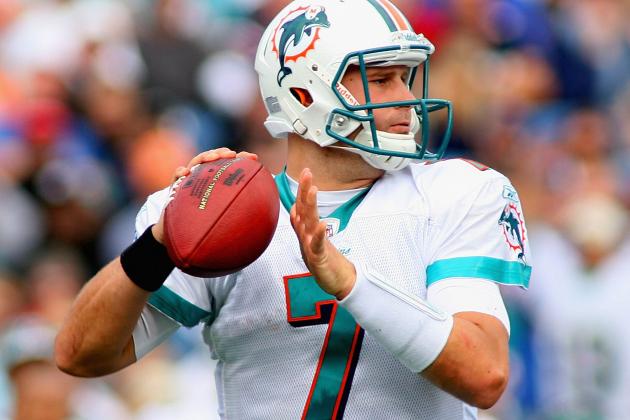 Rick Stewart/Getty Images

According to Tania Ganguli of the Florida Times-Union, coach Mike Mularkey clears up the quarterback situation:
"He's coming in as a backup and competing for a starting job." Mularkey on Henne #Jaguars

— Tania Ganguli (@taniaganguli) March 15, 2012
"Right now Blaine's our starter." Mularkey. #Jaguars

— Tania Ganguli (@taniaganguli) March 15, 2012
Blaine Gabbert, as you see, may be the current starter, but that also means he has something to lose, whereas Chad Henne does not.
With Gabbert's inexperience, it would not be surprising to see him lose the competition. Henne is coming off an injury and based on his career development, isn't expected to make much of an impact.
Well, that's what gives him the edge. There are now standards for Gabbert, and Henne is there for "just in case" purposes. Provided that Gabbert does start 2012 on a good note, one slip-up and Henne will be prepared to go.
As we've seen in recent pro football history, patience on an unproven starting quarterback is becoming more and more limited.
John Rozum on Twitter.