NBA Trade Rumors: Complete Guide to Most Buzz About Deadline Deals
March 15, 2012
Chris Graythen/Getty Images
The NBA trade deadline has a number of different deals going on, so it's hard to be on top of every single deal. You can get lost on Twitter and through Google searches trying to follow all of the deals that may happen today.
That is why I am here to help you out and know who exactly you should follow and why. 
Take a deep breath, we'll get through the deadline together. 
Marc J. Spears (@SpearsNBAYahoo) Yahoo! Sports
Spears is an NBA writer for Yahoo! Sports and has been on top of a number of rumors today. For example, he reported on the Philadelphia 76ers grabbing swingman Sam Young from the Memphis Grizzles for the rights to Ricky Sanchez.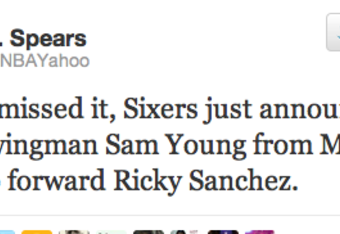 Plus, Spears was all over the Indiana Pacers acquisition of Toronto Raptors guard Leandro Barbosa for the Pacers second-round pick saying:
The Indiana Pacers acquired guard Leandro Barbosa from the Toronto Raptors for a second-round draft pick, a league source told Yahoo! Sports.

Barbosa averaged 12.2 points and 1.5 assists in 22.3 minutes this season for Toronto. The Pacers had enough salary-cap room to absorb Barbosa's contract, which is paying him $7.6 million in the final year of his deal.
Finally, Spears is a great place for rumors as he has information about a potential three-way trade between the Portland Trail Blazers, Minnesota Timberwolves and Los Angeles Lakers saying: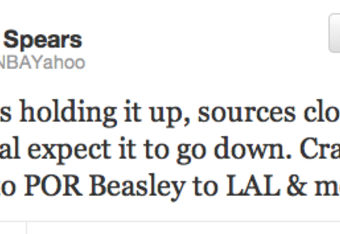 Chris Broussard (@Chris_Broussard) ESPN
Broussard is the go-to guy for the NBA at ESPN. He is one of the most connected reporters to the NBA and has a ton of insightful information on his Twitter page and in his articles. 
Broussard has this gem of a tweet, were he says that potential trade chip, Orlando Magic center, Dwight Howard, texted him to let him know that he signed his waiver of his early termination.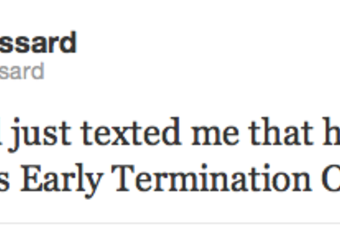 To go with his tweets, Broussard writes insightful columns like the one about the mess of a situation with the New York Knicks and then head coach Mike D'Antoni saying:
D'Antoni, hailed as an offensive genius during his successful tenure in Phoenix, has lost the Knicks' locker room, the sources say.

"The players like Mike as a person," one source said. "They think he's a good guy. But he doesn't have the respect of the team anymore." 

D'Antoni is in the last year of a four-year deal and all indications are that he will not be brought back after this season -- assuming he survives the rest of this season. The Knicks are expected to make a run at Phil Jackson, who retired from the Lakers last year with 11 NBA titles.
Adrian Wojnarowski (@WojYahooNBA) Yahoo! Sports
If you follow anyone on Twitter for breaking NBA news, then this is your guy. 
Wojnarowski may live on Twitter, because his timeline is filled with breaking news, inside news from NBA general managers and any other news that is going on in the league. 
There are too many tweets to list, but here are some of the rumors that Woj is reporting on at his twitter page. 
First, there is the Charlotte Bobcats looking to move point guard D.J. Augustine.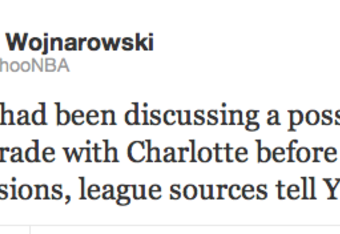 Next, there is the deal that sent Portland Trail Blazer Gerald Wallace to the New Jersey Nets.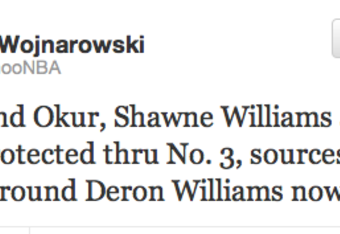 And finally, Jermain O'Neal looking to leave Boston possibly for Miami.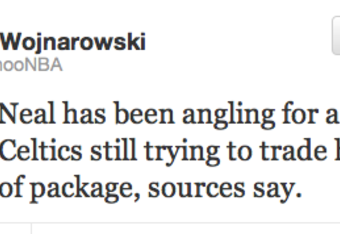 These are the three people that you should follow for all of your NBA rumors and news. However, while you are clicking follow to these NBA writers, you should make your way over to my Twitter feed and give me a follow.