FYI WIRZ: NASCAR's Top 5 Drivers Talk New Bristol, Old Bumping and Banging
March 15, 2012

Race number four in the NASCAR Sprint Cup season is next, and some teams are beginning to develop early strength that may take their drivers to a spot in the Chase for the Sprint Cup championship run.
The Food City 500 will commence at 12:30 p.m. ET, Mar. 18 on the .533-mile oval with 36 degree banking at Bristol Motor Speedway. Fans without one of the most-prized tickets on the NASCAR circuit can view the close action on FOX.
Bristol might be justifiably called the "bruise bowl" because high banks on the short track provide for intense racing. The necessary rubbing of sheet metal might be part of the excitement and it may be one of the reasons why fans love Bristol, but the coliseum atmosphere is special too.
Fans can see their drivers and feel and hear the action up close, perhaps more so than on any other NASCAR track.
With the last race, Bristol repaved the track that was stingy to passing, and it became a smoother track that is more generous to maneuvering.
The top five leaders after three races, Greg Biffle, Kevin Harvick, Denny Hamlin, Dale Earnhardt Jr. and Matt Kenseth discussed Bristol before the green flag.
1. Greg Biffle (No. 16 Ford)
"Bristol is high on my list and it's one of my favorite tracks to go to," Biffle said "The important keys to getting around Bristol are qualifying well and getting a good pit box to keep your track position. Being the point leader we are still showing up with the same exact plan. What we always try to do is win, and I want to win at Bristol since I've never won there. We know we are capable of running in the top five, we just have to figure out how to be there at the end."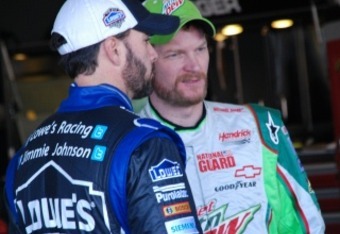 2. Kevin Harvick (No. 29 Chevrolet)
"Bristol is always a fun place," Harvick said. "You never know what can happen there. It seems like it's just a place where anything can happen at any time. It's a fun race track and obviously short-track racing is something we all grew up doing.
"It's obviously a lot different complexion than it used to be. You can race all over the race track, and you have to really work on your car to get it to turn sooner into the corner. You never know whether you're going to end up at the top or the bottom. It's become an interesting track."
3. Denny Hamlin (No. 11 Toyota)
"The goal, to get a good finish," Hamlin said. "You want to sit yourself in a good points position early in the year so you don't have to worry about that with five or six races to go."
4. Dale Earnhardt Jr. (No. 88 Chevrolet)
"I always look forward to going to Bristol and racing there," Earnhardt said."Daddy (Dale Earnhardt Sr.) won a lot of races there, and I enjoyed watching races there as a kid. They changed the configuration and the way the car goes around the corners is a little bit different. Getting the car to turn in the middle and get out of the corner is a little bit different and a little more challenging."
5. Matt Kenseth (No. 17 Ford)
"I like going to Bristol a lot," Kenseth said. "The track is different there after they reconfigured it, so it's one that is always a challenge. You need to be ready for it because it's a really fast track and things happen in a hurry.
"It's one of the most fun races of the year so I think everyone always looks forward to heading to Bristol. I'm ready to unload this weekend and see what our team is able to do."
FYI WIRZ is the select presentation of topics by Dwight Drum at Racetake.com. Unless otherwise noted, information and all quotes were obtained from personal interviews or official release materials provided by NASCAR and team representatives. Photo credit: Dwight Drum at Racetake.com.