Odds on Dwight Howard Winning a Championship in Orlando in the Next 2 Seasons
March 15, 2012

Elsa/Getty Images
So it's official. Dwight Howard, host of his own running documentary special "The Indecision" which has been running for nearly a year, has actually done something on which that he can't backtrack. 
The "Mitt Romney" of NBA Superstars officially signed his one-year extension this afternoon in Orlando.
That means that Dwight Howard is staying in Orlando—for now.
Barring Howard actually inking a real contract extension, the topic that has dominated NBA trade chatter since the lockout ended will start back up again the moment the NBA Finals conclude this June.
Howard is once again going to be an unrestricted free agent next summer.
He'll still be one of the few dominant big men in the NBA. He'll still command a king's ransom on the open market, and Orlando will still be caught between a rock and a hard place trying to figure out if Dwight is staying or going. And if he's going, then what trade offer should the team accept?
So his "extension" is just an extension of what we've all witnessed over the past weeks and months.
How has that impacted the Orlando Magic? Not the organization, but the actual basketball team?
Surprisingly well, actually.
The Magic are currently sporting the third-best record in the Eastern Conference and have won three of their last four games over top opponents such as Chicago, Miami and Indiana. 
The credit for that play goes to the players, of course, but it also has to be given to the head coach Stan Van Gundy, the same coach whose job was rumored to be in the hands of his own star player just a few days ago. Magic ownership, however, denied ever demanding that type of control.
To his credit, Van Gundy seemed entirely unfazed by the reports.
So the Orlando Magic are currently a team with a very good center who is also a bit of a late-game liability due to the fact that his offensive game is not terribly versatile and he is a poor free-throw shooter.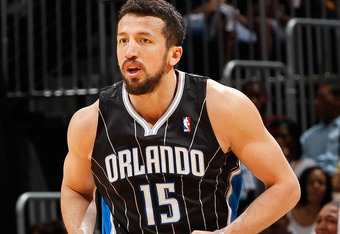 Kevin C. Cox/Getty Images
The Magic is still a very good basketball team. They rely heavily on the three-point shot, which on many teams is considered a weakness, but Orlando does have some very good three-point shooters.
J.J. Redick, Ryan Anderson and Hedo Turkoglu are all guys that no team wants to leave open consistently, and by forcing the defenses to consistently extend to the three-point arc, they allow Howard room to operate without a double team in the paint.
That's why a team with only one star on its roster and lacking a dynamic point guard is still among the league's top teams.
Is is a good enough team to win a title, though?
Probably not with all the drama that has and will continue to surround the team, coupled with the combination of Eastern Conference talent and the lack of additional firepower to surround Howard.
Howard's one-year extension is going to make it difficult for the team to draw in another top player who won't want to make a long term commitment to a team that might lose it's big man next summer.
So if the roster won't be all that dramatically altered and the potential that tension could exist between Van Gundy and Howard in spite of all the denials regarding various rumors, then how are the Magic supposed to beat teams such as Miami and Chicago in a seven-game series?
There's another (albeit less likely) scenario.
Perhaps Howard's temporary commitment will unify the team and also inject a sense of urgency. One would have to think that if Orlando actually did win a title, that would increase the likelihood of Howard actually signing a long-term deal in Orlando.
The second scenario seems like a bit of a reach, but it's not impossible. Both Miami and Chicago are soft at the center position. Orlando has too many three-point shooters for Chicago and Miami to always extend on effectively without compromising their interior defense.
If I had to place odds on the Magic's likelihood of winning a championship this season, I'd say it's 35 percent. That might not be high enough odds for Magic fans, but they're a lot higher than I'd have set them had Howard been dealt today.