NBA Trade Deadline 2012: New Jersey Nets After the Deadline
March 15, 2012

Sam Greenwood/Getty Images
Devastation by Dwight Howard. 
New Jersey Nets fans and soon to be Brooklyn Nets fans entered into a state of mourning when potential trade/free agent acquisition Dwight Howard signed the papers earlier today (according to Real GM) to opt into the final year of his contract, keeping the All-World center with the Orlando Magic through next season.
Gone is the dream of opening up the $1 billion Barclays Center in Brooklyn with the pairing of the league's best big man and one of its most talented point guards in Deron Williams.
If I asked a Nets fan what they're feeling now, he/she would probably say something like, "I'm not really mad, I'm just sad."
A more colorful Nets fan may simply say, ''We're screwed.''
For as bad as it seemed as recently as two days ago for Orlando, when the Magic seemed to be in complete desperation mode, with reports of Magic owner Rich DeVos giving Howard the power to fire head coach Stan Van Gundy and/or Otis Smith, there was a feeling of relief and happiness at their news conference today.
Is the pursuit for Howard totally over? By all means, yes. But one can never really know with someone like Dwight, who goes back and forth more than Aaliyah. As he showed when he changed his mind yesterday, saying he was opting in to saying he would not opt in to then ultimately opting in this morning.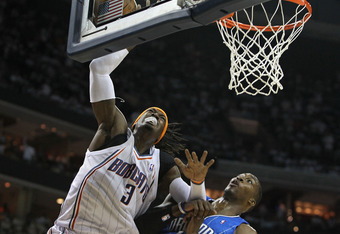 Mike Zarrilli/Getty Images
I heard he even signed a new sponsorship deal with the Waffle House.
All Howard did was basically give the Magic another year to surround him with the talent he craves to be part of a championship team.
But what happens if Orlando makes a first round playoff exit this year and next year? Does he change his mind and have yet another change of heart?
More importantly, where does his decision leave the Nets? Does general manager Billy King move on from here or are all moves made with keeping Howard in mind?
Given a lot of what ifs, the Nets can still be in good shape, not D-Will to Howard shape, but good nonetheless.
Now, bear with me.
King made one move already, moving some dead weight in ''Oh my back!'' Mehmet Okur's expiring contract, the good-for-nothing Shawne Williams and this year's top three lottery-protected pick for a legitimate starting small forward in Gerald Wallace.
While Wallace at 29 years old is on the decline, he is still productive. This season, he is averaging 13.3 points and 6.6 rebounds per game. It would have been much better if the Nets would have gotten him in his prime, two seasons ago when he averaged 18.2 points and 10.1 rebounds per game, but it is what it is.
If Deron Williams re-signs with the Nets, they can offer him a young, deep squad full of potential with center Brook Lopez, who is an offensive beast and not a liability at the free throw line, ahem Dwight Howard, as he has averaged 20.4 points per game last season with a 79.6 free throw percentage.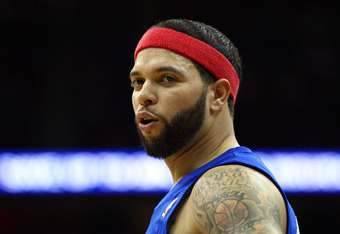 Chris Chambers/Getty Images
Lopez is also just 23 years old and if he ever learns how to rebound, he averaged just 5.9 rebounds per game last season, he is sure to be a future All-Star.
The Nets also have promising rookie MarShon Brooks, who is second in scoring amongst rookies, averaging 13.7 points per game and Anthony Morrow, one of the league's best three-point shooters with a career percentage of 45.9 from deep.
If the Nets re-sign Kris Humphries, AKA, the former Mr. Kardashian, a hard-nosed double-double machine, averaging 13.7 points, 10.9 rebounds and 1.3 blocks per game along with Mr. 10-Day contract, former D-Leaguer Gerald Green, who seems to have resurrected his NBA career, they will have a core to make some noise.
Since the Nets brought Green up from the D-League, he has averaged 11 points in 21 minutes per game with dunks like this. He also looks to be a legitimate starting small forward as he scored 26 points in two of the eight games he has played.
A starting lineup with D-Will, Brooks, G. Wallace, Humphries and a healthy Lopez with a bench of Morrow and Green all of a sudden doesn't look so bad.
The Nets will also have a lottery pick in this year's stacked draft. Who knows, maybe commissioner David Stern can do ''something'' ,a la Patrick Ewing to the New York Knicks in 1985, in order to secure Anthony ''Unibrow'' Davis to Brooklyn.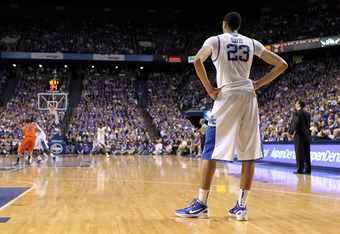 Andy Lyons/Getty Images
The newly acquired Wallace has a player option for next season, which he most likely will opt in on, would still give the Nets a chance to make a run at Josh Smith in 2013 free agency. The Nets still have plenty of cap room.
But, to play Devil's Advocate, with all of what the Nets can possibly offer along with all of the money to be made in the big market of Brooklyn in endorsement deals, the lure of Deron Williams' hometown of Dallas and teaming up with Dirk Nowitzki may prove to be too much to ignore.
The Dallas Mavericks will have the salary cap room to offer Deron Williams a max contract in the offseason and an easier road to a championship by way of the Western Conference. In the Eastern Conference, the Nets will have to deal with getting past the likes of the Miami Heat and the Chicago Bulls.
If the New Jersey/Brooklyn Nets thought losing out on Howard was the end of the world, what are they going to think if Deron Williams leaves?
But then again, maybe it won't come to that and Williams will embrace the challenge of being the face of the first professional sports franchise in Brooklyn since the Dodgers left in 1957.