Mike D'Antoni Gives Up on Carmelo Anthony, New York Knicks
March 15, 2012

Chris McGrath/Getty Images
It takes only one bad apple, or in this case one former Orangeman, to spoil the whole bunch.
The old adage, but with a clever twist, couldn't be more pertinent to today's NBA news.
That's the speculation spewing out of the Big Apple today following Mike D'Antoni's surprise resignation as coach of the New York Knicks.
D'Antoni's sudden exodus was immediately attributed to his tenuous relationship with Knicks' star forward Carmelo Anthony. Their widely-reported differences in philosophical styles of play have been peeled apart slice by slice since Anthony's celebrated arrival in New York City last February.
However, yesterday it appeared that D'Antoni had seen enough. The former Phoenix Suns coach couldn't possibly envision anything good being saved or, for that matter, squeezed out coaching the contentious former Syracuse star.
Although Knicks management seemed shocked and saddened by the news, D'Antoni's departure didn't completely surprise fans of the New York Knicks and Denver Nuggets—Carmelo's former team.
Following Anthony's blockbuster trade last year, the Nuggets have flourished, and finished the 2010-2011 season with a 50-32 record. On the other hand, the Knicks have languished, especially with its current six game slide.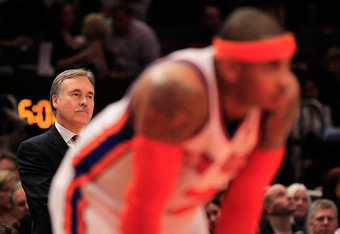 Chris Trotman/Getty Images
Currently, New York has fallen to an 18-24 record in spite of a starting line-up featuring Anthony, superstar power forward A'mare Stoudemire and defensive stalwart and 2011 NBA champion Tyson Chandler.
Statistical analysis following the Anthony trade has supported that the Nuggets improved their shooting percentage, offensive efficiency, scoring, margin of victory, rebounding margin and defensive efficiency, while increasing ticket sales.
However, in New York, Anthony's arrival has proven less promising. The Knicks have gone 26-37 with Carmelo in the line-up, while improving to 34-31 without him.
In addition, the roof that was rocking in Madison Square Garden with the improbable emergence of new NBA star Jeremy Lin, who helped transform the franchise while Anthony sat out games with a groin injury, began crumbling with Carmelo's insertion back into the Knicks' starting five.
As Anthony's return corresponded with the Knicks' spiraling, player grumblings turned into rumors which escalated into accusations that D'Antoni had lost the locker room.
Some Knicks believed their coach couldn't corral Carmelo's style of play or quietly crush the former Orangeman's ego for the sake and success of the team—which ironically prospered with the perennial all-star on the bench.
With new coach Mike Woodson now at the helm of the reeling Knicks' ship, may Carmelo quickly rebound from his widely-perceived selfishness as a pro basketball player and "me first" personality.  
And may this former Syracuse Orangeman transform into the shining star that fans of the Big Apple's Knicks have expected him to become.
Straight talk. No static.
MIKE – aka Mike Raffone – thee ultimate talking head on sports!
Become a Fan at http://www.facebook.com/theemikefans