NCAA Tournament 2012: Live Scores, Highlights and Analysis for East Region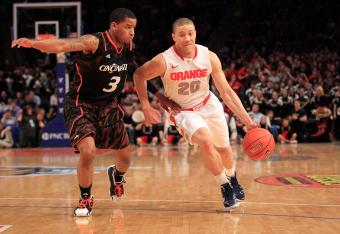 Chris Trotman/Getty Images
Day one of the NCAA March Madness Tournament in the East Region is now in the books, with all the top seeds moving on.
However, Syracuse didn't make life easy for themselves as they narrowly avoided becoming the first No. 1 seed to lose in tournament history, with a close and somewhat controversial victory over No. 16 UNC Asheville.
Thanks for following along throughout the day. Remember, your opinion counts as well, so don't be afraid to post your comments below or follow me on Twitter if you'd rather chat there.
Follow Adam Graham: @adam_graham
Here is the full list of today's East Regional results:
No. 8 Kansas St.: 70 No. 9 Southern Mississippi: 64
No. 4 Wisconsin: 73 No. 13 Montana: 49
No. 1 Syracuse: 72 No. 16 UNC Asheville: 65
No. 5 Vanderbilt 79 No. 12 Harvard: 70
No. 7 Gonzaga 77 No. 10 West Virginia: 54
No. 2 Ohio St.: 78 No. 15 Loyola Maryland: 59
Well, that's it for the today's updates. Thank you to those who followed along. Don't forget to return here tomorrow for more live updates of every single game in the 2012 NCAA March Madness Tournament. Good night!
That does it! Loyola Maryland made it respectable, but Ohio State got it done rather easily in the end with a 78-59 victory.
It should be a great matchup in the Round of 32 between the Buckeyes and the Gonzaga Bulldogs. Both teams were very impressive today.
Okay, this is just hilarious! The broadcast crew at TNT are talking to Greg Anthony and Charles Barkley, not knowing that their audience can't hear what they're saying. There is so much dead air it's ridiculous.
Ohio State has now begun resting their star players. They lead 70-54 with 3:38 remaining. Thomas now has 31 points and 12 rebounds and will likely sit for the rest of the game. Beast mode!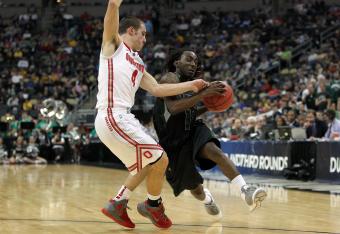 There it is. Loyola Maryland's point guard, R.J. Williams, has now fouled out of the game. The Greyhounds slim chances have just about disappeared now.
Williams is another member of the All-Hair team, just like Ryan Evans of Wisconsin.
Evan Ravenel with his first points of the game for the Buckeyes. He is a big, broad-shouldered man! Why doesn't he take off the t-shirt underneath his jersey to intimidate a little more with his muscle?
In the meantime, Thomas is closing in on a 30-point night which would be the highest scoring performance of the day.
Turnovers for both teams won't help Loyola Maryland get back into, which is exactly what just happened. Buford's finger roll makes is 61-44. He now has a modest 11 points.
The full court pressure has begun for the Greyhounds. They just forced a couple of turnovers, but if they can't make any shots on the offensive end, they're not going to have a chance to set up their press.
Thomas now has 27 points.
59-42 Buckeyes with 10 minutes to go.
R.J. Williams has just checked back into the game for Loyola Maryland with over 13 minutes to play, despite the fact that he has four fouls. It's desperate times for the Greyhounds as they trail 57-38. Walker remains on the bench with his four fouls, though.
Meanwhile, Thomas continues to put in work for the Buckeyes. He just completed a three-point play to give him 25 points.
Greyhounds guard Dylon Cormier showed some nice moves picking apart the Ohio State defence, followed by a nice alley-oop pass from Walker to Julius Brooks. Where has this been all game?
50-35 Ohio State
The second half is now underway and Buford has come out flying for the Buckeyes. He's showing plenty of energy and has helped his team take off on a 7-0 run to start the half.
It's now 48-31 with 17:51 to play.
It's hard to believe that Ohio State scored 42 points in that half when you consider that they only shot 34.3 percent from the field. The difference is that they're drawing tons of fouls on the Greyhounds. As a team they're 15 for 18 from the free throw line, with Sullinger and William Buford each attempting four free throws.
Sullinger is difficult not to foul when he has position in the post. He certainly knows how to use his big frame to his advantage, despite the fact that he isn't a great jumper or shot blocker.
Terrible clock management by Loyola Maryland at the end of the half. Robert Olson takes a bad shot with enough time left for him to commit a foul on Lenzelle Smith Jr. of the Buckeyes. Fortunately for Olson, no damage was done as Smith Jr. missed both free throws and it's still 42-31 Ohio State at halftime.
The three ball is keeping the Greyhounds somewhat close, but they can't stop Sullinger and Thomas at the defensive end of the floor.
42-31 Buckeyes with less than a minute left in the half. Greyhounds playing for the last shot.
Ohio State is looking very solid. They're not giving the Greyhounds many good looks at the basket and now Shane Walker has been called for a charge, which is his FOURTH personal foul! We're still in the first half Shane! Watch yourself out there.
37-22 Ohio State with just under four minutes left in the half.
Junior forward Erik Etherly has been taking the ball to the rack aggressively all game long for the Greyhounds and is keeping them in the game.
31-22 Buckeyes at the TV timeout. 6:43 left in the first half.
Ohio State coach Thad Matta is already using his bench more than most experts thought he would all game. Perhaps he feels he can get away with it against a No. 15 seed.
Thomas has 12 points and continues to shine at the offensive end for the Buckeyes as they lead 31-20 with 8:35 to go in the half.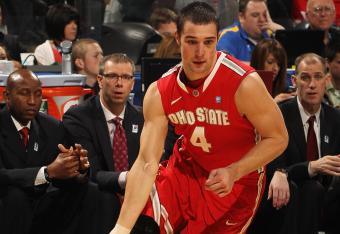 The Buckeyes are now getting more balance in their scoring attack. Deshaun Thomas has three field goals and Aaron Craft is controlling the tempo at the point guard position.
19-11 for Ohio State with just under 12 minutes remaining in the half.
Net problems at the CONSOL Energy Center in Pittsburgh. Bring out the ladder as the crowd sarcastically cheers the net repair guy.
Maybe he'll just cut it down all together so he can feel like he's just won the National Championships!
Sullinger is answering back for the Buckeyes. He looks calm and collected, and he has all six of the Buckeyes' points.
Ohio State leads 6-5 with 15:49 remaining in the first half.
We're underway with Loyola Maryland getting off to a solid start, with a dunk and a three pointer.
They lead 5-3 early and Shane Walker just took a charge, so he looks good and is energizing a crowd that seems to be favoring the Greyhounds at this point.
For the record, a No. 15 seed has only ever defeated a No. 2 seed four times in the history of this tournament:
- Richmond did it in 1991
- Sanata Clara, led by Steve Nash, did it in 1993
- Coppin State accomplished the feat in 1997
- Hampton did it in 2001
It will certainly be a tall order for the Greyhounds to join these four teams, but perhaps they'll draw inspiration from No. 16 UNC Asheville, who almost knocked off No. 1 Syracuse earlier today.
In order for the Loyola Maryland Greyhounds to have a chance at beating the Ohio State Buckeyes, they'll need a huge performance from 6'10" forward Shane Walker, who will likely be given the assignment of guarding big Jared Sullinger down low.
While Sullinger isn't the only standout on the Ohio State roster, he's certainly the most notable with his meaty frame and his ability to step outside and hit jumpers as well.
Look for the Greyhounds to also try to get the Buckeyes starters into foul trouble and test their depth. For one of the top teams in the country, the Buckeyes don't have a very deep bench and usually only rotate six or seven players in most games.
After a few more buckets by the Gonzaga bench players, the destruction is complete.
Final score:
Gonzaga 77
West Virginia 54
Next game is in 30 minutes between No. 2 Ohio State vs. No. 15 Loyola Maryland
Everything is going right for Gonzaga! Mike Hart just hit a circus three pointer and now the Bulldogs lead 68-43 with four minutes remaining.
This article is
What is the duplicate article?
Why is this article offensive?
Where is this article plagiarized from?
Why is this article poorly edited?