Why Strikeforce Won't Survive Much Longer
Use your ← → (arrow) keys to browse more stories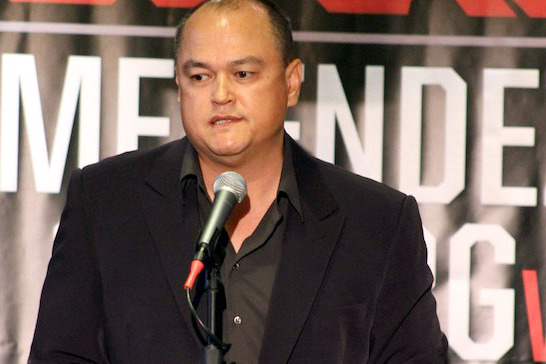 Strikeforce CEO Scott Coker/ Erik Fontanez for MMAWeekly.com
For a time, Strikeforce became the UFC's most viable and threatening rival in the world of mixed martial arts.
Key signings of Dan Henderson and heavyweight great Fedor Emelianenko set the San Jose based promotion above most others.
During the height of their success, Strikeforce housed the likes of Alistair Overeem, Cung Le and the infamous and fan-friendly Nick Diaz.
Diaz, a Stockton, Calif., native, became the organization's welterweight champion. He defended the title a record three times with aesthetically pleasing performances against KJ Noons, Evangelista Santos and Paul Daley.
With the Gracie Fighter at the helm, Strikeforce enjoyed success in the Showtime ratings as well, with the enigmatic fighter averaging over 500k in his final two appearances with the promotion.
Though Diaz was arguably the most recognizable fighter of the bunch, it was the mix of the top tier talent that Strikeforce housed under one roof that made it such a threat to the UFC.
What you couldn't find in the Octagon, you better believe the Hexagon was willing to supplement with consistently exciting bouts.
Since Zuffa, the subsidiary of the UFC, purchased the fledgling promotion last year, a bevy of talent has since transitioned from Strikeforce to its sister organization.
Once having cultivated seven champions under their regime, Strikeforce now, only has three, with Overeem, Diaz and Henderson—all titleholders for the organization—having parted ways to enjoy the limelight of the UFC.
How much longer will Strikeforce continue to trudge along? It's hard to say.
But with fewer and fewer big named talents gracing the cage and the rocky relationship between that of UFC head honcho Dana White and Showtime, things are all downhill from here.