NBA Trade Rumors: How Leandro Barbosa to Indiana Pacers Affects Ray Allen
March 15, 2012

Otto Greule Jr/Getty Images
Trade talks have intensified as of late with rumors of the Boston Celtics possibly dealing shooting guard Ray Allen to the Indiana Pacers. However, with the Pacers reportedly landing Toronto Raptors shooting guard Leandro Barbosa a few hours ahead of the deadline, it seems likely that Allen is staying put.
According to Marc J. Spears of Yahoo! Sports, the Pacers will send a second-round pick to Toronto in exchange for the Brazilian spark plug. Barbosa should be a nice contributor for Indiana off the bench behind the likes of Darren Collison and Paul George, but the deal likely prevents a bigger trade from taking shape.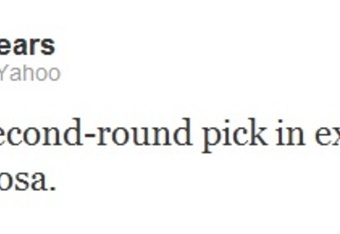 A. Sherrod Blakely of NECN.com reported yesterday that there was an offer on the table that would have sent Allen to Indiana in exchange for power forward Tyler Hansbrough and a first-round pick. Pacers president of basketball operations and Celtics legend Larry Bird balked at such an offer, however.
While Barbosa won't have the same impact that Allen likely would have, he is another excellent piece to what may already be the deepest team in basketball. Barbosa is a speedy and explosive guard with plenty of offensive ability. He is averaging over 12 points per game this season and making a three-pointer per contest.
From the Pacers' perspective, they are getting a productive player at a greatly-reduced price tag compared to what the asking price was for Allen. Hansbrough for Allen straight-up was even a bit too much for Celtics general manager Danny Ainge to ask for considering Allen's age—adding a first-round pick was ludicrous.
It seems to me that Ainge offering up Allen is more a matter of him trying to rip a team off rather than actually wanting to move him. If Ainge had intentions of moving Allen, an Allen-for-Hansbrough swap would have been more than fair. However, he is clearly looking for a king's ransom.
The Barbosa trade may work out better for the Pacers anyway. Indiana loves to employ a deep rotation and the presence of Allen might have affected that adversely. Allen is a player who needs to play a lot, but the minutes are typically dispersed pretty evenly amongst the Pacers' players.
That won't be an issue at all with Barbosa as he has been a high-quality sixth man throughout his career. He is most definitely used to sharing the spotlight. Barbosa should mesh very well with Pacers team philosophy, so the trade makes perfect sense from pretty much every angle for Bird and the organization as a whole.
Trade talks involving Boston's "Big Three" will likely continue up and until the 3 p.m. ET deadline, but nothing seems imminent or likely. Trading a player like Allen would probably be in the Celtics' best interest for the future, but Ainge clearly hasn't been realistic in his demands.