NBA Trade Rumors: Hornets Shouldn't Hold Breath for Emeka Okafor Deadline Deal
March 15, 2012

Chris Graythen/Getty Images
Th New Orleans Hornets are on the verge of trading off the entire roster, but it is unlikely that they'll find a team for Emeka Okafor.
Chris Kaman has no shortage of suitors and Trevor Ariza would be an ideal role player on a contending team if they could handle his contract, but Emeka has some baggage.
He could be on the move but told The Times Picayune that he'd hear from his agent if anything is going on.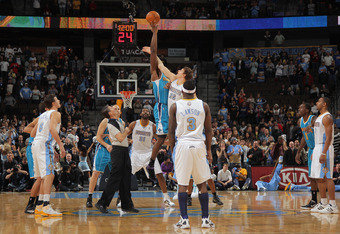 Doug Pensinger/Getty Images
But it won't happen, not with the two years, $28 million remaining on his contract after this year.
The oft-injured 29-year-old has potential but has not improved from his rookie campaign and he's even declined in recent years.
He's averaging career-lows in minutes, points, rebounds and blocks with the miserable Hornets this season.
The Hornets are trying to find a suitor, but it will be extremely difficult to make it happen despite a number of teams looking for bigs.
Things in New Orleans are rather bleak, but it looks more and more likely that they'll be stuck with Emeka's contract for the foreseeable future. It's obvious they want to shed as much salary as possible, but teams are entirely reluctant to take on any contracts, especially those with overpaid players with minimal upside.
The Hornets will likely find a suitor for Kaman and may even get lucky with Ariza, but they shouldn't hold their breath on Emeka Okafor.