NFL Rumors: Bills Must Do Whatever It Takes to Sign Mario Williams
March 15, 2012
Bob Levey/Getty Images
The Buffalo Bills have to make sure they do whatever it takes to sign free agent Mario Williams. 
If he does sign with Buffalo, it will be the biggest free agent signing the franchise has ever completed. That is why Buffalo has to make sure that they do whatever they can to ink the former first overall pick. 
That being said, according to Pro Football Talk's Mike Florio, there is talk of Williams meeting with other teams:
As Bills fans wait for white smoke to come from the chimney of Ralph Wilson Stadium, it looks like Mario Williams could soon be moving on, at least physically.

A source with knowledge of the situation tells PFT that Williams is scheduled to leave town tonight.

Williams arrived on Tuesday.  Earlier today, his fiancee arrived.  He picked her up at the airport, and they return to team headquarters.

As of Tuesday, three other teams wanted to meet with Williams.
However, according to a tweet from Jason La Canfora of the NFL Network, Williams remains in Buffalo with the Bills attempting to close a deal.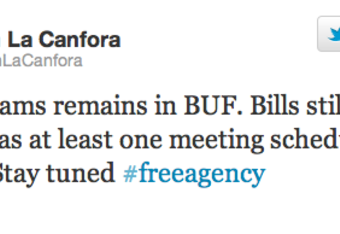 The tweet continues to say that he has at least one meeting scheduled after the Bills if there is no deal.
This can all be avoided if the Bills back up the Brink's truck and make an offer that Williams cannot refuse. 
Aside from the monetary value that would make Williams the highest-paid defensive player in the NFL, according to the Buffalo News, the people of Buffalo have also tried to recruit him. 
From the San Francisco Chronicle:
A business not far from Ralph Wilson Stadium had "Welcome Mario Williams" flashing on its electronic sign. A couple of fans dressed in Bills jerseys waited to greet Williams after his dinner on Tuesday. And several fans have showed up in the parking lot of the Bills facility hoping to get a glimpse of Williams the past two days.
The Bills ranked near the bottom of the AFC in sacks last year. They only got to the quarterback on 29 occasions. That resulted in quarterbacks being able to average 231 yards per game, while throwing for 24 touchdowns. 
Getting Williams and his 53 sacks in only 82 games played would fix a huge hole on this team. 
The Bills' biggest need during free agency was fixing their pass rush. Getting Williams would not only breath new life into this fanbase, but push this team back to the playoffs.