NFL Free-Agent Signings: Teams Waking Up to the Fact That It's a Passing League
March 15, 2012

Thearon W. Henderson/Getty Images
So let's see.
Teams like the Patriots, Packers, Saints and Steelers have been spreading teams out for the better part of the last three or four years, putting up monster numbers in the process and generally making the NFL look more like a tournament-style game of Madden than the "you have to establish the run" version of the game many were accustomed to for so many years.
I wonder why so many teams are shelling out big bucks for wide receivers?
In a free-agency landscape where Laurent Robinson is getting $14 million guaranteed (I like Robinson as a player—but that is ridiculous) the early money in free agency is being shelled out to receivers fast and furious.
There are all manner of buyers out there, from teams that hope these guys will help their moribund offenses come to life (Tampa Bay, Washington, Jacksonville) to teams that needed to replace guys that were lost to those teams (San Diego) and teams that needed to keep their own in the fold (Indianapolis, New Orleans).
It's no secret that the NFL is a pass-first league these days, and while much of the attention (and rightly so) is placed on teams needing a quarterback to make things go, they obviously need people to throw to.
The market for pass-catchers opened up on fire, because teams realize they simply have to be able to win in the passing game—something that teams like Washington and Jacksonville were unable to do last year.
How will some of these moves pan out? Glad you asked. Here's my take.
Vincent Jackson to the Tampa Bay Buccaneers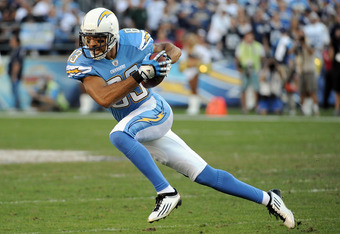 Harry How/Getty Images
Jackson signed a monster contract (five years, $55 million, $26 million guaranteed) to try to help make life easier for Josh Freeman, who regressed badly last year.
It's not that I don't like the move—Jackson will definitely help—but it won't matter a whole hell of a lot if Freeman can't discipline his game and take a step forward from the sloppy mechanics and poor decision-making that crept into his game last year.
Pierre Garcon and Josh Morgan to the Washington Redskins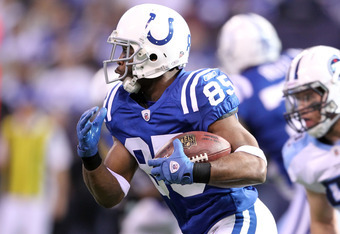 Andy Lyons/Getty Images
A typical head-scratcher from the Redskins. I understand wanting to upgrade the position—but to grossly overpay (Garcon at five years, $42.5 million, $20.5 million guaranteed and Morgan at $12 million over two years with $7.5 million guaranteed) for the services of two less-than-elite talents just reinforces how much Daniel Snyder and company don't get it.
I understand the big trade to position themselves to draft RG3 (Shanahan has entered the Norman Dale phase of his career "It's gotta work this time, or that's it for good"). And I understand wanting to get him some weapons.
But you've now traded away a bunch of picks and taken up a bunch of your (now limited) cap space and have a rookie quarterback throwing to a marginal talent (Morgan) and a guy who's flashed (Garcon)—while playing in a completely different style of offense.
They may make me eat my words—but I sure don't see it.
Laurent Robinson to Jacksonville Jaguars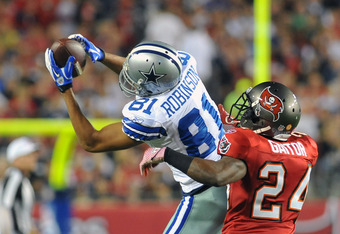 Al Messerschmidt/Getty Images
As I said above, I like Robinson. I have since he came into the league with Atlanta. And I realize Jacksonville is desperate for receiving help, so they needed to overpay.
But Blaine Gabbert, who may or may not get competition from Chad Henne for the starting job, is light-years away from being a viable starting NFL quarterback.
Robinson is going to find life is quite different without Miles Austin drawing a safety away from him and without a good veteran quarterback like Tony Romo throwing him the ball.