NCAA Tournament 2012: Live Scores, Highlights and Analysis for West Region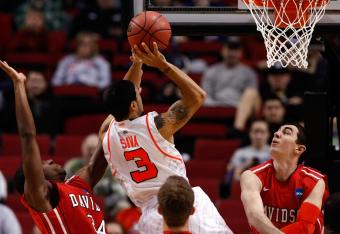 Jonathan Ferrey/Getty Images
Welcome to the most wonderful times of the sports year, March Madness and the NCAA Men's Basketball Tournament.
Day One—or the Second Round, as it's officially known—starts now, with the West Region. Park your browser on this page for live scores, highlights and analysis for all the West Region has to offer on the tourney's opening day.
After No. 6 Murray State beat No. 11 Colorado State by double digits, the action shifted to Louisville vs. Davidson on TBS, a game Louisville won by seven.
As expected, No. 3 Marquette defeated No. 14 BYU by 20 points, 88-66. Marquette will go onto face Murray State in Round Three.
Murray State and Marquette both defeated their opponents by significant margins, though the games were slightly closer than the scores indicate. Still, Marquette appears too hot for Murray State to handle, but that's why we play these games, right?
No. 5 New Mexico edged out upstart No. 12 Long Beach State in a thriller that came down to end-of-game free throws and a fledgling wild three-attempt or two: 75-68 Lobos. New Mexico will face the Louisville Cardinals on Saturday.
In a way, Louisville and New Mexico have taken similar paths to Saturday's showdown. Both teams faced scares on Thursday at the hand of opponents who certainly packed their fair share of a punch.
Thursday provided some terrific early March Madness action, culminating in the West with an exciting Long Beach State vs. New Mexico closing period. Tomorrow's slate figures to be just as exciting.
Thanks for joining us here tonight, here is a recap of Thursday's West Region results:
No. 6 Murray State defeated No. 11 Colorado State, 58-41
No. 4 Louisville defeated No. 13 Davidson, 69-62
No. 3 Marquette defeated No. 14 BYU, 88-68
No. 5 New Mexico defeated No. 12 Long Beach State, 75-68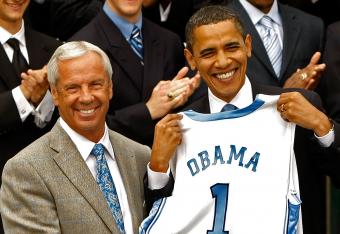 All four West Region Second Round games today came out exactly as predicted: there were no upsets and we had a few decisive victories.
On Saturday, winners No. 5 Mexico and No. 4 Louisville will square off alongside No. 6 Murray State and No. 3 Marquette, but before that, the West Region features four additional Second Round match-ups:
No. 1 Michigan State vs. No. 16 Long Island
No. 8 Memphis vs. No. 9 Saint Louis
No. 7 Florida vs. No. 10 Virginia
No. 2 Missouri vs. No. 15 Norfolk State
And that's just the West region. Stay tuned for plenty of additional activity from the East, Southwest and South.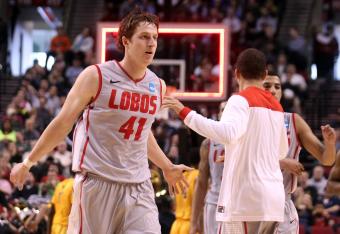 New Mexico forward Drew Gordon is bandaged up as he heads to the free throw line to put the 49ers away for good.
After a few wild three-point tries from the Long Beach State squad, this game is over, the final score 75-68 with the Lobos coming out on top.
This sets up a No. 5 vs. No. 4 match-up on Saturday, when the Lobos face Louisville in Round Three of the NCAA Tournament.
No upsets here!
It is now a one possession game after 49ers guard Casper Ware makes both free throws. New Mexico is still in the single bonus, meaning we are one-and-one.
71-68 New Mexico, 27.1 seconds left.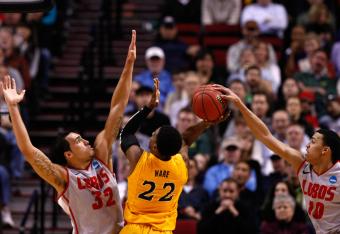 70-66 New Mexico with 53.2 seconds to play, timeout Long Beach State.
49ers guard Casper Ware is still several points off his regular season average while the Lobos' Drew Gordon and Kendall Williams have both surpassed their seasonal marks.
Ware has 15 points while Gordon and Williams both have 16.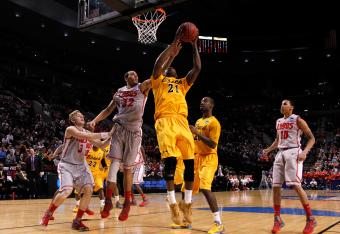 We are now in bonus, both ways, for the remainder of the game—if we go to overtime, we will still be in the bonus.
The 42-percent free-throw-shooting Edis Dervisevic for Long Beach State missed his and-one opportunity while Lobos guard Hugh Greenwood sunk both of his free throws.
New Mexico's 68-63 lead is less than the free throws disparity.
The Lobos have been lights out and are currently shooting at 51.1 percent to Long Beach State's 44.3 percent.
68-66, New Mexico with 1:30 to go.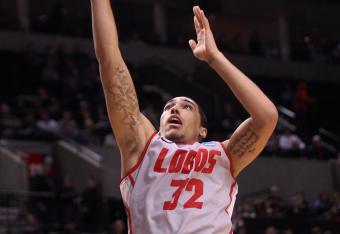 See-Saw.
Just as the 49ers take the lead, the Lobos snatch it right back. New Mexico now leads by three, the difference in this game comes directly from the free throw line.
Long Beach State is 6-11 (.545) from charity stripe while New Mexico is 9-14 (.643).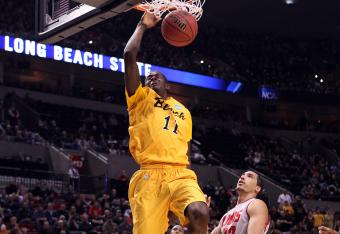 James Ennis excites with a huge slam dunk as Long Beach State emphatically takes a 61-59 lead with 4:55 left to play.
What a game this is turning out to be.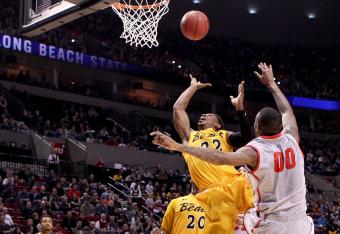 Long Beach State is hoping they will be March Madness' first official bracket buster as Casper Ware makes up for his below-average shooting performance by drawing a charge.
Long Beach State is now in the bonus with 6:30 to go in the period and the score Lobos 56, 49ers 55.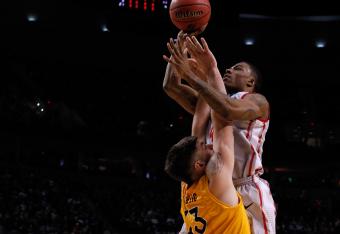 As Long Beach State climbs back toward yet another tie, tensions are high as Lobos forward Drew Gordon is accused of throwing an elbow.
Replays indicate Gordon's elbow indeed hit 49ers guard James Ennis' face, though the contact appeared incidental and didn't appear to affect the play.
New Mexico calls for time with a slim lead, it's 51-49 with 9:55 left in the game.
Is New Mexico starting to pull away?
Since tying the game at 43, the 49ers have allowed an 8-0 run, giving up an offensive rebound to the Lobos off of a missed free throw.
Foul city at 11:36 to play, Lobos 51, Beach 43.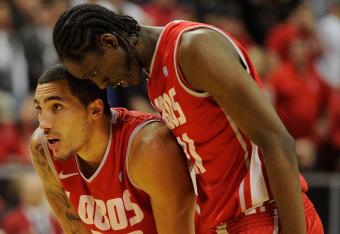 About six minutes into the second half, Long Beach State and New Mexico State are beginning to look a lot like the teams that seemed to commit alternating turnovers on just about every first half possession.
We're tied at 43 with 14 minutes to go.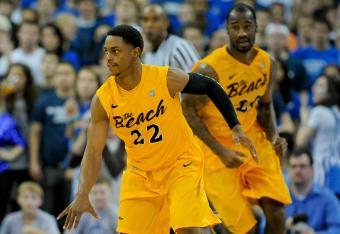 The Lobos are out to a 41-37 lead in the second half, thanks to some phenomenal shooting.
While the 49ers have started missing jumpers to the tune of 44.7 percent from the field, New Mexico is on fire, shooting 51.6 percent from the field and not committing any turnovers during the first four minutes of play in the second half.
Beach's Larry Anderson just drilled a three out of the timeout to cut New Mexico's lead to one—there are 15 minutes remaining in the ball game.
In the second half, Long Beach State's Casper Ware will have to step up and record the numbers the 49ers are used to seeing—his current pace of seven points in the first half would place him short of his average 17.4 points per game that he logged during the regular season.
Long Beach State's Eugene Phelps starts with a quick two-point goal and the second half is under way: New Mexico 33, Long Beach State 31.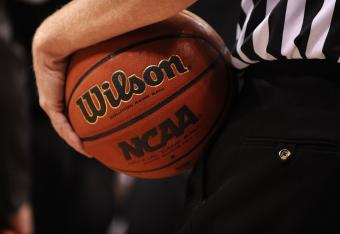 Although this is in the East Region, a broadcaster just said something so egregiously inaccurate, I have to comment. A lane violation was called against UNC Asheville after an Asheville player lined up outside of the three-point arc crossed the arc after the ball had been released, but before it had struck the backboard or ring.
By rule, that player must wait until the ball strikes the backboard or ring before coming in from beyond the three-point arc.
Looks like we have another contributing item for Awful Announcing.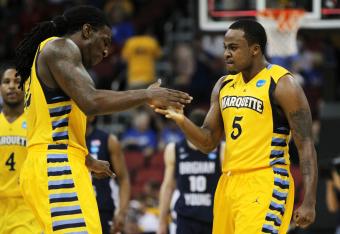 Marquette has officially eliminated BYU from the NCAA Tournament with an 88-68 victory. Credit Golden Eagles Jae Crowder (25 points and 16 rebounds) and Darius Johnson-Odom (20 points) for powering Marquette to victory.
Meanwhile, No. 5 New Mexico has 33-29 lead over No. 12 Long Beach State at half-time.
The half-time stats are as follows:
LBSU is 13-27 (.481) and UNM is 12-24 (.500) from the field
LBSU is 2-7 (.286) and UNM is 3-11 (.273) from three-point land
LBSU is 1-5 (.200) and UNM is 6-8 (.750) in free throws
LBSU has committed 12 turnovers to UNM's nine. Total turnovers in the first half? 21.
Over on TruTV (it's okay, go sneak a peek), No. 1 Syracuse leads No. 16 UNC Asheville by eight with 2:10 to play.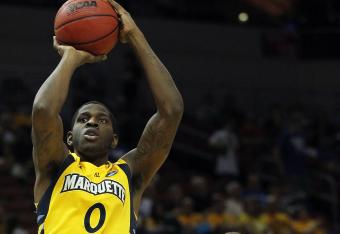 NCAA Basketball First All-Name Team member Peter Pappageorge stepped out of bounds with the basketball as the Long Beach State vs. New Mexico Lobos combined turnover count eclipsed the 20-mark.
He then compounded his error by fouling the first Lobos player he saw—too bad they're in the bonus.
With the Lobos shooting 75 percent from the line to the 49ers' 20 percent, this game may indeed hinge on the team that shoots better from the charity stripe.
Meanwhile, Marquette is up by 20 points with 21 seconds left to play.
Still, BYU was down by 25 just a few days ago...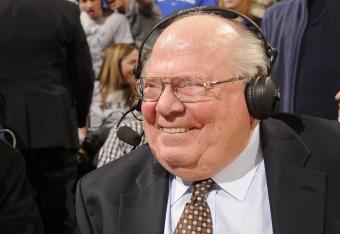 Is it just me or does Verne Lundquist sound a bit like Charlie Steiner?
The action between Marquette and BYU is so exciting back on CBS that the powers that be have decided to follow the Kentucky team bus into the parking lot rather than watch the No. 3 and No. 14 seeds finish their game. At 78-66, the points differential is 12 with 3:21 to go.
With 3:39 left in the first half, Long Beach State holds a 27-25 lead over the New Mexico Lobos. We're also up to combined 17 turnovers.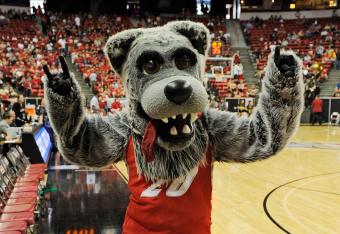 BYU is back to within 11 points (74-63) with five minutes to go in their match-up with Marquette. The Cougars have been helped by six blocks, though they have never led in the ball game.
Perhaps the Golden Eagles are relying too heavily on Jae Crowder, whose 23 points are already past his seasonal average of 17.4, as are his 15 rebounds (8.1 boards during the season).
Meanwhile, Long Beach State had a Lob City moment as Casper Ware threw an alley-oop pass to James Ennis, who redirected the toss into the net. The 49ers and Lobos are tied at 20 with six minutes remaining in the first half.
This is unreal—we're now up to 14 combined turnovers.
Los Angeles Clippers broadcaster Ralph Lawler has "Lawler's Law," which states the first team to 100 points wins.
I think the 49ers and Lobos should heed Butterfingers' Law—first team to 20 turnovers loses.
It's 11-10 New Mexico with 11:37 left to play in the first half. At this rate, our total turnover count will reach 64, the same number of teams playing in the NCAA's Second Round.
Over in Louisville, Marquette has taken a 74-61 lead over BYU with 7:03 remaining in the contest. Those Cougars do not go away.
Though Beach and the Lobos having been running around like crazy with these 10 turnovers and flailing attempts, the hardest workout thus far has been experienced by the referees' Fox 40 whistles.
We're averaging one whistle per possession, most for balls knocked out of bounds.
Long Beach State leads 10-7 with 13:30 to play in the first half.
EDIT—make that 12 turnovers. Sloppy, sloppy.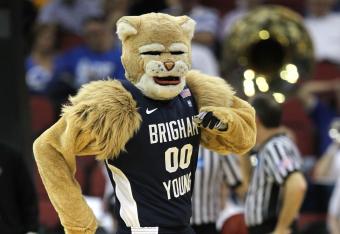 Marquette is desperately trying to put BYU away, taking a 69-52 lead with just over 10 minutes left to play.
Still, given BYU's performance earlier this week—and I'm well aware of Marquette's No. 3 seed—I won't consider this game over until Marquette takes a 25+ points lead.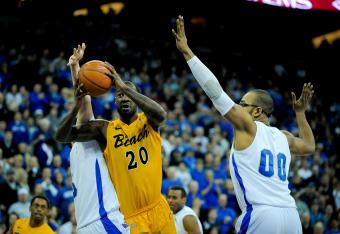 Over three minutes into the 49ers-Lobos game, our score is 0-0 and our combined turnovers are nine.
Back in Louisville, Marquette has pulled away to a 66-52 advantage with 11:27 to play.
EDIT - Long Beach State finally scored to make it 2-0 at the 16:56 mark. About time.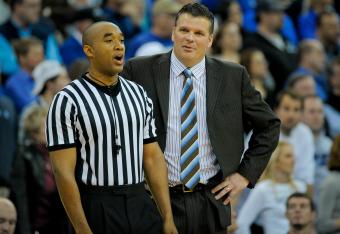 Long Beach State and New Mexico opening tip is won by Long Beach State and immediately turned over. Long Beach then draws an offensive foul call against New Mexico's Drew Gordon before committing another turnover, which in turn preceded a New Mexico turnover.
Veterans Tom Eades, Darren George and Tim Nestor are the three officials for this contest and I wish them the best of luck.
Bodies flying everywhere, BYU and Marquette trade a pair of turnovers before officials stop play to clean up all the sweat dumped onto the floor when several bodies from both teams went flying after several loose balls.
It's 60-49, Marquette, with 13 minutes to go.
This article is
What is the duplicate article?
Why is this article offensive?
Where is this article plagiarized from?
Why is this article poorly edited?