Harrison Barnes: How 2012 NCAA Tournament Will Determine NBA Draft Stock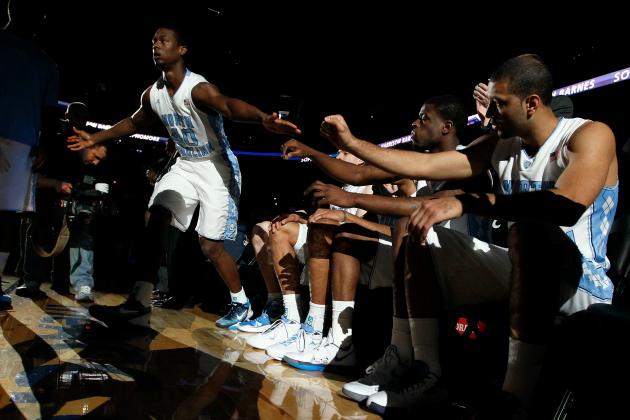 Kevin C. Cox/Getty Images

There is no doubt NBA scouts will be keeping a close eye on North Carolina's sophomore forward Harrison Barnes. Barnes is expected to be a lottery pick in the 2012 NBA Draft, but he will have to perform for the Tar Heels in the 2012 NCAA Tournament to ensure his top-fourteen spot.
It isn't 100 percent that Harrison Barnes will leave at the end of this season. In an interview with FOX Sports Florida, Barnes made no secret of the fact he wants to win a national title before he goes into the NBA. That doesn't mean he won't still enter the draft, if the Tar Heels don't win it all this year.
Barnes is a very skilled athlete and his size and clutch shooting had NBA scouts drooling over him in high school. He had a rocky start to his college career, but finished last season with a bang. The most memorable moment, being his 40 points in an overtime victory against the Clemson Tigers to get into the 2011 ACC championship.
It isn't just about points, though, and NBA scouts will be breaking down every facet of his game.
Begin Slideshow

»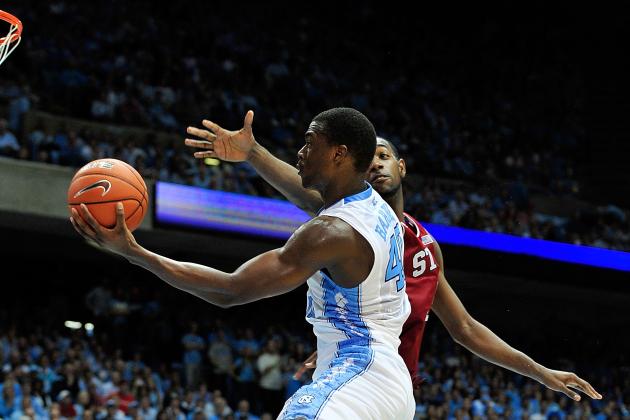 Grant Halverson/Getty Images

I lied.
Points do matter to NBA scouts, when it comes to players of Harrison Barnes' caliber. It isn't the most important aspect they will be paying attention to—they know he can score—but the NCAA Tournament is as close to the NBA Playoffs as you get at the college level.
They want to see how he performs in that environment.
Last year, Barnes averaged 21 points per game in the tournament. He was very consistent, but we never saw anything close to his Clemson performance. As a matter of fact, that was the only game he has broken 30 points in his collegiate career.
I am, however, predicting a 33-point game from him in a Sweet 16 matchup with Michigan.
The thing about Barnes is, when he wants to take over a game, he usually does. That's what the NBA is really looking for. It's all about scoring at will.
Anyone who questions that theory can just look at how the media treats LeBron James if he passes the ball in the final seconds of a game.
I also predicted a buzzer-beater from Barnes, to beat Kentucky for the national title. If I'm right in those predictions, that may be enough to put him at the top of the draft list.
That isn't the only thing they will be looking for, though.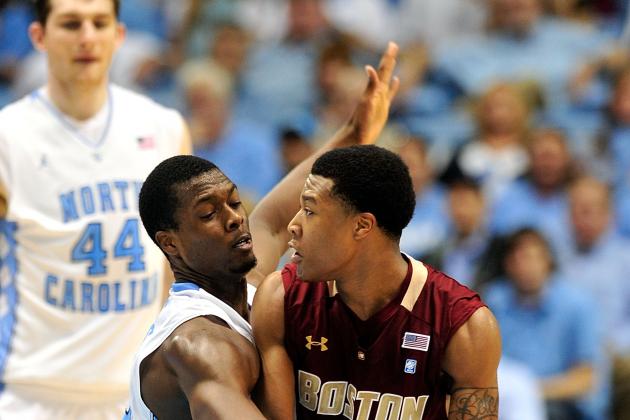 Grant Halverson/Getty Images
Notice Barnes isn't reaching in. Spread arms block passing lanes.
Yes, he can.
In a league where defense comes second to many star players, the NBA is looking for superstars that can defend. New York Knicks' Mike D'Antoni is out of a job because his star players couldn't defend.
Harrison Barnes is a great defender. He isn't going to rack up a ton of steals and blocked shots, but he does an outstanding job of staying in front of his opponent.
You won't see Barnes swipe at the ball or go up to block a shot very much. He positions himself in front of his opponent, with enough space to move with the ball—and not too much space for his opponent to shoot over him.
He doesn't kill the stat sheet on this side of the ball, but his solid play and fundamentally-sound positioning allows him to play toe-to-toe with anyone.
It starts with fundamentals. And when you have a ceiling as high as Barnes', NBA scouts have something to get excited about.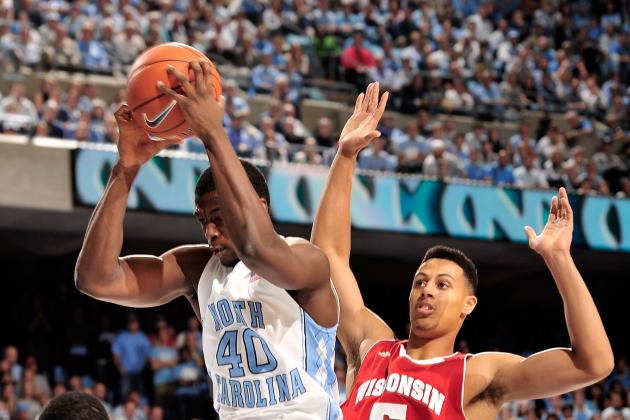 Grant Halverson/Getty Images

The NBA expects its forwards to be able to get up and snatch the ball off the glass.
This is where Harrison Barnes falls slightly below the standard. If doesn't improve, it may not hurt his draft stock, but we might see him play guard instead of the forward position.
I believe Barnes can get in the range of eight rebounds per game, with LeBron James and Kevin Durant.
North Carolina likes to run and the team relies on it's bigs to pull down the rebounds, while the others jet down the court. It's not so much that Barnes is a bad rebounder, he just has his back to the basket a lot with the way Carolina plays.
Barnes also doesn't spend much time in the post, so it isn't often we see him battling for position.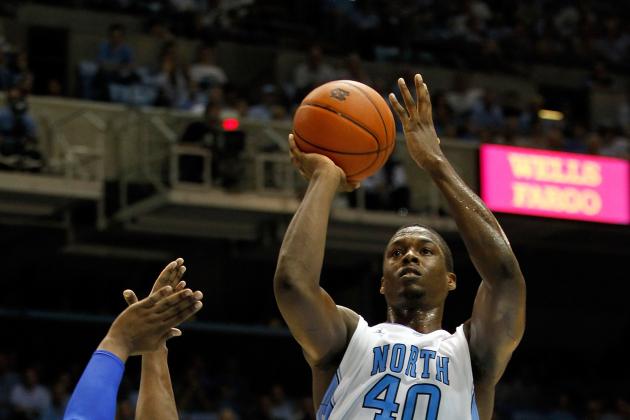 Streeter Lecka/Getty Images

As I said, Barnes isn't going to spend a lot of time in the post throughout a game. The Tar Heels had a stint where they were using him a little more in the post, but I haven't seen much of it over the past couple weeks.
During that time, we did catch a glimpse of how good he can be.
Harrison Barnes makes use of head fakes, spin moves and superb athleticism to create space between himself and opponents. At times, he comes out of the spin a little out of control, but still does a great job finishing the play.
Body control is a big part of superb post-play and Barnes is still fine-tuning that aspect of his game. Scouts will be keeping an eye on how he performs with his back to the basket.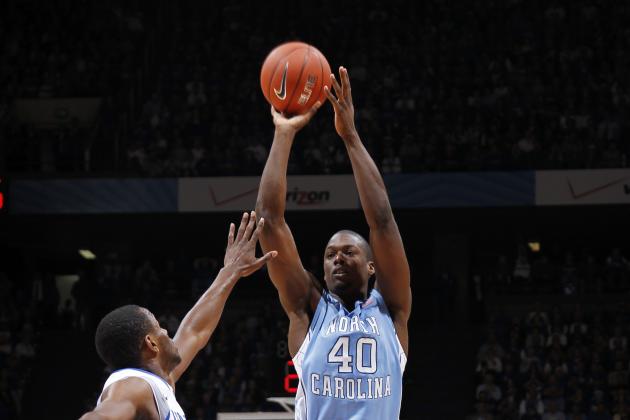 Joe Robbins/Getty Images

I'm still trying to figure this one out.
Some games it seems like Barnes could spot up from 40 feet and knock it down. Others, he struggles from 15.
It wasn't very long ago that Harrison Barnes was shooting 43 percent from three-point range. In his last seven games, he is 6-of-28 from beyond the arc and his season percentage has dropped to 37.7 percent.
His stroke is effortless from three-point land and I don't expect the extra three feet in the NBA to cause much trouble. It's all mental and simply a matter of regaining his confidence from that range.
It's been quite a slump for the team leader in three-point field goal percentage, though. He's going to have to crawl out of his hole and become the shooter he was earlier in the season to improve his draft stock.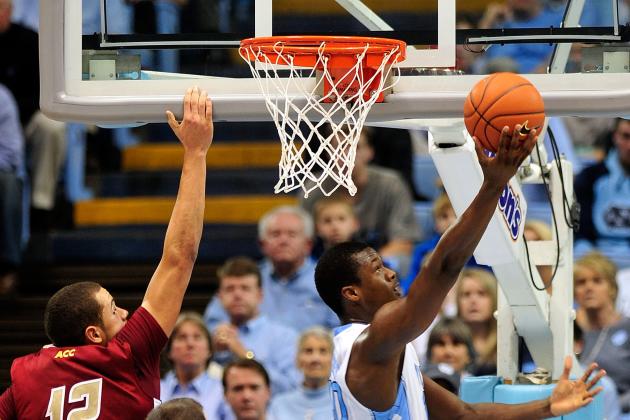 Grant Halverson/Getty Images

I just can't help myself. I love making predictions.
It's well-documented that I have North Carolina coming out of the 2012 NCAA Tournament as champions. Kendall Marshall will be a key component in their run for UNC's sixth title.
Nobody will make a bigger statistical impact in this run than Harrison Barnes, though. I have him coming out of the tournament with a 25 points-per-game average and seven rebounds, to boot.
Not only will his averages look great, but he will help propel the Tar Heels through the tourney with multiple clutch shots in their tightest games—including that game-winner against Kentucky.
Though I don't feel he is the next Michael Jordan, you can expect those comparisons to be made with his clutch shooting in the tourney. That's just the way it is.
Considering the NBA puts the worst fourteen teams in a lottery, it's tough to predict exactly what team he will go to and at which spot he will be taken. Call it a "hunch", but I feel the New Orleans Hornets will get the top spot and snatch up Harrison Barnes.
NBA commissioner David Stern helped out the Hornets once already. Between that and the last couple NBA Drafts, I don't overlook the draft conspiracy Minnesota's general manager David Kahn laid out for the folks at ESPN:
"This league has a habit, and I am just going to say habit, of producing some pretty incredible story lines. Last year it was Abe Pollin's widow and this year it was a 14-year-old boy and the only thing we have in common is we have both been bar mitzvahed. We were done. I told [Utah executive Kevin O'Connor ]: 'We're toast.' This is not happening for us and I was right."
My predictions could be wrong, but one thing is for sure—it's going to be exciting to watch this year's NCAA Tournament and NBA Draft unfold. And Harrison Barnes' tourney performance will be a major factor in how it all goes down.