Jose Canseco, Shaquille O'Neal and a True MMA Dream Match
March 15, 2012

Getty Images/Getty Images
Dream fights come along only once or twice a generation. For fight fans in the 2010s, there are only three fights that really transcend their respective sports. Fights that would get everyone in the sports world talking.
In boxing, the dream fight to end all dream fights is Floyd Mayweather versus Manny Pacquiao. It's a fight that has, thus far, mainly taken place in the press.
Unfortunately, the way things are going, if it ever happens it will be at a retirement home in South Beach with both men coming slowly to the ring on Rascals. A fight while both are in their primes? Forget about it.
Mixed martial arts doesn't have a single fight that powerful. Some fans are excited to see Georges St-Pierre, the reigning welterweight champion, take on the amazing middleweight champion Anderson Silva. The size differential between the two men, more than 20 pounds, has halted this one in its tracks.
This leaves us with only one fight that can define our generation. A battle between two superstars, men so popular and iconic that it seems impossible to believe a single arena could possibly be enough to hold all the interested spectators.
Of course, I could only be talking about Shaquille O'Neal versus Jose Canseco,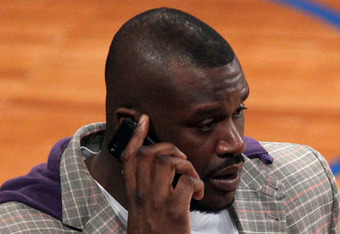 Noel Vasquez/Getty Images
You remember Canseco right?
In his prime, he was putting notches on his bedpost at a Ryan Reynolds-like pace and becoming the first member of baseball's 40/40 club, notching 40 home runs and 40 stolen bases in the same season. Later, he was one of the first players to admit widespread steroid abuse in the sport.
Today? He's best known for making a fool of himself on Twitter. Airing his dirty laundry. Challenging the monstrous Shaquille O'Neal to a fight.
Yes, that Shaquille O'Neal. The recently retired basketball star best known for his power moves, mumbling, incoherent interviews and the movie Kazaam, not necessarily in that order.
Will this fight ever actually take place? What would a fight between the two men even look like, considering Shaq is 40 and Jose Canseco is 47? What's the over/under on high-price escorts traveling to whatever town is blessed with this potential matchup? These are burning questions that demand answers.
I never thought anyone would out-Pride the Pride Fight Championships. But if this fight comes off, there will be a new king of the freak-show fights. I welcome them with open arms.