2012 NFL Mock Draft: First-Round Predictions After Recent Free Agency Signings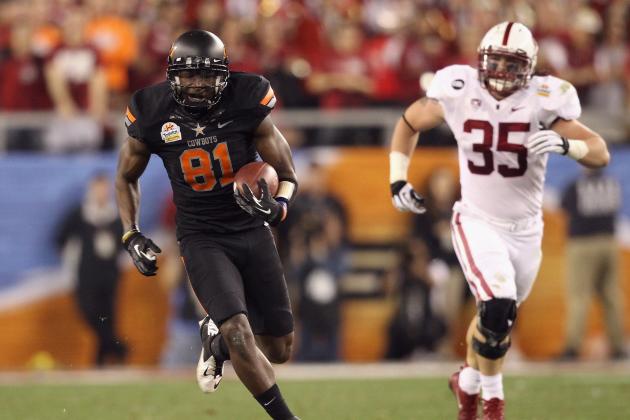 Christian Petersen/Getty Images

Free agency really shook up the look of my latest mock draft.
There were plenty of unexpected moves like the Buffalo Bills' addition of Mario Williams. Until that signing, I had Buffalo selecting either South Carolina's Melvin Ingram or North Carolina's Quinton Coples. Obviously, its free agency moves adjusted the pick.
A surprise prospect from Stanford makes a big leap in my latest projection. Pro day performances don't typically have a major impact on a player's stock, unless they post some eye-popping workout numbers. This prospect really solidified his spot in the first round thanks to his performance.
Begin Slideshow

»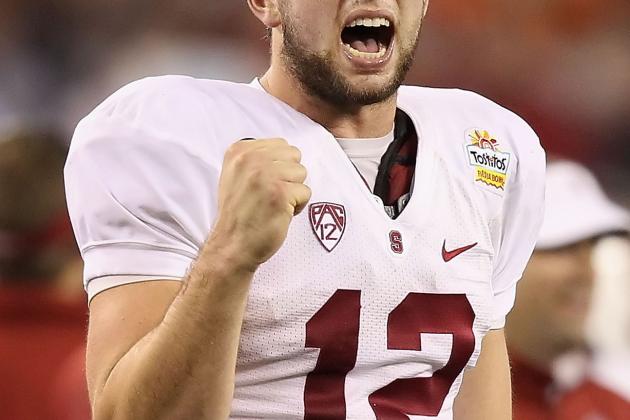 Christian Petersen/Getty Images

Pick: Andrew Luck, Quarterback, Stanford
Not much of a surprise here, the Indianapolis Colts will use the No. 1 pick to select Stanford's Andrew Luck. His combination of physical abilities, football IQ and leadership makes him the perfect fit for a team looking to rebuild. Luck will never make Colts fans forget Peyton Manning, but he'll build his own legacy.
Baylor's Robert Griffin III continues to raise his stock through offseason workouts. However, he isn't a finished product like Luck. He also doesn't offer any more upside than what Luck brings to the table. The Griffin III versus Luck debate is a media-driven discussion.
Don't count out a very successful rookie season for Luck. He will have a decent offensive line and Reggie Wayne returning at wide receiver. The pieces are in place for Indianapolis to double or triple last year's win total.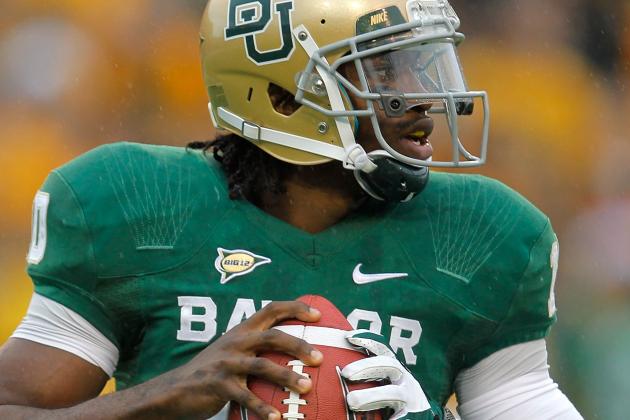 Sarah Glenn/Getty Images

Pick: Robert Griffin III, Quarterback, Baylor
Baylor's Robert Griffin III gained significant ground in the race to be the No. 1 overall pick. Despite his rising stock, he just isn't as safe of a pick as Andrew Luck. This doesn't mean he won't be an elite quarterback in the NFL. The Washington Redskins feel so comfortable about his skills that they traded three picks to land him.
Griffin III is still developing, but possesses extraordinary talents. His ability to vertically attack a defense is tops among all the quarterback prospects. He has a great personality that's capable of raising the morale in a locker room.
The Washington Redskins desperately needed to add a young game-changing quarterback to the roster. Their failed experiments with Donovan McNabb, Rex Grossman and John Beck made adding another veteran impossible.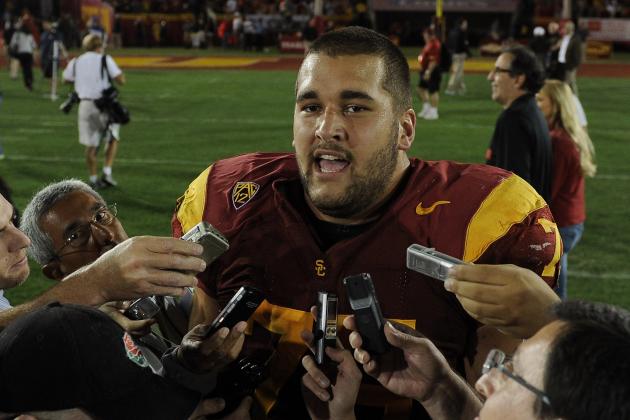 Harry How/Getty Images

Pick: Matt Kalil, Offensive Tackle, USC
The Minnesota Vikings can't head into next season with Charlie Johnson as their starting left tackle. They must find someone capable of providing Christian Ponder the time needed to locate open targets. USC's Matt Kalil boasts the athleticism to reach the edge and protect the quarterback's blind side.
Kalil also brings a mean streak to the field that helps him open running lanes. Adding a franchise left tackle is something best accomplished through the draft. This draft class doesn't feature a lot of left tackle depth. If Minnesota wants to upgrade the position it needs to do so with the No. 3 pick.
There's been some chatter that Minnesota loves LSU's Morris Claiborne. However, selecting a cornerback here wouldn't bring a ton of value.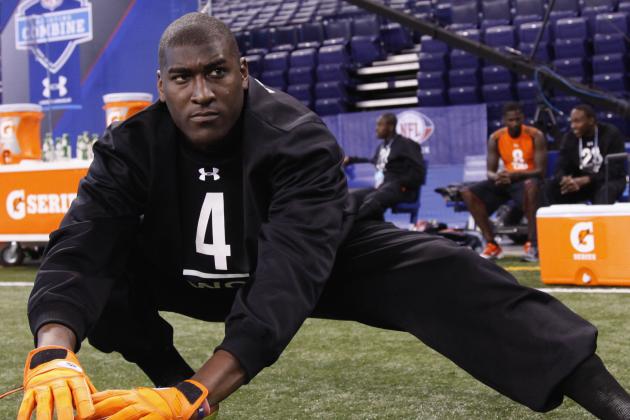 Joe Robbins/Getty Images

Pick: Justin Blackmon, Wide Receiver, Oklahoma State
The Cleveland Browns have obvious needs at the wide receiver and running back positions. Owning the No. 4 pick provides them the opportunity to make a significant upgrade at either position. Selecting Oklahoma State's Justin Blackmon brings more value here than adding a running back.
Blackmon's physical play and run-after-the-catch ability make him a great fit for the Browns offense. His presence gives Colt McCoy a legitimate No. 1 receiver. This will help Cleveland finally get a better feel for the overall potential of McCoy.
Adding Alabama's Trent Richardson is also a possibility for the Browns. However, they could find a talented running back with their second first-round pick or early in the second round. Someone like Boise State's Doug Martin brings a lot of upside.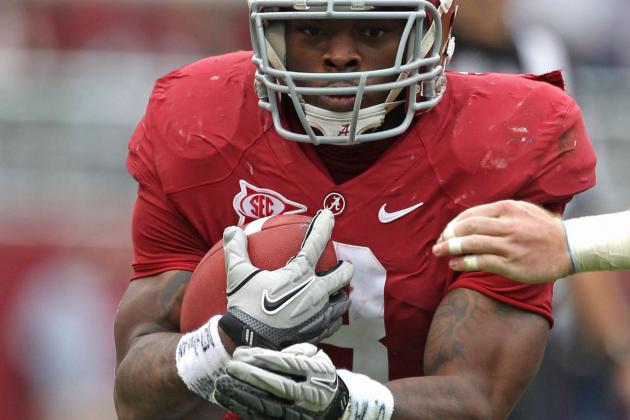 Mike Zarrilli/Getty Images

Pick: Trent Richardson, Running Back, Alabama
The Tampa Bay Buccaneers' spending spree in free agency gives them a lot of flexibility in the draft. Filling positions of need with Vincent Jackson, Carl Nicks and Eric Wright opens the door for Alabama's Trent Richardson.
The backfield tandem of Richardson and LeGarrette Blount would give Greg Schiano a powerful rushing attack.
Richardson is a multitalented back capable of contributing on a number of levels. His ability to block and catch the football allows him to remain on the field on passing downs. Richardson's skill set makes him an every-down type back.
LSU's Morris Claiborne also makes sense here for the Buccaneers. Adding Eric Wright doesn't exactly solve the question marks at cornerback. He's a decent player, but doesn't possess the same upside as Claiborne.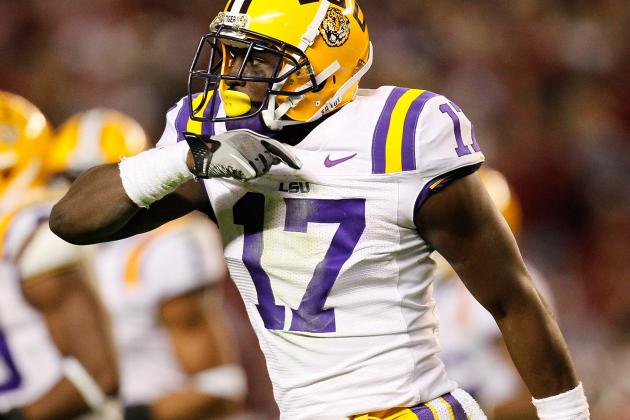 Kevin C. Cox/Getty Images

Pick: Morris Claiborne, Cornerback, LSU
A key to a successful draft is finding balance between filling a need and getting value. The St. Louis Rams have a wide range of needs, but need to be careful not to reach to fill them. LSU's Morris Claiborne fills a need and brings a ton of value. He's the type of cornerback who's capable of shutting down one side of the field.
Pairing Claiborne with free-agent addition Cortland Finnegan gives the Rams a potentially dominant cornerback duo. This type of coverage ability will have a sweeping impact, especially in the front four's ability to get after the quarterback.
Keep an eye on Memphis' Dontari Poe, whose fast-rising stock could push him into the top 10.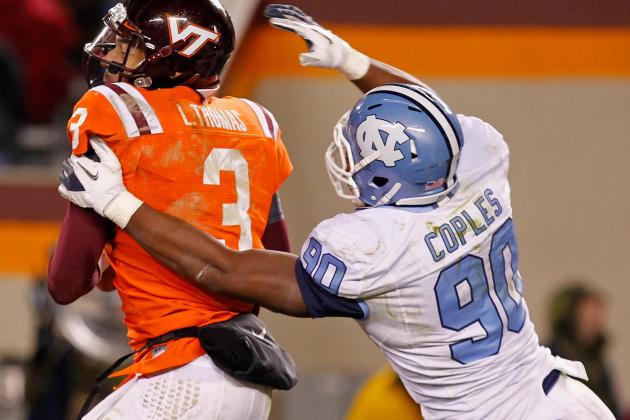 Geoff Burke/Getty Images

Pick: Quinton Coples, Defensive End, North Carolina
Retaining Jeremy Mincey doesn't solve the Jacksonville Jaguars' questions at defensive end. They still need to add another top-notch pass-rusher on the defensive line.
North Carolina's Quinton Coples' combination of strength and quickness gives him the ability to generate a ton of pressure. The tandem of Mincey and Coples has a lot of potential.
Coples received some poor reviews because of questions about his motor. However, his less-than-stellar production was more about double-teams than lack of effort. The fact is, Coples is an extremely talented athlete with wide array of pass-rushing moves. He will consistently approach the double-digit sack mark.
If Oklahoma State's Justin Blackmon slips to this spot, Jacksonville will have to pull the trigger. Signing Laurent Robinson doesn't provide the offense with the explosiveness it needs.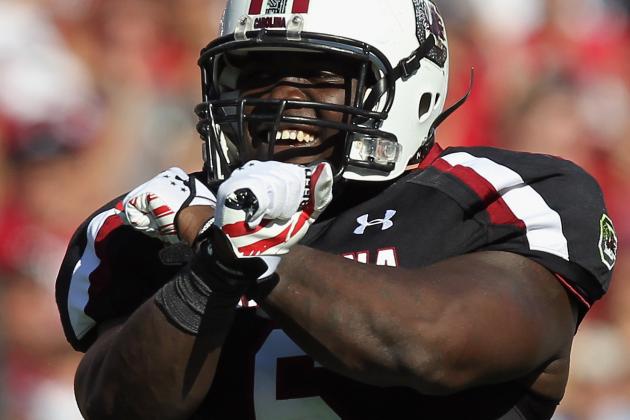 Streeter Lecka/Getty Images

Pick: Melvin Ingram, Defensive End/Linebacker, South Carolina
The retirement of Jason Taylor leaves a major pass-rushing void on the Miami Dolphins defensive front. Adding South Carolina's Melvin Ingram will increase the defensive pressure, while also drawing double-teams away from Cameron Wake.
Ingram's athleticism makes him a versatile player who's capable of lining up at defensive end, linebacker and defensive tackle. Miami's shift to a hybrid 4-3 and 3-4 system means it needs to find players capable of filling multiple roles. Ingram's the perfect addition to help increase the impact of this unit.
Texas A&M's Ryan Tannehill is considered a target to solve the Dolphins' quarterback issue. However, I can't bring myself to projecting him in the first round. I have him rated as a third-round prospect who needs time to develop.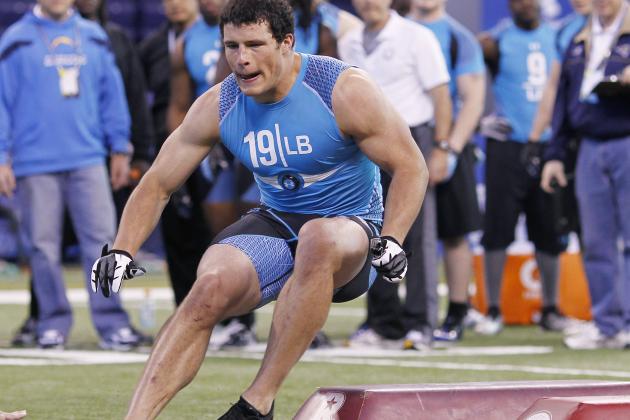 Joe Robbins/Getty Images

Pick: Luke Kuechly, Linebacker, Boston College
Carolina Panthers head coach Ron Rivera knows the importance of having a top-notch defense, and especially strong linebacker play. Last season's injuries to Thomas Davis and Jon Beason left the Panthers' linebacking corps in shambles. Adding Boston College's Luke Kuechly helps solidify the unit.
Kuechly would line up in the middle, allowing Beason to bump outside. The combination of Kuechly and Beason gives the Panthers one of the best linebacking units in the NFL. Teams will struggle to find running lanes with these two roaming the field.
Carolina must also consider defensive tackle prospects like Memphis' Dontari Poe and LSU's Michael Brockers. The Panthers lack elite talent and depth in the middle of their defensive front.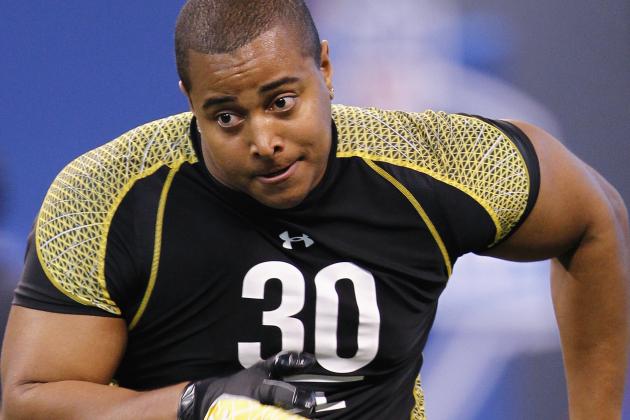 Joe Robbins/Getty Images

Pick: Jonathan Martin, Offensive Tackle, Stanford
The Buffalo Bills' free-agent additions of Mario Williams and Mark Anderson shifts their approach to the draft. They now can focusing on upgrading the offensive line, which desperately needs an answer at left tackle. Stanford's Jonathan Martin exhibits quick feet and fluid movements that allow him to protect the quarterback.
Last year's starter Demetrius Bell remains on the open market, only exacerbating the problem. Martin's experience at Stanford makes him ready to make a quick transition to the NFL. Teaming Martin with promising second-year player Chris Hairston gives the Bills a nice young tackle tandem.
Notre Dame's Michael Floyd will also get some heavy consideration from Buffalo. It needs to find someone to help draw coverage away from Stevie Johnson.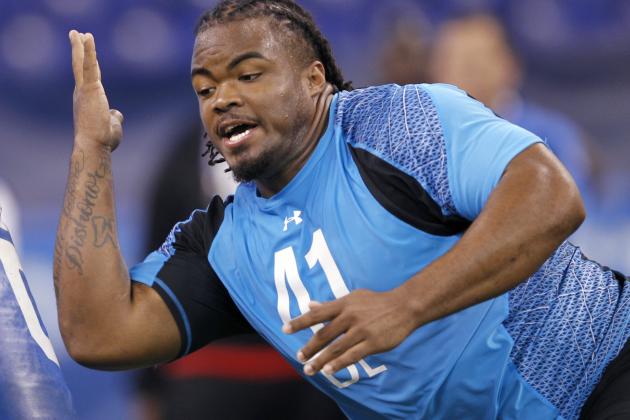 Joe Robbins/Getty Images

Pick: Dontari Poe, Defensive Tackle, Memphis
The Kansas City Chiefs defense lacks a space-eating defensive tackle capable of stuffing the run. Last season, Kelly Gregg showed glimpses of what this defense could look like with a top-notch nose tackle. At 6'4" and 346 pounds, Memphis' Dontari Poe possesses the size and strength needed to develop into one of the league's top nose tackles.
Kansas City's defense features a lot of good young talent, and could be only the addition of Poe away from dominance. New head coach Romeo Crennel's defensive background only increases the likelihood Poe comes off the board at No. 11.
If Boston College's Luke Kuechly is still available, he would get heavy consideration. Adding another rangy linebacker is also a need for the Chiefs.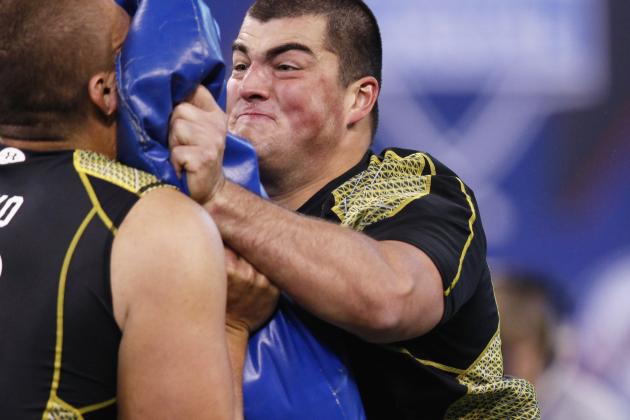 Joe Robbins/Getty Images

Pick: David DeCastro, Guard, Stanford
Adding Stanford's David DeCastro to an offensive line already featuring Russel Okung, James Carpenter and Max Unger gives the Seattle Seahawks a solid core. The importance of strong offensive line play could never be overstated; just ask teams like the Chicago Bears and Arizona Cardinals.
DeCastro is a well-rounded player who's ready to step in and immediately contribute. He does a good job keeping his pad level low, which helps him maintain leverage. This leverage, combined with his balance and strength, makes him an excellent run-blocker. He's also capable of shuffling his feet and mirroring the pass rush.
An edge-rusher like Illinois' Whitney Mercilus will also appear on the radar for the Seahawks.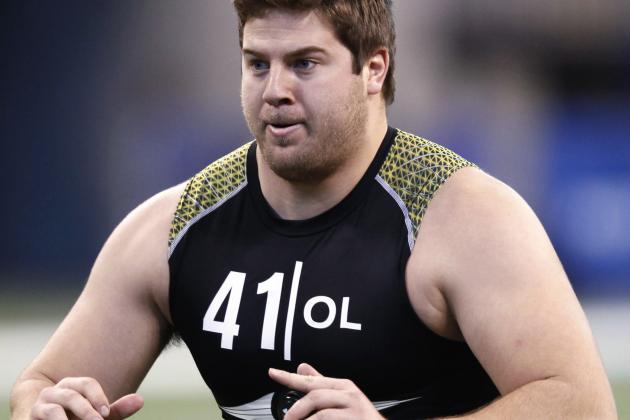 Joe Robbins/Getty Images

Pick: Riley Reiff, Offensive Tackle, Iowa
Allowing 54 sacks last season ranked the Arizona Cardinals offensive line as the second-worst in the NFL. Their struggles protecting the quarterback resulted in many problems, including a few missed games by Kevin Kolb.
Iowa's Riley Reiff exhibits the quick feet needed to reach the edge and protect the quarterback. His addition allows Levi Brown to shift to right tackle, effectively improve two positions.
Arizona is moving forward with Kolb at quarterback and need to surround him with better weapons. There aren't many quarterbacks capable of excelling with that type of pressure. Reiff's ability to open running lanes also helps Arizona continue focusing on the running game.
If Oklahoma State's Justin Blackmon happens to fall, Arizona would jump at the chance to bring him into the mix.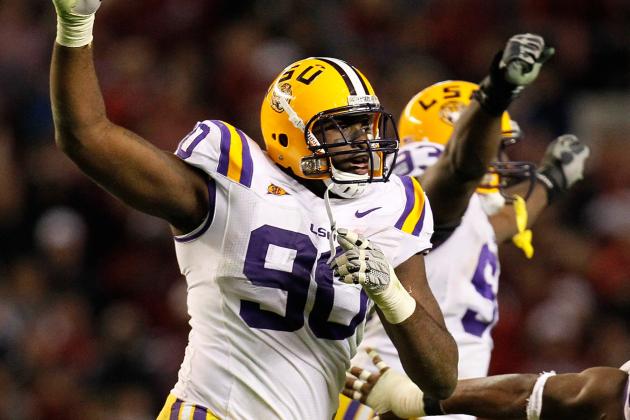 Kevin C. Cox/Getty Images

Pick: Michael Brockers, Defensive Line, LSU
The free-agent additions of Brandon Carr, Dan Connor and Brodney Pool addressed some of the Dallas Cowboys' most pressing needs. This opens their options with the No. 14 pick. LSU's Michael Brockers fits the mold of a five-technique defensive end, a position the Cowboys must address.
Brockers brings both size and athleticism to the table, which helps him hold at the point of attack and penetrate the pocket. His addition provides an upgrade over both Jason Hatcher and Kenyon Coleman.
Signing Brandon Carr and Brodney Pool doesn't eliminate the Cowboys from addressing the secondary with this pick. They should select the best prospect available at either corner, safety or along the defensive line. Look for players like Alabama's Dre Kirkpatrick and Mark Barron and South Carolina's Stephon Gilmore to get consideration.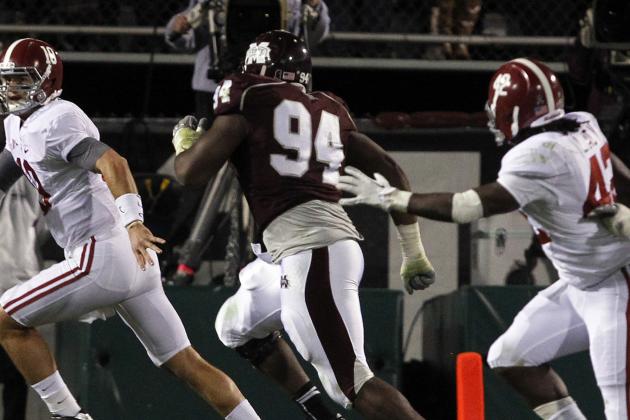 Butch Dill/Getty Images

Pick: Fletcher Cox, Defensive Line, Mississippi State
Compared to last season, the Philadelphia Eagles' offseason has been very quite. However, the few moves they made gives them a wide-open draft approach. The biggest moves were re-signing Evan Mathis and acquiring DeMeco Ryans from the Houston Texans.
These moves put someone like Mississippi State's Fletcher Cox in play at No. 15.
Cox's quick initial burst makes him nearly impossible to keep out of the backfield. His disruptive play fits the Eagles' aggressive approach on defense. A interior rotation of Cox, Mike Patterson and Cullen Jenkins has the potential to make a ton of plays behind the line of scrimmage.
They also could target secondary prospects like Alabama's Mark Barron and Dre Kirkpatrick.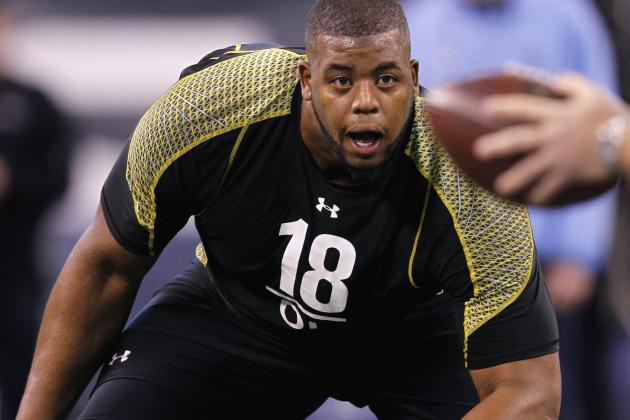 Joe Robbins/Getty Images

Pick: Cordy Glenn, Offensive Line, Georgia
Neither Wayne Hunter or Vladimir Ducasse are the answer at right tackle for the New York Jets. This is an important position because of New York's preference to run the football. The focus on the run only figures to increase with the addition of Tony Sparano at offensive coordinator.
Georgia's Cordy Glenn's size and strength makes him and elite run blocker.
Glenn offers more than size as he's also a very capable pass protector. During his career at Georgia, he played several spots along the offensive line, including left tackle. Glenn held up against the top pass-rushers in the SEC.
The Jets are another team that could consider selecting Notre Dame's Michael Floyd. His addition would provide Mark Sanchez (or Tim Tebow) with another explosive weapon.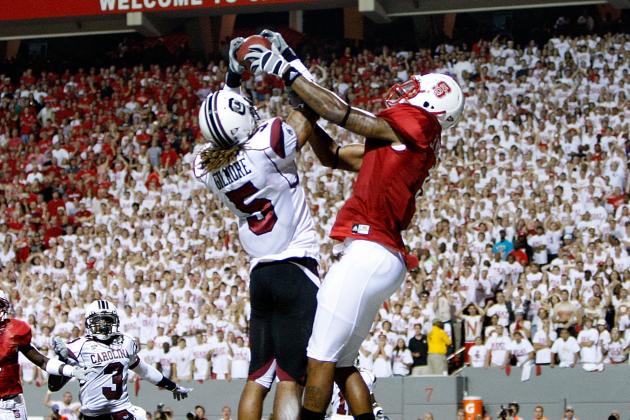 Streeter Lecka/Getty Images

Pick: Stephon Gilmore, Cornerback, South Carolina
The minor moves of signing Jason Allen and bringing back Reggie Nelson doesn't lessen the Cincinnati Bengals' need in the secondary. Last offseason's loss of Johnathan Joseph left a hole opposite Leon Hall.
South Carolina's Stephon Gilmore possesses the coverage skills needed to make an immediate impact.
Gilmore is a fluid athlete who's able to adjust and stick with receivers through their routes. He's a physical defender who's more than willing to come up and support the run. However, it's his ball skills that give him the potential to be a standout player.
Cincinnati's lack of urgency addressing the running back position in free agency makes me believe they are considering moving up to land Alabama's Trent Richardson. Their two first-round picks should be enough to put them in range.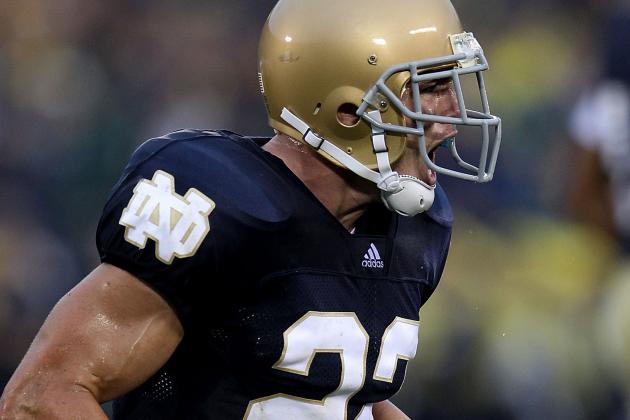 Jonathan Daniel/Getty Images

Pick: Harrison Smith, Safety, Notre Dame
San Diego Chargers GM A.J. Smith loves Notre Dame's Harrison Smith, and isn't afraid to reach for a player he favors.
A good example of this comes from A.J. Smith's move up the draft to select running back Ryan Mathews in 2010. Adding another safety alongside Eric Weddle makes sense, as it will help the defense hold up against Peyton Manning.
Harrison Smith is a versatile defender who does a good job in coverage and supporting the run. His terrific instincts help put him in position to make plays. He's an underrated athlete capable of covering a lot of ground.
Prospects like Alabama's Courtney Upshaw and Stanford's David DeCastro are likely high on the Chargers' draft board. However, Smith tends to go with his gut.
Jonathan Daniel/Getty Images

Pick: Whitney Mercilus, Defensive End, Illinois
The Chicago Bears tried and failed to upgrade their pass rush by adding Jeremy Mincey, who re-signed with the Jacksonville Jaguars. Julius Peppers' age and the lack of young talent on the other side make finding a defensive end a priority. Thankfully, Chicago doesn't have to travel far to find Illinois' Whitney Mercilus.
Mercilus boasts a quick first step that allows him to attack the edge. His hand usage keeps him clean and able to instantly shed blocks. Last year, he recorded 16 sacks and 22.5 tackles for loss, showing his ability to make an impact.
Chicago is very thin at cornerback, forcing it to consider prospects like Alabama's Dre Kirkpatrick and South Carolina's Stephon Gilmore.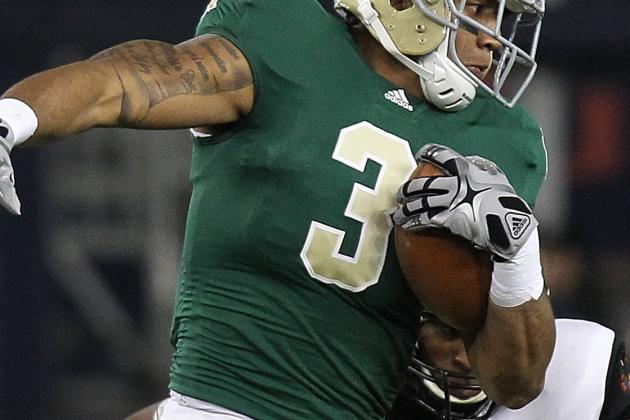 Nick Laham/Getty Images

Pick: Michael Floyd, Wide Receiver, Notre Dame
The Tennessee Titans offense needs another explosive playmaker at the wide receiver position. Kenny Britt may take sometime coming back from his injury, and is always at risk of making a mistake off the field. Notre Dame's Michael Floyd is exactly the type of weapon Tennessee needs to help the development of Jake Locker.
Floyd's experience at Notre Dame gave him a chance to develop a wide range of route-running techniques. He's not just a big target, as he also brings the quickness needed to attack deep down the field.
Tennessee's signing of Kamerion Wimbley eliminates defensive end as a major need.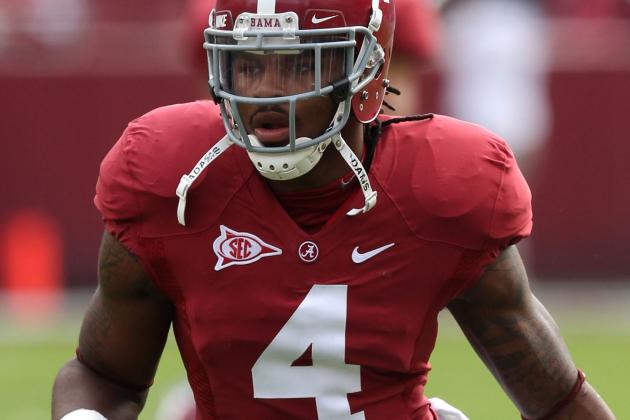 Mike Zarrilli/Getty Images

Pick: Mark Barron, Safety, Alabama
The Cincinnati Bengals' lasting memory this offseason is of Arian Foster running wild through their defense.
Chris Crocker fell victim to one of the better runs Foster had all season. This performance only showed the weakness at the back end of the Bengals' defense. Alabama's Mark Barron won't only help in run support but also in pass coverage.
Barron's experience in the SEC will help him make an easier transition into the NFL. Using their first two picks on defensive backs could really improve the total play of the defense.
As I mentioned earlier, look for the Bengals to make a play for Trent Richardson.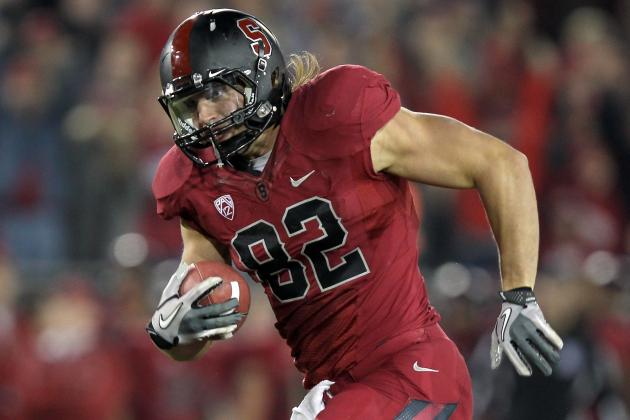 Ezra Shaw/Getty Images

Pick: Coby Fleener, Tight End, Stanford
Playmaking tight ends like Stanford's Coby Fleener are becoming major offensive weapons. His combination of size and speed make him a potential mismatch. The Cleveland Browns need to find more offensive weapons to help Colt McCoy.
If the Browns are able to land Justin Blackmon and Fleener with their two first-round picks, their offense will instantly become more explosive. This organization needs to surround McCoy with better weapons before it determines his future.
Peyton Hillis' exit via free agency leaves a major void at running back. Prospects like Boise State's Doug Martin and Miami's Lamar Miller will also receive consideration here.
Greg McWilliams/Getty Images

Pick: Dre Kirkpatrick, Cornerback, Alabama
Landing a prospect like Alabama's Dre Kirkpatrick would be a dream scenario for the Detroit Lions.
Cornerback was a need even before they lost Eric Wright to free agency. Kirkpatrick is a versatile player able to play both man and zone coverage. His length allows him to play close to the line and disrupt the timing of the offense.
The Lions secondary struggled last season even with the aid of their ferocious pass rush. Chris Houston and Alphonso Smith are the only corners remaining on the roster to receive significant playing time. Look for Detroit to target the best corner available with this pick.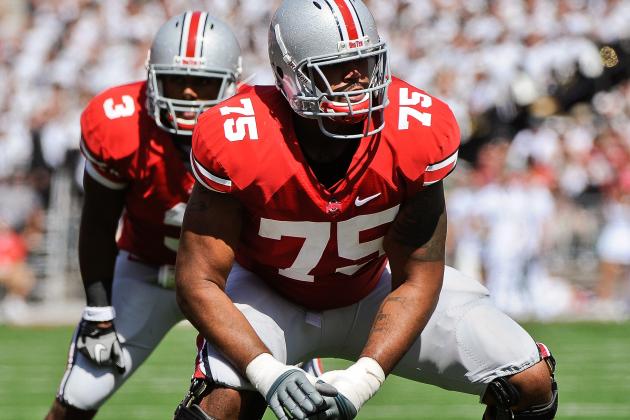 Jamie Sabau/Getty Images

Pick: Mike Adams, Offensive Tackle, Ohio State
The versatility of Ohio State's Mike Adams is something the Pittsburgh Steelers need along the offensive line. This team knows the importance of having offensive line depth as insurance for injuries.
Adams is capable of playing either right or left tackle. His addition would allow the Steelers to shift Willie Colon to the right side.
An offensive line featuring Adams, Maurkice Pouncey, Marcus Gilbert and Colon has a lot of potential.
Pittsburgh also needs to address several spots on the defensive side of the ball. This means it could just target the best player available.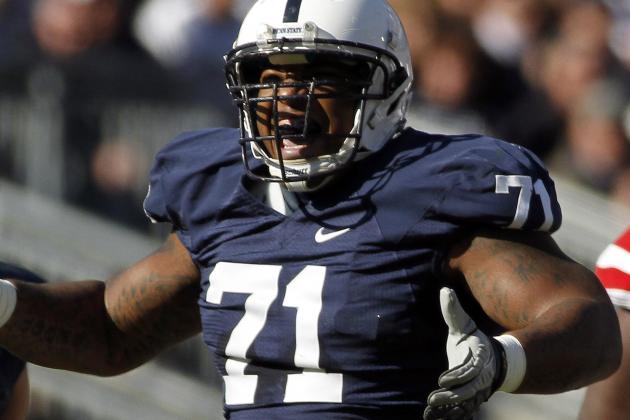 Justin K. Aller/Getty Images

Pick: Devon Still, Defensive Tackle, Penn State
An interior presence along the Denver Broncos defensive front could push this unit into the elite category. They already get excellent outside pressure from Von Miller and Elvis Dumervil, which forces quarterbacks up in the pocket.
Penn State's Devon Still has the ability to collapse the pocket and fits exactly the role this defense needs.
The addition of Peyton Manning means the Broncos' entire draft plan could change. It puts offensive playmakers like Baylor's Kendall Wright and Stanford's Coby Fleener in play at this spot. However, continuing to improve the defense will help take some pressure off the rehabbing Manning.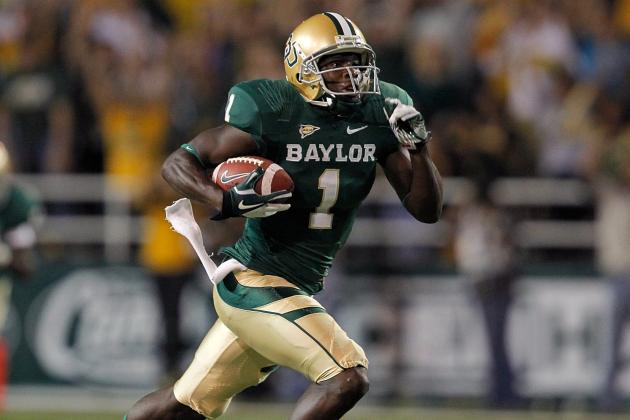 Sarah Glenn/Getty Images

Pick: Kendall Wright, Wide Receiver, Baylor
Andre Johnson is not only one of the best players on the Houston Texans but also one of the best in the entire NFL. However, his past two seasons have been hampered by nagging injuries. His absence from the line really limited the Texans offensive production.
Baylor's Kendall Wright is an explosive playmaker capable of keeping the Texans offense running smoothly.
Adding Wright not only helps when Johnson is out of the lineup, but it will also draw coverage away when Johnson is on the field. Houston might be one playmaking wide receiver away from a truly dominant offense.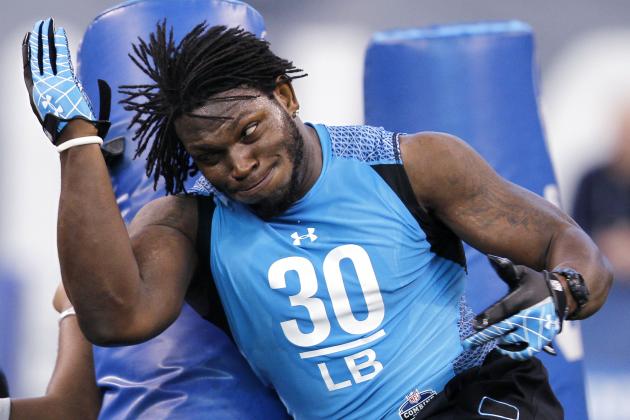 Joe Robbins/Getty Images

Pick: Courtney Upshaw, Linebacker/Defensive End, Alabama
If the New England Patriots are able to land a versatile defender like Alabama's Courtney Upshaw, it would be a win.
His ability to play either defensive end or outside linebacker makes him a great fit for Bill Belichick's system. He also brings the ability to generate pressure on the quarterback, something the Patriots desperately need.
New England's defensive struggles last season cost them a Super Bowl victory. That unit also faces the possibility of losing their top two pass-rushers. Mark Anderson already signed with the Buffalo Bills, while Andre Carter remains on the market.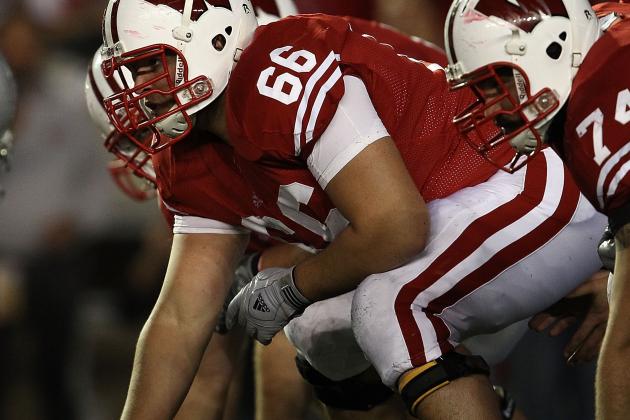 Jonathan Daniel/Getty Images

Pick: Peter Konz, Center, Wisconsin
The Green Bay Packers' loss of Scott Wells to the St. Louis Rams threatens to disrupt the play of the offensive line. Wells was a leader, responsible for making all the adjustments for the offensive line. Losing this type of player could really cause problems for the Packers offense.
Good thing that Wisconsin's Peter Konz could be available at pick No. 28.
Konz's communication and football IQ makes him the perfect addition to an offensive line losing its leader. He's not only a strong leader but also top-notch run- and pass-blocking skills. Playing at Wisconsin gave him the experience needed to make a smooth transition into the NFL.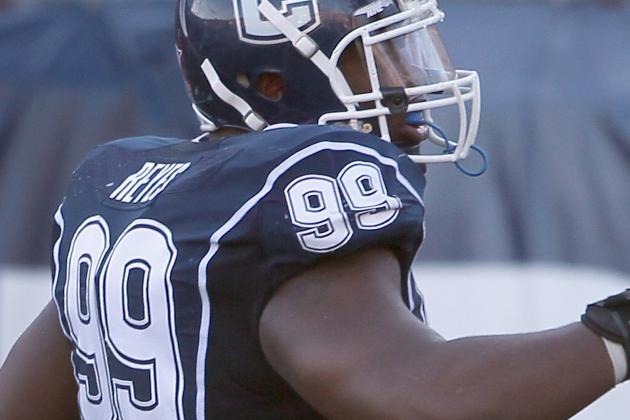 Elsa/Getty Images

Pick: Kendall Reyes, Defensive Line, Connecticut
The loss of Corey Redding to the Indianapolis Colts didn't grab major headlines, but the Baltimore Ravens will miss his contributions. He gave them a steady presence and versatility along the defensive front. His ability to hold up against the run and gain penetration will be tough to replace. However, Connecticut's Kendall Reyes could fill the void.
Reyes is still developing as a player, but possesses a ton of potential.
During his college career, he filled many roles. He was asked to play defensive end, both in the five-technique and three-technique, and nose tackle. This versatility would be a welcome addition to the Ravens' defensive front.
Streeter Lecka/Getty Images

Pick: Stephen Hill, Wide Receiver, Georgia Tech
The free-agent additions of Randy Moss and Mario Manningham won't stop the San Francisco 49ers from bringing in another wide receiver via the draft. Georgia Tech's Stephen Hill is the type of deep threat that could really open up the 49ers offense. He's still developing, so he might need to sit behind someone like Moss for a year.
However, Hill's size should help him get early targets in the red zone. The one thing apparent in the 49ers' playoff loss was their lack of offensive weapons.
San Francisco is in such a good position with its roster that it can just sit back and select the best player available.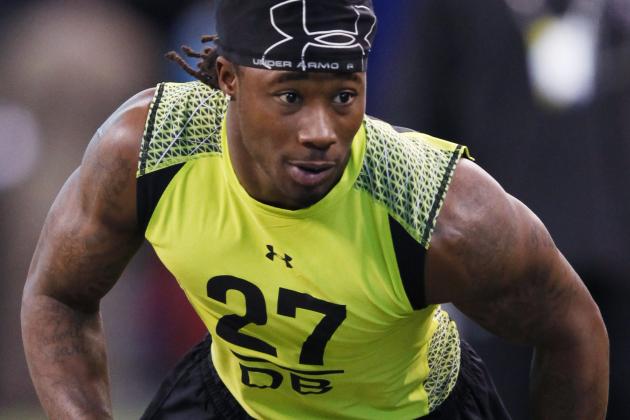 Joe Robbins/Getty Images

Pick: Janoris Jenkins, Cornerback, North Alabama
The New England Patriots again have multiple first-round picks, but this time there's a lot of pressure to add impact players. Their defense needs a lot of help at multiple positions. North Alabama's Janoris Jenkins may come with some baggage but also brings a ton of talent.
His ability to diagnosis a play and quickly close helps him make a play on the football. He has terrific ball skills that make him a threat to pull down an interception. New England needs someone like Jenkins to come in and help create turnovers.
The Patriots' multiple needs on defense gives them the option to target a wide array of prospects.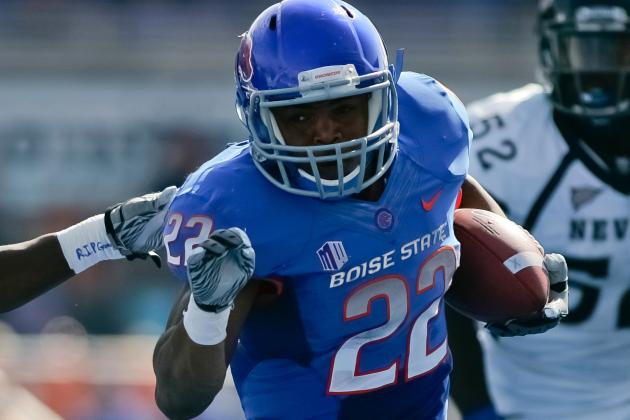 Otto Kitsinger III/Getty Images

Pick: Doug Martin, Running Back, Boise State
The New York Giants will be looking to add a running back at some point in this draft. Their decision to part ways with Brandon Jacobs created an opening in the backfield. New York's offense finds most of its success when it features two capable running backs. Boise State's Doug Martin doesn't have the same size as Jacobs, but might be a more powerful runner.
Martin's stock continues to rise and absolutely won't be available when the Giants pick in the second round. This is their opportunity to find not only a complement to Ahmad Bradshaw but also his eventual replacement.
If Stanford's Coby Fleener somehow falls to this spot, the Giants would jump at the chance to add him.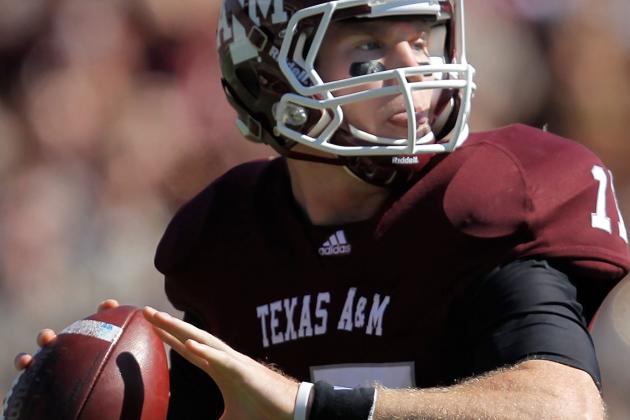 Sarah Glenn/Getty Images

33. St. Louis Rams- Alshon Jeffery, Wide Receiver, South Carolina
34. Indianapolis Colts- Nick Perry, Linebacker/Defensive End, USC
35. Minnesota Vikings- Rueben Randle, Wide Receiver, LSU
36. Tampa Bay Buccaneers- Dont'a Hightower, Linebacker, Alabama
37. Cleveland Browns- Lamar Miller, Running Back, Miami
38. Jacksonville Jaguars- Mohamed Sanu, Wide Receiver, Rutgers
39. St. Louis Rams (From Wash)- Jerel Worthy, Defensive Tackle, Michigan State
40. Carolina Panthers- Kelechi Osemele, Offensive Line, Iowa State
41. Buffalo Bills- Marvin Jones, Wide Receiver, Cal
42. Miami Dolphins- Ryan Tannehill, Quarterback, Texas A&M
43. Seattle Seahawks- Vinny Curry, Defensive End/Linebacker, Marshall
44. Kansas City Chiefs- Amini Silatolu, Guard, Midwestern State
45. Dallas Cowboys- Jamell Fleming, Cornerback, Oklahoma
46. Philadelphia Eagles- Zach Brown, Linebacker, North Carolina
47. New York Jets- LaMichael James, Running Back, Oregon
48. New England Patriots (from OAK)- Chandler Jones, Defensive End/Linebacker, Syracuse
49. San Diego Chargers- Mike Martin, Defensive Line, Michigan
50. Chicago Bears- Orson Charles, Tight End, Georgia
51. Philadelphia Eagles (from ARZ)- Tommy Streeter, Wide Receiver, Miami
52. Tennessee Titans- Josh Robinson, Cornerback, UCF
53. Cincinnati Bengals- David Wilson, Running Back, Virginia Tech
54. Detroit Lions- Kevin Zeitler, Guard, Wisconsin
55. Atlanta Falcons- Malik Jackson, Defensive End, Tennessee
56. Pittsburgh Steelers- Alameda Ta'amu, Nose Tackle, Washington
57. Denver Broncos- Dwayne Allen, Tight End, Clemson
58. Houston Texans- Andre Branch, Defensive End/Linebacker, Clemson
59. New Orleans Saints- Lost Pick for Bounty Punishment
60. Green Bay Packers- Chris Polk, Running Back, Washington
61. Baltimore Ravens- Shea McClellin, Linebacker/Defensive End, Boise State
62. San Francisco 49ers- Alfonzo Dennard, Cornerback, Nebraska
63. New England Patriots- Ben Jones, Center, Georgia
64. New York Giants- Lavonte David, Linebacker, Nebraska