Chelsea 4-1: An Epic Night at Stamford Bridge, Part 2
March 15, 2012

Paolo Bruno/Getty Images
 Chelsea defied all odds Wednesday night, as their 4-1 victory at Stamford Bridge in the second leg of the Champions League tie against Napoli had them overcoming a 3-1 deficit to advance to the quarterfinals in Europe.
Last night, you read the ramblings of an emotional and highly unstable fan elating in the joy of this historic win, in part one of the series. After a good night's sleep that summoned dreams of further European glory, I sit down to write part two—a more retrospective look at the season gone by. Enjoy!
Part Two: What Could (Should) Have Been
What did we lose out on this season? What other greatness could this team have accomplished?
For as much incredible pleasure last night's victory brought the fanbase, someone has to come forward and be the antagonist of this good time, so why not I?
Chelsea's epic win over an extremely talented Napoli team proves beyond a reasonable doubt that what we saw all season long was not the best team we could have possibly witnessed. I hate to beat a dead horse, so I will keep this short and sweet, but Villas-Boas is looking more and more like a failed experiment.
As a disclaimer before I once again rip into the former Chelsea manager, I do think Villas-Boas is a good coach and will be successful in time. But he is not a good manager and certainly was not right for this team right now.
The argument that this Chelsea team is too old to compete and the direct style of play too antiquated to be effective are now null and void.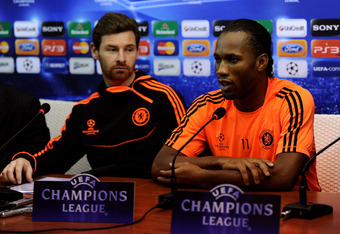 Mike Hewitt/Getty Images
Just like last season, when Chelsea took 20 points from their last 10 games in the league (better than any other team down the stretch), the Blues are turning it on late. However, this year's revitalization is not due to the increased depth in return of once-injured players, it is by the dismissal of a flawed philosophy.
The philosophy I am talking about is not in the tactics of the game. I think the emergence of the Barcelona dynasty would quickly silence any argument I make that that style of play is ineffective. The philosophy I am talking about is toward the approach of the players.
Yes, Villas-Boas was building for the future, but in spite of the present is not a feasible way of going about it. His inability to manage the players was a telling sign that he was not cut out for the position.
But this inability to manage the players goes well beyond placing them on the pitch in the position where they would have the most advantage given their skill set. It has more to do with keeping spirits up when results are lowering them—the mark of a truly great manager.
It is okay for Chelsea to have struggled this season as new ideas were implemented and changes came about, but it was never okay for them to struggle this mightily. At a certain point, Villas-Boas needed to swallow his pride and realize that he has a very talented group that can play as high a level of football as anyone.
His plan for instantaneous change was impossible once he decided to hold on to Lampard, Terry, Drogba, etc. From that point on, he made a commitment to keeping them as part of the team, but failed to follow up on it by keeping the team a part of them.
In hindsight, he is now looking the worse and his reputation damaged as he sits by and watches the "old guard" win in an anti-Boas way.
As Chelsea attempt to dig themselves out of the hole created through the first three quarters of the season, it will always take on the air that it is the noble legends rebuilding the fortress that fell under the new regime.
But it did not have to be like that. Last night's game proved it.
Stay tuned for part three.
Follow me on Twitter: @thecriterionman