Marshall, Marshall, Marshall: Brandon's Personal Life Should Not Be Excused
March 15, 2012

Marc Serota/Getty Images
When Chicago Bears general manager Phil Emery traded for Brandon Marshall, he knew the type of baggage that would be on the plane ride with him.
Therefore, the latest allegations surrounding Marshall, whose past has been highly documented, should not come to a surprise to anyone.  
For years, Marshall has been unable to leave his personal life out of the headlines.  
He has been arrested numerous times over the years, some of which have been related to domestic violence.
However, this did not enter Phil Emery's mind when he traded for Marshall.
What Emery evaluated was Marshall's performance as a football player and not as an overall person.
He was trading for an elite wide receiver, not a Noble Peace Prize candidate.
Marshall could be the biggest idiot on the planet, but as long as he's catching touchdowns and winning games, none of that will matter.
It befuddles me how easily society can separate the two from one another. 
We root for our favorite athletes even if their off-field actions would make us feel uncomfortable with being left alone in a locked room with them.
Mike Tyson has had numerous confrontations with the law, but he's somehow still celebrated by movie executives and television producers. And yet, with knowing of his personal history, we are drown to this kind of person's life.
Even outside of the sports world, there are musicians, actors and politicians who have disgraced themselves from a personal standpoint, but for some unusual reason, we as a society are still drawn to them.
The norm in an argument about how to evaluate an artist or an athlete is you must separate their career from their personal life. 
It confuses me as to why we can not conjoin both of these attributes of a person, but for some reason, we are told to separate it into two different categories.  
I have seen this everywhere when asking people why they continue to support this person's cause after the certain atrocities they have inflected on other individuals, and the answer I am usually given involves the separation of personal life and their career.
By not protesting these types of incidents, are we becoming desensitized to these types of circumstances and just shrugging our shoulders?
During the Jerry Sandusky turmoil at Penn State, there was mass chaos and hysteria from some members of the student body in regards to the firing of Joe Paterno due to his inability to take responsibility for the situation presented in front of him.
Cars were flipped and burned while students were clamoring in the streets waving banners and chanting in support of Paterno.
The facts were presented in front of everyone of how little Paterno did with everything he knew concerning the Sandusky scandal.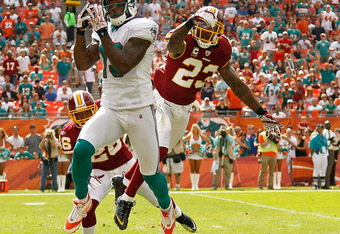 Mike Ehrmann/Getty Images
Still, his loyal supporters were behind him and pleading for his innocence.  
It was shocking to watch all of these people defending Paterno, and his historic coaching career at Penn State had everything to do with it.
How minds are able to separate the two is remarkable and disheartening at the same time.
If we constantly allow the rich and famous to get the benefit of the doubt, when can we start to doubt them?
Don't think too much about this though because as soon as Marshall extends his arms as far as he can to catch a pass from Jay Cutler for his first touchdown grab, the cheers of thousands of fans will sadly drown out the sounds of his dark past.
Follow me on Twitter @RyanNAnthony