2012 NFL Draft: Predicting the Top Stat Performers at Each Position
Erich Schlegel/Getty Images
While free agency has taken over the NFL for now, the draft quickly approaches. With player movement giving a clearer picture of team needs—not to mention a blockbuster trade or two—forecasting draft picks becomes a bit easier.
Andrew Luck vs. Robert Griffin III
Justin Blackmon vs. Michael Floyd
Trent Richardson vs. the Field
Which rookies will perform better statistically in their respective positions?
These competitions and more ahead.
Quarterback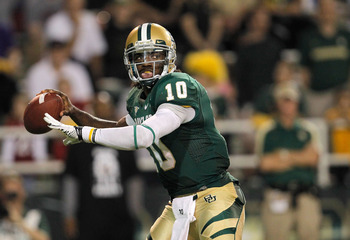 Sarah Glenn/Getty Images
Top Performer: Robert Griffin III
With apologies to eventual top pick Andrew Luck, Robert Griffin III is likely landing in a much better situation in Washington.
Did you know that Rex Grossman and John Beck surprisingly combined to eke out 4,009 yards passing last season? That seems perfectly attainable for Griffin, who is a much more talented quarterback.
While the Redskins may not have a true No. 1 receiver in the mold of Calvin Johnson, they have a bevy of options to go along with Fred Davis at tight end. Washington signed Pierre Garcon and Josh Morgan at the outset of free agency.
With former Hurricanes Leonard Hankerson and Santana Moss also in town—assuming Moss is not cut, which is a very real possibility—Griffin sports a nice arsenal.
Meanwhile Luck has landed in an unlucky position, with just old man Reggie Wayne and brittle Austin Collie to throw to at the moment, though I would expect Indianapolis to make some moves to add pieces eventually.
That is all not to say that, while Luck possesses sneaky athleticism, Griffin sports some 4.41 wheels.
His first instinct was not to run in college, and he does not have Cam Newton-like size to be the goal line back, but I expect him to score some points with his legs to boot.
Projection: 3,950 yards, 21 TDs, 18 INTs—450 rushing yards, 5 TDs
Running Back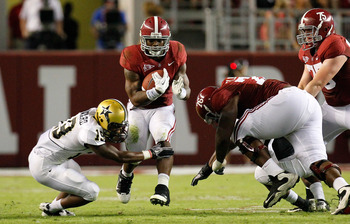 Kevin C. Cox/Getty Images
Top Performer: Trent Richardson
There has been a Great Rookie Decline amongst running backs over the past several seasons, dating back to 2008 when Matt Forte, Chris Johnson, Kevin Smith, Jonathan Stewart, Steve Slaton, Ray Rice, Rashard Mendenhall, Jamaal Charles, Michael Bush and Darren McFadden all joined the NFL.
Trent Richardson will get things back on track for running backs.
Wherever his rumored landing spot will actually be—the Browns, Buccaneers, Jets and Bengals are all distinct possibilities—Richardson is bound for a team that will use him wisely.
Of all the possibilities, Cleveland and Cincinnati are the most enticing.
With Hillis and Benson gone from those teams respectively, Richardson would step into a lead-back role. Lead backs are a rarity in today's NFL, and shunting a rookie into that kind of role could be dangerous.
Adrian Peterson is evidence to the contrary, however, and Richardson is seen by many as the best running back to come out since Peterson did in 2007.
Projection: 1,100 yards, 9 TDs—300 rec. yards, 2 TDs
Wide Receiver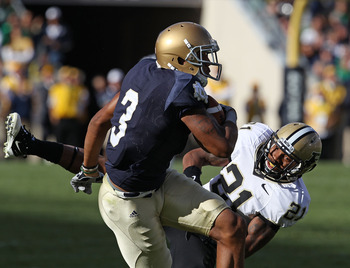 Jonathan Daniel/Getty Images
Top Performer: Michael Floyd
Rookie wide receivers are notoriously difficult to project.
Their production is tied, largely in part, to opportunity, and playing time can be particularly difficult to predict for rookie wideouts. Even then, all the playing time in the world cannot make up for a lousy quarterback or the dropsies (see: Little, Greg).
Lately, however, top-tier rookies have been getting their due on the field more consistently, with the pass-happy nature of the NFL owing to their success.
This year Justin Blackmon is a popular name as the top receiver in the draft class. While he may ultimately be the top receiver drafted, however, Michael Floyd has the whole package—size, speed and soft hands will make him a stud wherever he lands.
Floyd will be a pleasant surprise to whichever team drafts him.
His landing spot is a bit nebulous because of his off-field issues and the tectonic shift going on in the NFL among free agent wide receivers. The St. Louis Rams, Jacksonville Jaguars, Miami Dolphins, Carolina Panthers and Cleveland Browns are the likeliest landing spots for Floyd, but anything could happen in the draft.
Projection: 58 receptions, 950 yards, 7 TDs
Tight End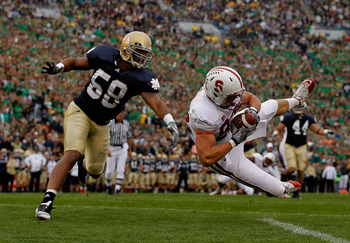 Jonathan Daniel/Getty Images
Top Performer: Coby Fleener
Much like last year, this year's tight-end class is uninspiring.
While I would venture to say Coby Fleener, Dwayne Allen and Orson Charles are better prospects than Lance Kendricks and D.J. Williams, there is no Rob Gronkowski or Jimmy Graham in this class.
The New York Giants looked to be in serious need for a tight end before signing Martellus Bennett away from the Dallas Cowboys.
Most other teams do not have a dire need for a tight end, but teams that might be looking to add a second threat include the Miami Dolphins, New York Jets, Houston Texans, Arizona Cardinals, Buffalo Bills and St. Louis Rams, among others.
I expect Fleener to contribute wherever he lands, perhaps even starting, but the rookie tight-end class will have another disappointing year.
Being the top statistical tight end means little if the position is down for rookies, but Fleener is my pick here.
Projection: 32 receptions, 400 yards, 2 TD
Defensive End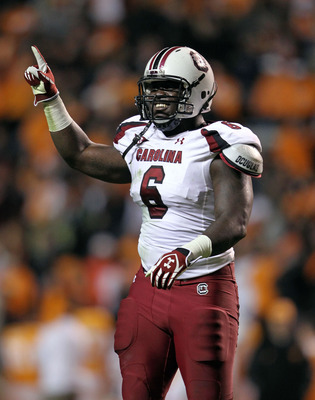 Andy Lyons/Getty Images
Top Performer: Melvin Ingram
The stud from South Carolina has risen steadily on boards since draft season began, and he is liable to crack the top 10 come draft day.
Ingram is scheme-versatile as a rush linebacker or defensive end, meaning he will fit in just about anywhere.
Teams looking to add pass-rushing help in the first round include the Jacksonville Jaguars, Miami Dolphins, Seattle Seahawks, New York Jets and Tennessee Titans.
Whether he is paired with Cameron Wake in Miami, Jeremy Mincey in New York A, Chris Clemons in Seattle, or Calvin Pace in New York B, it seems that just about anywhere Ingram lands will make him dangerous opposite an established pass rusher.
Projection: 54 tackles, 14 TFL, 10 sacks
Linebacker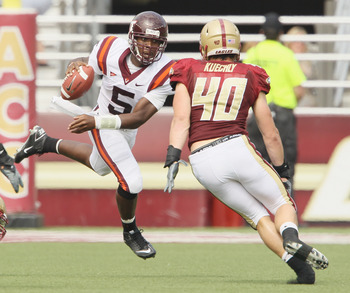 Elsa/Getty Images
Top Performer: Luke Kuechly
There seems to be little contest here as Kuechly is clearly the top inside linebacker in the class, and he was a tackling machine in college.
Philadelphia remains in need of a middle linebacker, making Kuechly a strong possibility for them in the draft. He would likely be plugged right in as a starter, giving him a leg up on most other linebackers in terms of production.
Whether or not he lands in Philadelphia, Kuechly will bring his skill and motor to his new team.
Clearly he will need to land the starting gig for this prediction to come to fruition, and I think he will land with a team that will give him every opportunity.
Projection: 125 tackles, 12 TFL, 3 sacks, 1 INT
Cornerback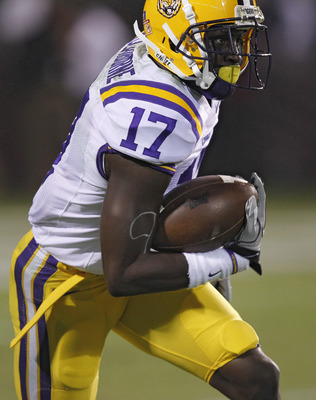 Butch Dill/Getty Images
Top Performer: Morris Claiborne
Claiborne stands at the head of the cornerback class.
The former Tiger has great instincts at the position, which helped him intercept six passes last season for a great LSU defense.
It is difficult to see Claiborne falling out of the top five picks in the draft, especially since Tampa Bay needs cornerback help.
While some speculate Cleveland will draft Ryan Tannehill or Justin Blackmon, I believe they will pair Claiborne with standout cornerback Joe Haden.
Putting the rookie across from Haden means Claiborne will likely get more balls thrown his way, thus he will have more opportunity to produce.
Should he fall past Cleveland, his talent will still net him good production at the position.
Projection: 40 tackles, 4 INT, 1 sack
Safety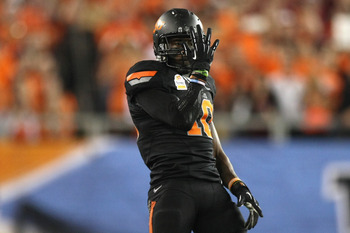 Donald Miralle/Getty Images
Top Performer: Markelle Martin
Call it a gut feeling, but the former Oklahoma State safety is going to have the best statistical season out of a weak crop. Mark Barron is this year's clear-cut No. 1 safety, but he is more of an in-the-box kind of guy.
Martin possesses excellent athleticism and size, and he can play both safety positions.
He amassed 167 tackles in three seasons as a starter, and proved to be durable with 37 consecutive starts to end his collegiate career.
Other rookie safeties may make a play or two in the air, but Martin will wind up with the best overall statistics.
He is arguably the best free safety prospect in the class, meaning he will likely land a starting gig wherever he is drafted.
Projection: 60 tackles, 6 TFL, 2 sacks, 1 INT
Keep Reading