San Francisco Giants: Did the Giants Win the Angel Pagan Trade?
March 15, 2012

Ezra Shaw/Getty Images
We have no idea what Angel Pagan is going to do this season. However, whatever he does, he will likely do it better than the Giants did it last year.  
Despite being 31 years old, the majority of baseball fans probably can't pick him out of a crowd. Sure, he hit .290 and stole 37 bases in 2010, his best year by far—but so did Coco Crisp (.280, 32 SB) and Scott Podsednik (.296, 35 SB). Neither of those guys have their respective fan bases dreaming of return trips to the World Series.  
With Angel Pagan, however, hope springs eternal.  
The Giants acquired Pagan in the offseason in exchange for Andres Torres and Ramon Ramirez. While Ramirez was solid last year, arms currently grow on trees down in the Giants bullpen; you won't even notice he's gone.
And while Andres Torres was a gift basket from the baseball gods in 2010, he turned out to be a mirage in 2011, making you wonder if he ever actually existed. These guys can be replaced by central casting.
More than anything else, Angel Pagan fills a desperate need for the Giants, making him more valuable than his statistics and history would suggest, take away the defense and any immeasurable intangibles. 
The Giants need offense. What does Pagan need to do to justify this deal?  
Get on Base in the Lead-off Spot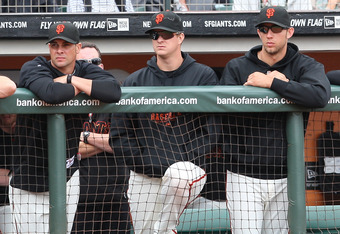 Tony Medina/Getty Images
The Giants' lead-off men got on base at a .292 clip last season. Yes, that's on-base percentage, the one that counts walks and errors and stuff.
Giants lead-off hitters drew a walk once every 15.5 plate appearances. For a disturbing comparison, the Giants' No. 9 hitter drew a walk every 14 plate appearances. In case you thought your memory was failing, the NL still does not have a DH.  
No. 9 is where the pitcher hits.  
Pagan's career .331 OBP doesn't exactly make him a Moneyball All-Star. However, it could be a boon for a Giants offense that always seemed to have one out before the inning even started.  
Speed
Pagan is 69/85 (82 percent) in base stealing attempts over the last two seasons. The Giants were a woeful 65 percent on SB attempts last season, good for 28th in baseball.
With Pagan, not only might the lead-off man get on base, but he might actually get to second base. More guys in scoring position means more opportunities for the Giants to bring their .219 average with runners in scoring position out of the gutter. 
What does this all equal? More runs. More runs for the pitchers. More runs for the home fans who often couldn't finish their hot dog before the seventh inning stretch last season.  I have no formula for determining the exact number of runs Pagan can contribute, but it falls in the category of "can't get any worse."  
At the very least, consider Pagan a belated thank you note from the Mets to the Giants for last year's Wheeler-Beltran trade. It's the least they could do.