Detroit Red Wings: Hitting Rock Bottom Must Help Return Team to Pre-Slump Form
March 15, 2012

Christian Petersen/Getty Images
The Detroit Red Wings have been getting hammered on the scoreboard (and really every other way possible) lately.
The extended absences of captain Nick Lidstrom (ankle bruise), goalie Jimmy Howard (groin, broken finger before that), and Pavel Datsyuk (knee surgery) have left the Red Wings swimming for talent.
Talent that has ultimately eluded them in the past 11 games.
In that span, Detroit is 3-7-1; not exactly the kind of record with which they want to go into the playoffs.
Detroit's growing pains are obvious: a goaltender who has been a career journeyman goalie (and career AHL goalie with Detroit), a veteran AHL defenseman having to play an extended role with the team, a rookie defenseman who has been forced to step into the limelight possibly before he is ready and multiple young AHL forwards dotting the lineup.
The players I am speaking of in that sentence are of course, Joey MacDonald, Doug Janik, Brendan Smith and Gustav Nyqvist among others.
Injuries (and poor play by former back-up goaltender Ty Conklin) have forced the Red Wings to call up all of these players and make them try and carry the team.
But the Red Wings' hitting rock bottom cannot be blamed solely on injuries.
Sure, not having the second-best forward in today's game, and the best defenseman currently (possibly of all time) watching the game, does not help the cause.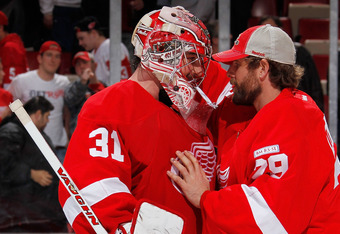 Gregory Shamus/Getty Images
But it is no excuse for the Red Wings' lackluster performance of late.
Detroit has essentially given St. Louis the division crown, as the Blues are up seven points on Detroit, having played an equal amount of games.
Detroit's loss to Anaheim tonight (a 4-0 shutout loss I might add) has given Nashville (currently two points back of Detroit with two games in hand) an ability to take fourth place in the Western Conference (and home ice advantage) away from Detroit in the playoffs.
For all intents and purposes, Detroit not having home ice advantage in the first round of the playoffs is something that cannot happen if Detroit hopes to advance to anything past the first or second round of the playoffs.
Alright, so maybe I'm worrying prematurely about the Red Wings?
But let's recap.
If Detroit loses out here, and falls to fifth place going into the playoffs, do you the reader really think they will win a seven game series against Nashville with Detroit's current road record and Nashville's current home record?
Detroit is 16-20-1 on the road this season, good for four games below .500. The only other playoff teams with losing road records are Chicago and Washington, and you can see clearly where they sit in the standings.
Oh and then there's Nashville's home record, which currently sits at a very respectable 23-8-5. Detroit has played three games in Nashville this season, and come out with a victory only once.
I'm not trying to be a negative doom-and-gloom kind of writer here, but let's face some facts.
Detroit's offense has 11 goals in the past six games; Detroit has one win in those six games.
The Red Wings look flat as a team, and getting outscored a combined 9-2 over the past two nights to the likes of Los Angeles and Anaheim makes me want to turn off the television when I'm watching games as of late.
As Red Wings fans, we have to remember how spoiled we have been over the past two decades with all of the winning and playoff appearances that have been going on since Detroit's reputation of Hockey Town was reborn.
But this streak is unacceptable for any team.
Blame it on injuries. Blame it on rookies. Blame it on players playing roles they aren't comfortable with.
But at the end of the day, other teams deal with that as well; and in some cases like St. Louis, they play with a lot less talented players than the Red Wings have the fortune of sending on the ice every night.
Detroit put up a mere 23 shots on Anaheim's Jonas Hiller tonight. That's not enough.
It starts with effort, and the conversions on the chances will come with effort.
Detroit has looked disoriented and broken as a team without the League's leading play-maker, Pavel Datsyuk.
Datsyuk supposedly could come back Saturday, but if he doesn't help Detroit's offense (and current "Swiss cheese" defense), the Red Wings are in trouble.
Big. Trouble.
For more article updates, Follow @isaacesmith91