NFL Free Agency: Recapping Day 2 for the Chicago Bears
March 15, 2012

Jonathan Daniel/Getty Images
After a busy first day in free agency the Bears flew more under the radar on day two.
Re-signings
Firstly general manager re-signed two players in tight end Kellen Davis and quarterback Josh McCown.
Davis, who was expected to meet with a few other teams, came to terms on a two-year deal, while McCown inked a new one-year deal.
The re-signing of Davis is not a surprise since head coach Lovie Smith spoke very highly of him last month at the scouting combine. At 6'7" he presents a big target and now with Mike Tice calling the offensive we might get to see his pass-catching ability more.
With McCown the move came as a bit of a surprise to me at least.
Aside from the trade getting Brandon Marshall the big move for the Bears on day one of free agency was signing quarterback Jason Campbell. The signing seemed to signal the end of McCown's time with the team since Jay Cutler, Nathan Enderle and Campbell are all under contract.
With McCown in the mix it probably means there will at least be a competition for the backup job between him and Campbell. What is unclear is if the loser will end up being the No. 3 QB or jobless.
With Enderle, since he was reportedly a Mike Martz draft pick, it is unclear if the Bears view him as a prospect they want to hold onto. If they do decide to keep both Campbell and McCown they can attempt to put Enderle on the practice squad but even with that there is a chance they could lose him to another team.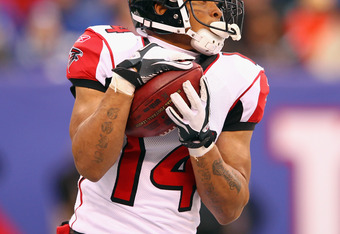 Al Bello/Getty Images
New Players
Emery also signed a pair of special teamers on Tuesday as well. He signed linebacker Blake Contanzo to a one-year deal and kick returner/wide receiver Eric Weems to a three-year deal.
While the Contanzo signing is probably for insurance in case they lose special teams ace Cory Graham, the Weems signing is a little more interesting.
Weems is an All-Pro kick returner who was selected to the team in 2010 and was an alternate this past season with the Falcons. Either this signing is just an insurance policy on if Johnny Knox can return next season to be the No.2 returner behind Devin Hester or this could mean Hester will become a full-time receiver again.
We will probably have to wait till training camp to see how that plays out.
Just Visiting
As if that wasn't enough business for the Bears they also hosted running back Michael Bush, cornerback Kelvin Hayden and guard Anthony Herrera on Wednesday.
The Bears had discussions with Hayden last year, who is very experienced in the Cover 2 defense, but decided not to sign him, while Herrera played for Mike Tice when he was head coach of the Vikings.
With Bush there has been a lot of speculation. Some believe that the Bears will part ways with Marion Barber therefore Bush would be the backup to Matt Forte, Others believe the Bears are interested in Bush as insurance in case Forte is a holdout next season.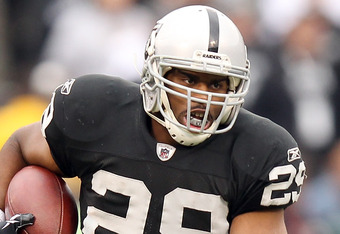 Ezra Shaw/Getty Images
Whatever the reason I am a big fan of the Bears pursuing Bush. I actually really wanted the Bears to draft him in 2007 when he came out of Louisville. He ended up going to the Raiders in the fourth round.
The 2007 draft was the year the Bears drafted Garrett Wolfe in the third round. Fun fact about that draft is if Graham leaves the team thru free agency none of the nine players they drafted will be on the current roster.
The nice thing about Bush is that unlike Barber he isn't only a power back. He can pound it out and get the tough yards as well as break a run to the outside. While his career was delayed starting he is making up for it and has improved as a runner and receiver over the last four seasons.
Besides the guys they have signed and brought in to visit the only other guy the Bears have been mentioned in connection to is defensive end Mario Williams. However he is still in Buffalo so if or when he could visit with the Bears is unclear.
So what do you think Bears fans? Sound off below on how you think the Bears are handling free agency.
Make sure to follow me on Twitter @dachicagofan, and check out my weekly Bears podcast every Monday on my site The MG Experience.