NCAA Bracket 2012: Predicting Every Outcome for Today's Games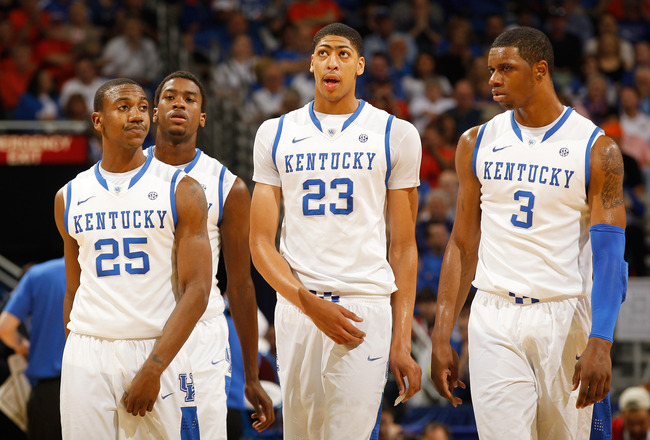 Chris Graythen/Getty Images
The First Four came and went, and it was actually a lot of fun. The games lack the cache of the main bracket, but they provided plenty of drama and excitement.
First there was Mississippi Valley State, controlling the game for 35 minutes, leading by 16 points with five minutes to go. Out of nowhere, Western Kentucky came to life, scoring 22 of the game's last 27 points.
It was the biggest comeback in the last five minutes in the history of the NCAA tournament—not a bad way to start things off.
Then came about the only game that could have eclipsed it.
Iona sprinted out on BYU, leading by as many as 25 points and scoring 55 points in the first 15 minutes. Despite the shock and awe performance by Iona, the Cougars scratched and clawed over the last 25 minutes, outscoring the Gaels 47-17 on the way to a 78-72 victory.
Wednesday night wasn't nearly as exciting, with Vermont and South Florida easily winning their games to reach the field of 64. Now it's time to project what will happen on the first full day of games.
It's one of the greatest days of the year, with 16 games in 12 hours. Here is how one man sees the day playing out.
No. 11 Colorado State vs. No. 6 Murray State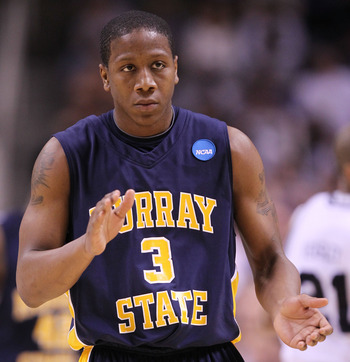 Canaan looks to validate his team's season.
Jed Jacobsohn/Getty Images
Kicking off today's action is the 30-1 Murray State going up against 20-11 Colorado State. Murray State has significantly more on the line, as the Racers will try to prove that their record is legitimate.
Neither team really plays at a fast pace, but they are two of the more efficient offenses in the tournament.
Both teams are in the top 25 in field-goal percentage, and they both make over 40 percent on threes.
What separates these teams is Murray State's superior defense and offensive rebounding. Also, the Racers will have the best player on the floor in Isaiah Canaan, who averages 19.2 points per game and shoots 47.3 percent from deep.
Expect a nice offensive display, but for Murray State to just do a little more than the Rams.
Murray State 75, Colorado State 68
No. 9 Southern Mississippi vs. No. 8 Kansas State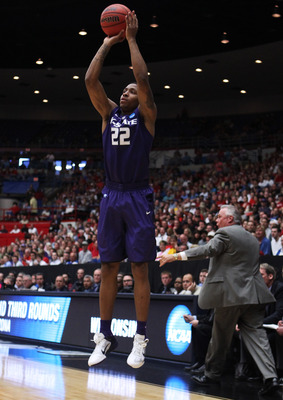 McGruder can carry the offensive load for the Wildcats.
Christian Petersen/Getty Images
This eight-versus-nine game is made more interesting by the sudden perceived weakness of Syracuse.
Kansas State comes in as the more tested team, having gone through the Big 12, and Southern Miss hasn't gotten much respect out of Conference USA.
You wouldn't think it, but this is actually a pretty close matchup on paper. They are both pretty similar offensively, with similar scoring and shooting numbers. Defensively, though, Kansas State holds a huge advantage.
They hold teams to just 31.8 percent on three-point shots, and they are one of the top shot-blocking teams in the nation. Southern Miss gets burned for 36.1 percent on threes.
One key advantage for Southern Miss is their ability to take care of the ball, although even that is negated by the fact that Kansas State is sixth in the nation in offensive rebounding.
Rodney McGruder is the type of player who can take over the game. He averages 15.4 points per game, shooting 39 percent from the arc. He will be looking to lead the Wildcats to a date with the Orange.
Kansas State 77, Southern Miss 66
No. 13 Davidson vs. No. 4 Louisville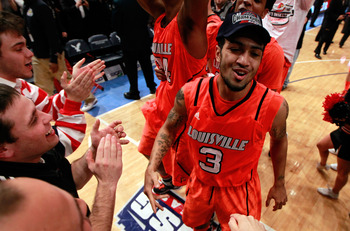 Siva isn't Kemba Walker but he is dangerous.
Chris Trotman/Getty Images
Big East Champion Louisville does battle with a scary little team in Davidson. The Wildcats made a surprise run to the Elite Eight with Steph Curry in 2008. Can they do it again?
It is tempting to pick Davidson. They are a more efficient offensive team than Louisville, but the difference is nowhere near the defensive advantage Louisville has.
Davidson's strength is two-point shooting at 51.5 percent. Louisville just happens to be fourth in the nation in two-point defense, holding teams to just 41.3 percent.
The Cardinals have begun utilizing a pressure defense that will speed up the game and force a usually careful Davidson team into more turnovers than usual. Louisville has ball control issues, but they just have too much for Davidson.
Peyton Siva has also raised his game of late. In four Big East tournament wins, Siva put up 13.8 points, 5.8 assists and and 2.8 steals per game.
Louisville 78, Davidson 63
No. 13 Montana vs. No. 4 Wisconsin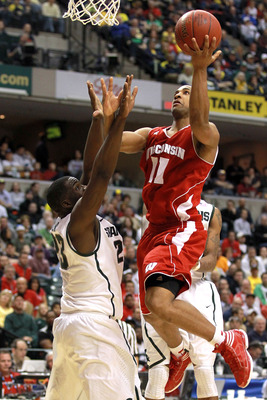 Taylor is playing better than people realize.
Andy Lyons/Getty Images
Wisconsin is a team that hasn't lived up to expectations for most of the season, but they've quietly improved. Montana is an underrated team with a really good point guard in Will Cherry.
As good as Cherry is, he isn't Jordan Taylor. Wisconsin isn't known for their offense, and Montana has a serious edge there. They shoot better from deep and they take good care of the basketball.
Wisconsin happens to be a top-five defensive team in the nation and holds teams to under 30-percent shooting. They dominate the glass and turn the ball over less than all but one team in college basketball.
Wisconsin's style may allow Montana to hang around, but they are just too good for the Grizzlies.
Wisconsin 64, Montana 55
No. 14 Brigham Young vs. No. 3 Marquette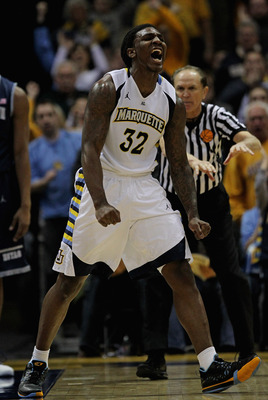 Crowder will make life difficult for BYU.
Jonathan Daniel/Getty Images
Brigham Young pulled off an amazing win on Tuesday night, and may have created some momentum for themselves. Unfortunately for them, they have to play Marquette.
Iona would have been a popular upset pick over the Golden Eagles, but Marquette gets a team fresh off a 25-point comeback.
Both teams like to push the pace a bit, both can score and defend and both can rebound. BYU has a devastating inside tandem of Brandon Davies and Noah Hartsock, but Marquette has the more versatile duo in Darius Johnson-Odom and Jae Crowder.
In the end, Marquette is the better team on both offense and defense, and a slight edge goes to BYU in rebounding. Crowder and Johnson-Odom are on a mission, and it will take more than the Cougars to stop them.
Marquette 79, BYU 71
No. 16 UNC-Asheville vs. No. 1 Syracuse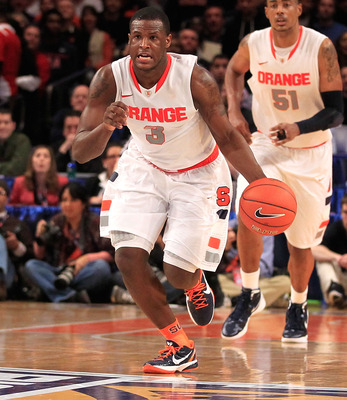 UNCA will have no answer for Waiters.
Chris Trotman/Getty Images
With or without Fab Melo, this is about as sure of a win as it gets for Syracuse.
UNC-Asheville is a good team with some good players, but it is hard to imagine that they can do enough to topple Jim Boeheim's boys. There are likely a lot of distractions for the Orange, but that could make them stronger if it doesn't rip them apart.
The Orange can still be disruptive defensively, are dangerous in transition and can still score without their man in the middle.
UNCA can shoot the three, take care of the ball and force turnovers, but Syracuse should batter them on the glass. J.P. Primm and Matt Dickey are a couple of really good guards who can score, but they'll have a hard time with Dion Waiters, Kris Joseph and Brandon Triche.
If the Bulldogs can compete on the glass, they can compete in this game. Don't be surprised if this is a close game down the stretch. Syracuse is slightly vulnerable and this may be the best chance a No. 16 has ever had to topple a No. 1.
Syracuse 84, UNC-Asheville 75
No. 12 Long Beach State vs. No. 5 New Mexico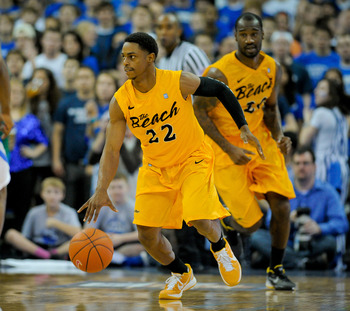 The 49ers need Ware to be at his best.
Eric Francis/Getty Images
Long Beach State and New Mexico face off in one of the toughest games of the day to call.
Long Beach is a popular upset pick and with good reason. They have solid players, senior leadership and rank in the top third in college basketball in every relevant offensive and defensive statistical category.
They also tested themselves more thoroughly in the non-conference play than any other team in the tournament.
New Mexico just happens to be one of the most underrated teams in the tournament and will not be looking past the 49ers.
The Lobos are very good on both ends of the floor, and have proven their worth in the Mountain West, winning the regular-season and tournament crowns and beating UNLV and San Diego State twice each in the last month.
New Mexico is a deserved favorite, but it will be close. This game will come down to whether Casper Ware can put together a star performance. He's been waiting his whole career to do just that.
Long Beach State 69, New Mexico 66
No. 12 Harvard vs. No. 5 Vanderbilt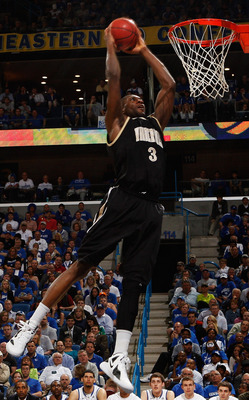 Ezeli will be too tough for Harvard to handle.
Chris Graythen/Getty Images
Vanderbilt has dropped an opening game to a double-digit seed in their last three tournament appearances. With seniors like Jeffrey Taylor and Festus Ezeli, and a well-respected No. 12 seed in Harvard, it's hard to believe it will happen again.
The Commodores are coming off a thrilling win over top-seeded Kentucky for the SEC crown. Harvard just missed a one-game playoff with Penn in the Ivy.
Harvard is a good team, but Vanderbilt has a lot of talent and experience, and they just may be hungrier than the Crimson. Harvard is a steady team, but may not have the ability to play one tremendous game over their heads.
Vanderbilt is too good right now to get bounced this early.
Vanderbilt 67, Harvard 60
No. 16 Western Kentucky vs. No. 1 Kentucky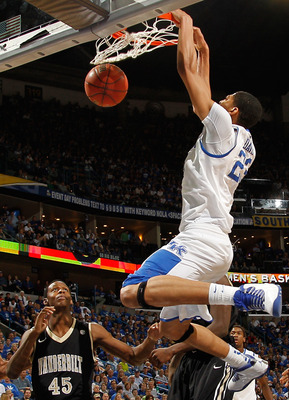 It's Kentucky, it's already over.
Chris Graythen/Getty Images
There really isn't too much to be said here. This is Western Kentucky against the Kentucky.
The Wildcats are stacked top to bottom with players like Anthony Davis, Terrence Jones, Michael Kidd-Gilchrist, Doron Lamb, Marquis Teague and Darius Miller.
They are not going to be beaten easily by anyone in this tournament, but they will put on a show in this game.
Kentucky 95, Western Kentucky 63
No. 12 Virginia Commonwealth vs. No. 5 Wichita State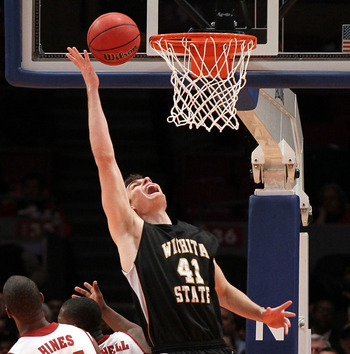 Wichita State is one of the better teams in the nation.
Jim McIsaac/Getty Images
VCU were the darlings of last year's tournament. They seem to be getting a lot of love this year as well.
Wichita State is a very good team, and they will not take the Rams lightly.
This year's version of VCU is tremendous on defense, leading the nation in forcing turnovers and holding teams to low shooting percentages. The problem is, they can't shoot or score.
Wichita State happens to be good at both of those things, and can do it inside and out. The Shockers are also just as good defensively and significantly better on the glass.
Joe Ragland and Garrett Stutz should get by Shaka Smart's team without too much trouble.
Wichita State 68, Virginia Commonwealth 57
No. 10 West Virginia vs. No. 7 Gonzaga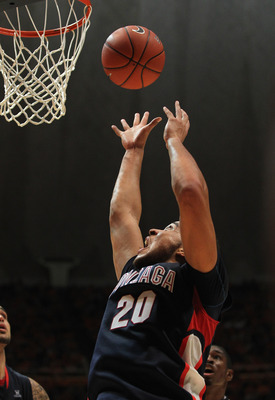 Harris will have his hands full with Kevin Jones.
Jonathan Daniel/Getty Images
Another tough game to call on paper, but West Virginia has been really bad of late, dropping 8-of-12 to close the season. In that stretch, the Mountaineers have only mustered 65 points per game.
They do have Kevin Jones, however, who can border on willing his team to victory on any given night. West Virginia doesn't shoot well, but they take care of the ball, defend and are fifth in the nation in offensive rebounding.
Gonzaga comes in as the better offensive team, and is pretty close with West Virginia on defense and on the boards.
The Bulldogs are led by Elias Harris, Kevin Pangos and Robert Sacre. They provide a great inside-outside game, and Harris and Pangos both shoot better than 40 percent from the arc.
It's a close matchup that could go either way, but Gonzaga should be able to score more than West Virginia.
Gonzaga 69, West Virginia 65
No. 14 South Dakota State vs. No. 3 Baylor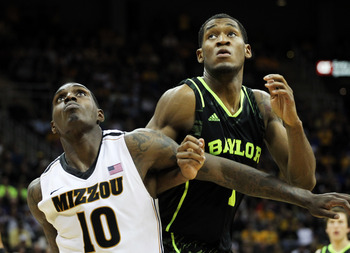 Baylor needs Jones to be present in this tournament.
Jamie Squire/Getty Images
Baylor is a puzzling team. By all accounts they have underachieved this year, but when you take a closer look, they have only lost to very good teams—Missouri three times, Kansas twice and Kansas State and Iowa State once apiece.
That said, there is definitely a question about Baylor's intensity, both on defense and from their star, Perry Jones.
Jones and Quincy Acy can dominate this game inside if they want to, but Pierre Jackson will need to step up.
South Dakota State will surely be the more hungry team in their first-ever NCAA tournament appearance. Their attack is led by scoring point guard Nate Wolters, who is due to make his mark on a national level.
Baylor should be able to mop up the Jackrabbits based on size and athleticism alone, but you just can't count on the Bears to deliver. This has a chance to be the upset of the day, but in the end, the better team will prevail.
Baylor 73, South Dakota State 70
No. 9 Connecticut vs. No. 8 Iowa State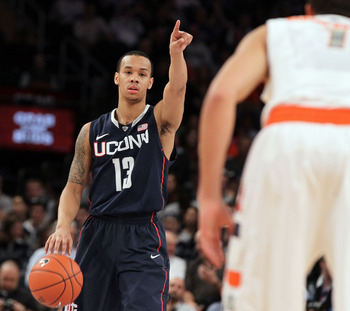 Napier is the Huskies' leader.
Jim McIsaac/Getty Images
Connecticut and Iowa State meet in one of the more intriguing games today. They are both capable of playing with the best in college basketball, and whoever wins could give Kentucky a scare on Saturday.
Connecticut has been a disappointment this season, but seemed to turn a corner in the Big East tournament with Jim Calhoun back on the bench.
Shabazz Napier and Jeremy Lamb will be the keys to UConn's offense, and their length and athleticism will always pose problems on defense.
Iowa State is led by do-everything power forward Royce White and sharpshooter Scott Christopherson. The Cyclones do just about everything well and should be able to control the defensive glass.
Ultimately, this is a pretty evenly matched game, but Connecticut has an edge in talent and experience.
Connecticut 72, Iowa State 67
No. 13 New Mexico State vs. No. 4 Indiana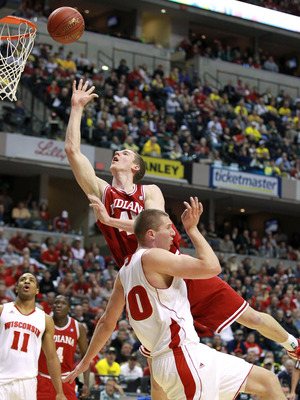 Zeller and the Hoosiers have a tough game.
Andy Lyons/Getty Images
Indiana was the only team to beat Kentucky all season, until Sunday. They are a tremendous offensive unit that plays solid defense. They are actually the second best three-point shooting team in the nation.
New Mexico State is a serious underdog in this game, but one that actually does have a chance to win. Their go-to player, power forward Wendell McKines, could turn in the type of performance that will be remembered for years.
Cody Zeller is a fantastic player for Indiana, but he isn't exactly known for strength and toughness, while McKines is. The Aggies also hold a huge rebounding advantage, as they are fourth in college basketball in offensive rebounding.
Indiana holds major advantages in most aspects of the game, but New Mexico State won't be pushed around.
Indiana 76, New Mexico State 71
No. 15 Loyola (MD) vs. No. 2 Ohio State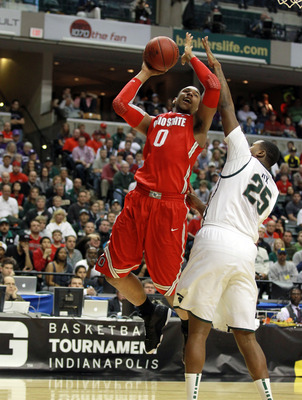 Sullinger should have an easy day's work.
Andy Lyons/Getty Images
Ohio State will trample Loyola. The Greyhounds will use the press and try to get out and run, but Ohio State will ultimately grind them down.
There is no answer for Jared Sullinger in this game, let alone for the rest of the team's talented cast.
The Buckeyes are in this tournament to win the whole thing and, unfortunately for Loyola, their run starts here.
Ohio State 84, Loyola 66
No. 11 Colorado vs. No. 6 UNLV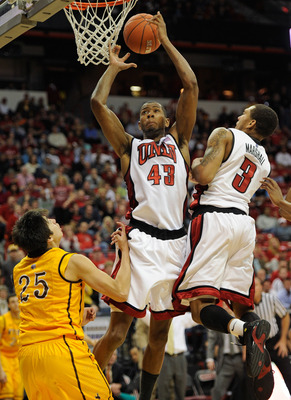 Moser will be a key against Roberson.
Ethan Miller/Getty Images
UNLV and Colorado provide another really interesting matchup that has somehow gone unnoticed.
The Rebels have struggled of late, going 6-5 since the start of February. They have the type of athleticism that frightens teams, and they played a really rugged non-conference schedule, so they can stand up to the pressure.
Colorado played no one outside of the Pac-12, but they seem to have found their stride. The Buffaloes actually have athletes to compete with UNLV.
One of the most entertaining aspects of this game will be watching UNLV's Mike Moser and Colorado's Andre Roberson battle underneath. They are two of the best rebounders in all of college basketball. Both have springy, lanky, 6'7" frames.
UNLV is the better shooting, defending and rebounding team, and barring a complete failure, have every opportunity to advance.
UNLV 68, Colorado 64
Keep Reading