NCAA Bracket 2012: Today's Top Studs in Big Games We Can't Wait to Watch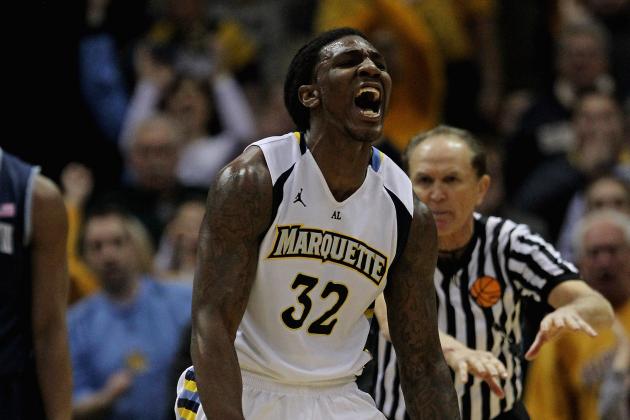 Jonathan Daniel/Getty Images

The NCAA tournament's Round of 64 is just hours away, and every game offers a load of talent.
There are few duos in college basketball with as much firepower as Jae Crowder and Darius Johnson-Odom of Marquette. Those two Golden Eagles look to lead their team past an upset-minded BYU, but they aren't the only studs in Thursday's games.
Here's a breakdown of Crowder, DJO and the other stars in action today.
For your printable bracket for the 2012 NCAA tournament, click here.
Begin Slideshow

»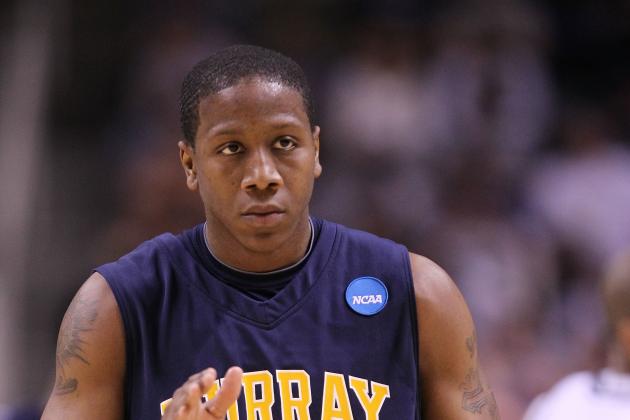 Jed Jacobsohn/Getty Images

If you're already reading this, you probably know who Isaiah Canaan is.
If you don't, though, the junior guard is Murray State's leader. He averaged 19.2 points on 47.3 percent shooting from long range, eclipsing 20 points 14 times.
And, yes, his team also won 30 games.
Murray State played four eventual NCAA tournament teams, and Canaan averaged 23 points in those games. Be on the lookout for an impressive performance from Canaan against Colorado State's mediocre defense.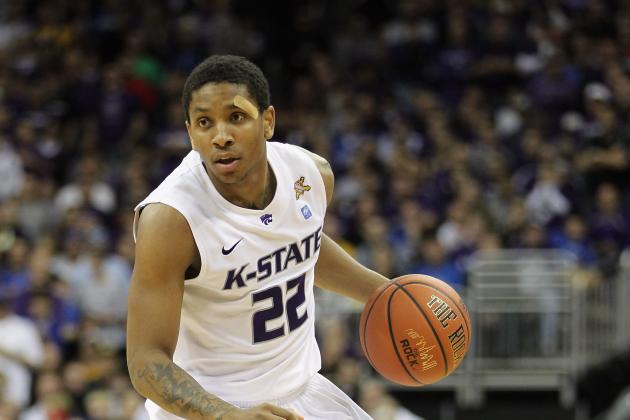 Jamie Squire/Getty Images

After playing in the shadows of Jacob Pullen last season, Rodney McGruder emerged as Kansas State's leader this year. The Wildcats are once again a sleeper to advance deep into the tournament, but in order to get a shot at Syracuse, they'll need to beat Southern Miss today.
McGruder is more than capable of leading them into the weekend.
The well-rounded junior guard led Kansas State in scoring with 15.4 points per game, but he also contributed 5.3 rebounds and 1.1 steals per game. Like Isaiah Canaan, McGruder is a marksman from long range, shooting 39 percent from beyond the arc this year.
If you can believe it, that clip is his career-low from long range.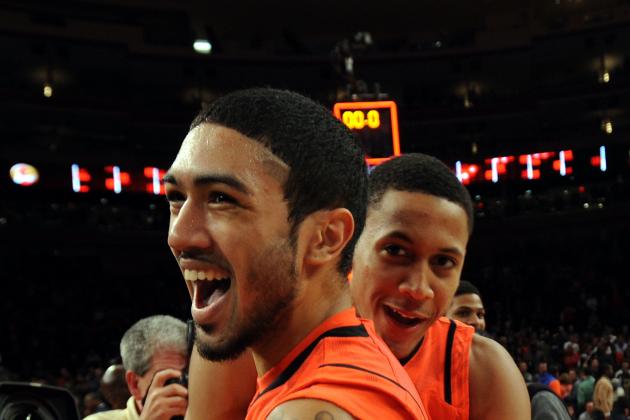 Michael Heiman/Getty Images

Louisville has several talented players, but no Cardinal could affect a game more than Peyton Siva. When the junior guard brings his "A-game," there are few better point guards in the country.
Siva is at his best when he gets into the lane and can either drive to the hole or dish to a shooter. Occasionally he is turnover prone—he did average 3.5 giveaways per game. However, he can also dominate stretches of a game.
Davidson's strength is inside, so if Siva can get Jake Cohen or De'Mon Brooks in early foul trouble, he could potentially deliver a tremendous Round of 64 performance.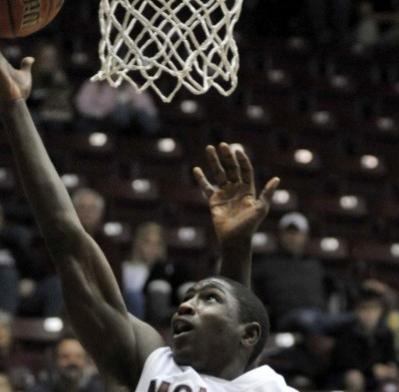 Here's what I wrote about Will Cherry in my East region player power rankings:
With Damian Lillard playing for conference foe Weber State, Will Cherry of Montana didn't receive much—if any—national recognition.

However, you'll want to know who Cherry is before his Grizzlies tip off against Wisconsin.

The junior guard leads his team with 16 points per game on 45.4 percent field goal shooting and 37.3 percent three-point shooting. He also ranks second on the team with 3.4 dimes per game.

Capable of pouring in buckets, Cherry has eclipsed the 20-point mark 10 times this year.

While he is very talented on the offensive end, he is just as formidable defensively. In fact, he won the Big Sky Defensive Player of the Year award after averaging 2.6 steals per game in 2011-12.
Wisconsin's defense is better than any defense Montana has faced this season, but Cherry could still have a huge game—if not offensively, he'll at least be an impact player on the defensive end.
If Cherry can shut down Jordan Taylor, Montana has a legitimate chance of advancing.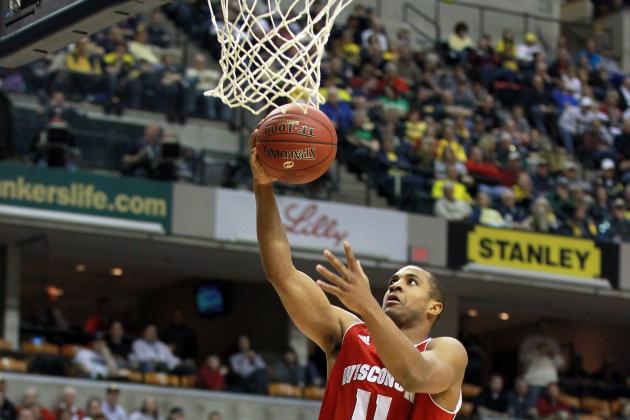 Andy Lyons/Getty Images

Jordan Taylor took a step back in his first season without Jon Leuer, but he's still a formidable point guard.
Ranking No. 20 nationally with a 2.49 assist-to-turnover ratio, Taylor can also score the ball, though his average dipped 3.4 points per game. He scored 14.7 points per outing this year, and he poured in a season-high 28 points against Michigan State.
In three 2011 NCAA tournament games, Taylor averaged 18.3 points and 4.7 assists per game.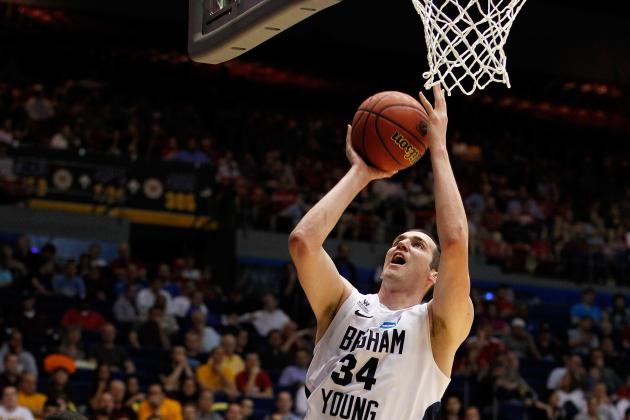 Gregory Shamus/Getty Images

Brandon Davies has a nationally-recognized name—not only for his 2011 suspension but also because of his talent. However, Noah Hartsock is BYU's unheralded star.
As a senior, Hartsock averaged a career-high 16.9 points to go with 5.2 rebounds per game, and he dropped 23 points on 10-of-14 shooting against Iona on Tuesday night.
If you watched the play-in game against the Gaels, Clark Kellogg probably made you sick by repeating something along the lines of, "Hartsock can score over either shoulder from either side of the block." As annoying as he was, Kellogg was right.
Plus Hartsock can also shoot from mid-range and beyond the arc.
If Buzz Williams puts Jae Crowder on Hartsock, Marquette's senior will have a tough assignment, despite having an athletic advantage.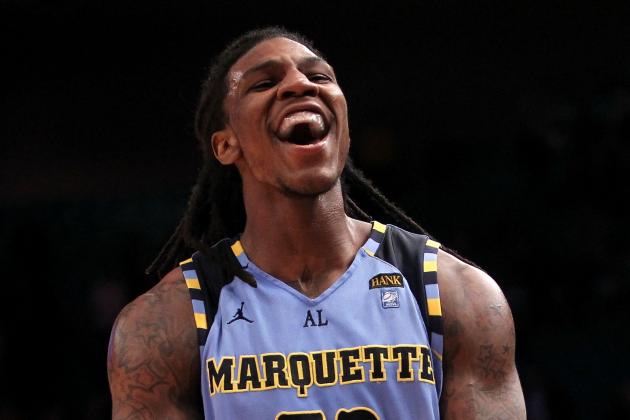 Nick Laham/Getty Images

Marquette basketball is Darius Johnson Odom plus Jae Crowder.
If there were a mathematical equation for a basketball team, that would be Marquette's. It's that simple. The Golden Eagles will go as far as DJO and Crowder carry them.
The duo combined for 35.9 points per game this season, and they each add their own strengths to make Marquette even more formidable. Johnson-Odom is a better shooter—he buried 39.7 percent of his treys—while Crowder averaged 8.1 rebounds and 2.4 steals.
These seniors are among the best in the nation, and you have to talk about them as one entity.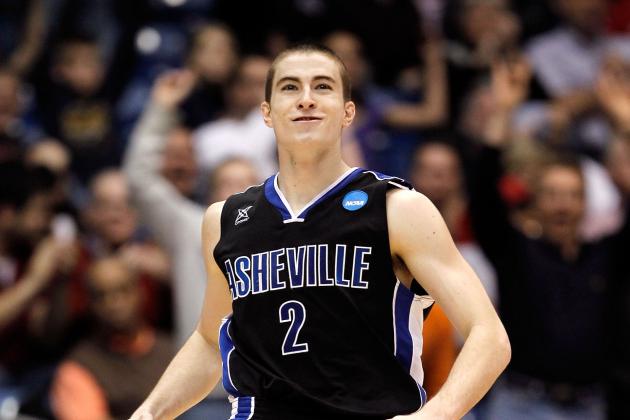 Gregory Shamus/Getty Images

Shooting ability is one of the keys to defeating Syracuse, and Matt Dickey can certainly make it rain from beyond the arc. The senior shot 38.1 percent from deep and averaged a team-high 16.5 points per game.
If you don't know Dickey by name, you might remember seeing this heroic shot of his on ESPN's Top 10 Plays.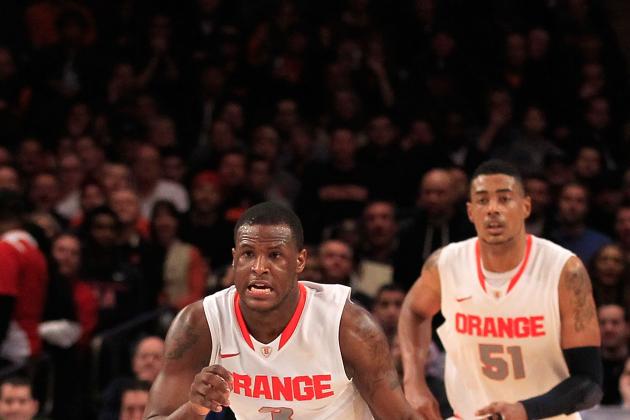 Chris Trotman/Getty Images

Kris Joseph may be more reliable, but Dion Waiters is unquestionably Syracuse's most potent scorer and arguably the team's best defender.
The sophomore, who averaged 12.6 points and 1.9 steals per game, exploded for 28 points on 7-of-10 three-point shooting against Cincinnati in the Big East semifinals. His confidence is through the roof, and if he has a hot hand, there are few players in the tournament who can outscore him.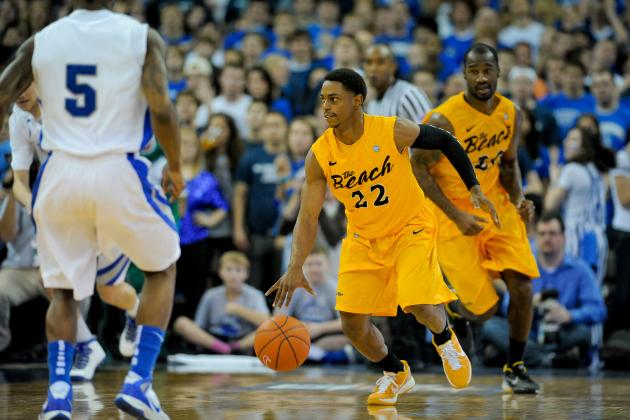 Eric Francis/Getty Images

If you haven't heard yet, Casper Ware is more than a mid-major star. He's only 5'10" but he can play with anyone, as he proved last summer when he won the Drew Summer League MVP.
Ware averaged 17.4 points per game while shooting 36.1 percent from deep this season. Against No. 1 seed UNC, the senior went for 29 points and five assists.
For some more cool facts about Ware, check this out.
Ethan Miller/Getty Images

New Mexico has flown under the radar all season, and, consequentially, so has Lobos star Drew Gordon.
Gordon ranked No. 6 nationally with 10.9 rebounds per game and No. 10 with 17 double-doubles. The senior also scored 13.4 points per game.
An all-around player, Gordon has the potential to lead the Lobos deep into the NCAA tournament.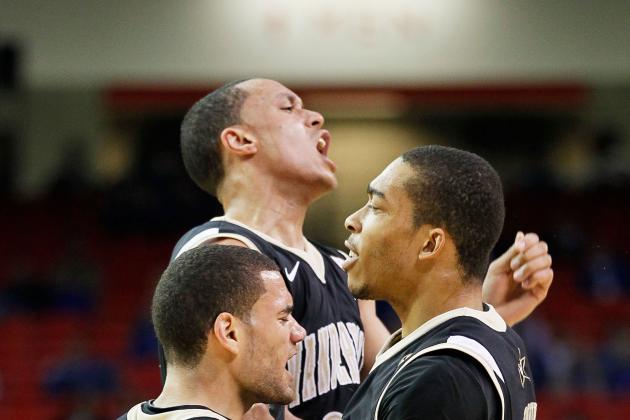 Kevin C. Cox/Getty Images

Though Festus Ezeli had a down year due to a knee injury, Vanderbilt clearly has a big three, consisting of Ezeli, John Jenkins and Jeffery Taylor.
Jenkins and Taylor provide the bulk of Vandy's offense. The senior duo accounts for 36.3 of the Commodores' points and shoots 44.2 percent from long range.
While Jenkins and Taylor are also more than capable defensively, Ezeli is the cog in the middle that makes penetrating the lane difficult for opponents. The senior also proved his offensive game hasn't disappeared, posting 17 points against Anthony Davis in the SEC championship.
This formidable trio has been upset twice and will do anything within its power to help Vanderbilt avoid a similar fate today.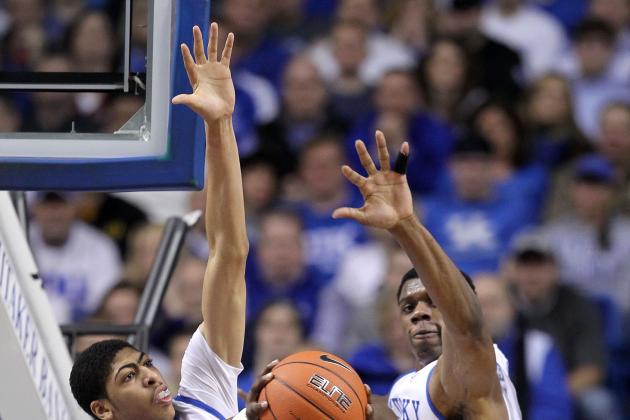 Andy Lyons/Getty Images

Kentucky's entire rotation consists of studs, but Anthony Davis and Terrence Jones are the two biggest impact players on the team.
Davis, the eventual national Defensive Player of the Year, led the Wildcats with 14.3 points, 10 rebounds and 4.6 blocks per game. He has improved on offense throughout the season, and his defense is otherworldly.
Jones, on the other hand, has been somewhat inconsistent as a sophomore. After averaging 15.7 points and 8.8 rebounds as a freshman, Jones only posted 12.5 points and seven rebounds per game in 2011-12.
However, when he takes over a game—as he did in the early minutes of the SEC semifinal—his fearless eyes alone can scare an opponent into submission.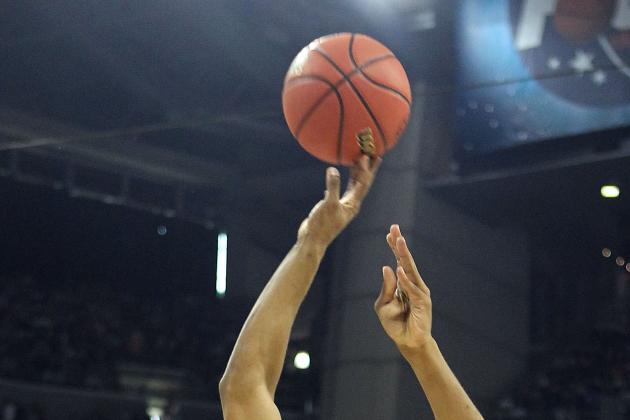 Andy Lyons/Getty Images

As the only returning starter from last year's Final Four team, Bradford Burgess carried the burden of leading a relatively inexperienced group of players back to the Big Dance. Though his numbers dropped, he completed the task.
Burgess averaged 13.3 points per game on a paltry 36.4 percent field-goal percentage. However, we've seen him elevate his game to the moment in the past—namely when he scored 26 points, including the game-winner, against Florida State in last year's Sweet 16.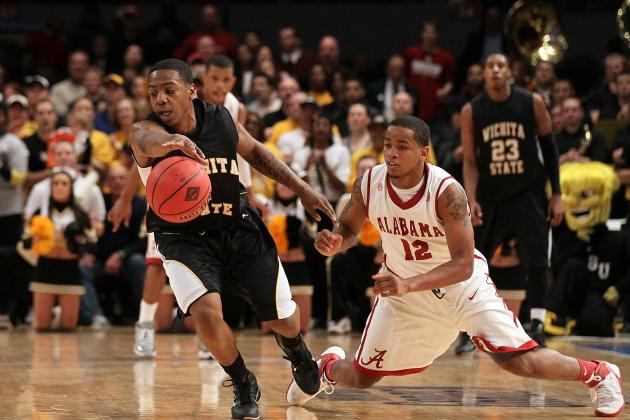 Jim McIsaac/Getty Images

Though Garrett Stutz has received much more national attention this season, Joe Ragland is the Wichita State Shocker with the most stud potential.
The junior college transfer averaged 13.4 points per game, and despite being just six-feet tall, he led the Shockers with a 56.7 percent field-goal percentage. Ragland is also an assassin from long range, burying exactly half of his 114 three-pointers.
If you still don't believe he's a stud, check out these point totals against some of the tourney teams Wichita State faced: 31 against UNLV, 24 at Creighton and 30 at Davidson.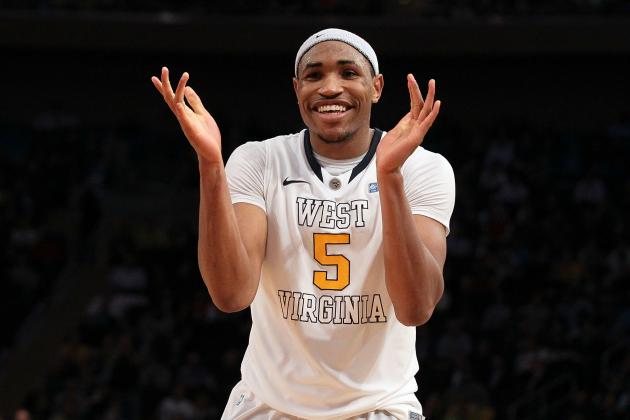 Jim McIsaac/Getty Images

Kevin Jones elevated his game to an elite level for his final season in Morgantown, ranking No. 4 nationally with 11.1 rebounds per game and No. 3 with 21 double-doubles.
Those double-doubles weren't feeble 10 and 10 outings—the forward averaged 20.1 points per game and had four 15-plus rebounding totals.
Jones is an absolute beast, and behind his inspiring play, West Virginia could turn some heads this week.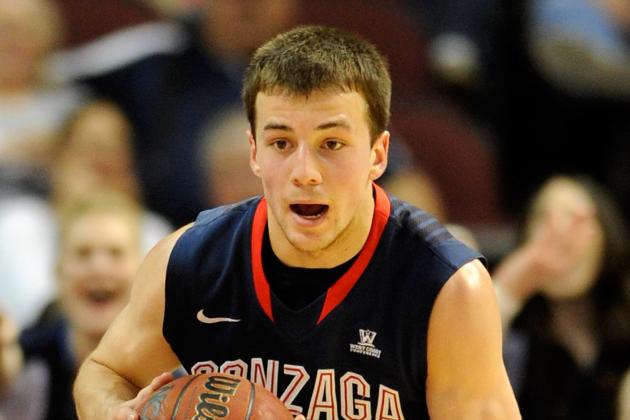 Ethan Miller/Getty Images

If you've followed college basketball for the past few years, you've probably had your dosage of Elias Harris/Robert Sacre hype.
However, a new stud is building his own legacy in Spokane.
Kevin Pangos, a freshman guard, led Gonzaga with 13.8 points and 3.4 assists per game. A dangerous three-point shooter, Pangos shot 40.5 percent from beyond the arc and even buried nine threes in his second collegiate game.
Though he struggled against Saint Mary's in the WCC championship, Pangos poured in 27 points in the Bulldogs' regular season win over the Gaels. He also dropped 30 on BYU in the conference semifinals.
Photo Credit: South Dakota State Athletics
Only the most avid college basketball fans have heard of Nate Wolters, but those of you who haven't are missing out on the star of the Summit League.
A consummate player, Wolters averaged 21.3 points, 5.3 rebounds, six assists and 1.7 steals per game this year. His three-point percentage oddly dipped from 40.8 percent to 24.4 percent, but he can clearly still connect from long range, despite struggling recently.
Regardless of his shooting woes, Wolters has been able to pour in 30-plus points six times.
No single mid-major player is more capable of leading his underdog squad to an upset.
Ed Zurga/Getty Images

Perry Jones III is too complacent to make this list.
Pierre Jackson is not.
The junior college transfer is one of the few passionate players on Baylor, and his desire to win manifests itself in his play. In his first year in Waco, Jackson averaged 13.3 points, 5.8 assists and 1.7 steals per game. He also shot 43.4 percent from long range.
Jackson has already had a few monster games, including his 20-point and 15-assist outing against Missouri.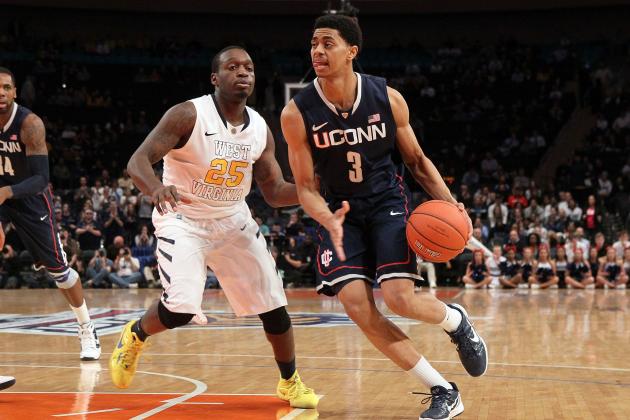 Jim McIsaac/Getty Images

After Kemba Walker left for the NBA, Jeremy Lamb was shouldered with the burden of leading the defending national champs. Though UConn struggled much more than anticipated—and though Lamb had his personal ups and downs—the sophomore is clearly capable of carrying his team.
Lamb averaged 17.7 points per game this year, and when he is motivated, he's hard to stop.
For example, do you think Lamb wanted to put UConn's fate in the hands of the selection committee by falling early in the Big East tournament? No—he didn't, and his 47 points on 19-of-34 shooting in wins over DePaul and West Virginia are proof.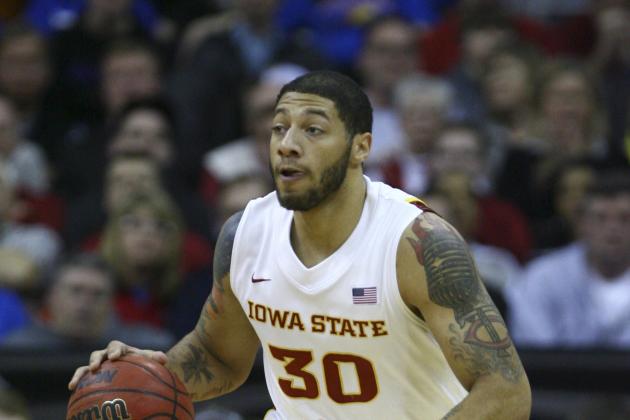 Ed Zurga/Getty Images

Very rarely does a 6'8" forward lead his team in assists, but Royce White is an exception to the norm. The sophomore Minnesota transfer averages 5.1 dimes to go with a team-leading 13.1 points and 9.2 rebounds per game.
With his ability to score, rebound and distribute, White could be one of the more dominant players in the field. However, he shoots just 49 percent from the charity stripe.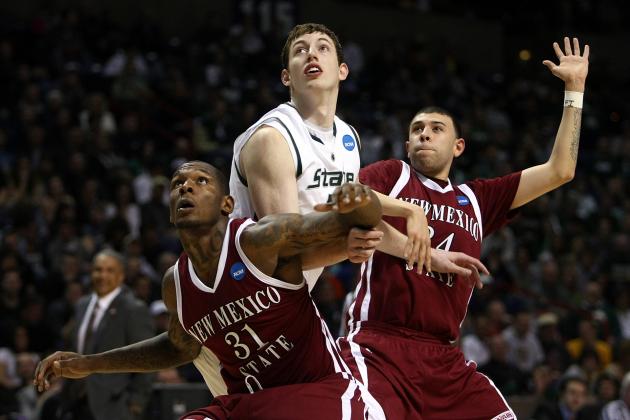 Jonathan Ferrey/Getty Images

After Christian Kabongo transferred, Wendell McKines stepped up to lead New Mexico State to the NCAA tournament. The senior forward averaged 18.8 points and 10.8 rebounds per game, ranking No. 4 nationally in double-doubles and No. 7 in rebounds.
McKines is the perfect threat to Indiana. If he can neutralize Cody Zeller inside, the Hoosiers will be forced to shoot. They're a good shooting team, but if they can't hit, they won't win.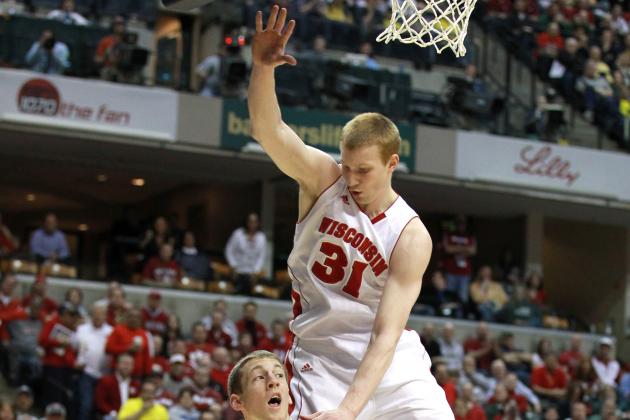 Andy Lyons/Getty Images

Going up against a smaller Wendell McKines, Cody Zeller absolutely needs to outplay New Mexico State's forward if Indiana wants to avoid a Round of 64 upset. He's more than capable of getting the job done, though, so Hoosier fans shouldn't worry.
Zeller averaged 15.5 and 6.4 rebounds in his first season in Bloomington. However, he'll certainly need to snag more than the one rebound he corralled against Wisconsin in the Big Ten quarterfinals.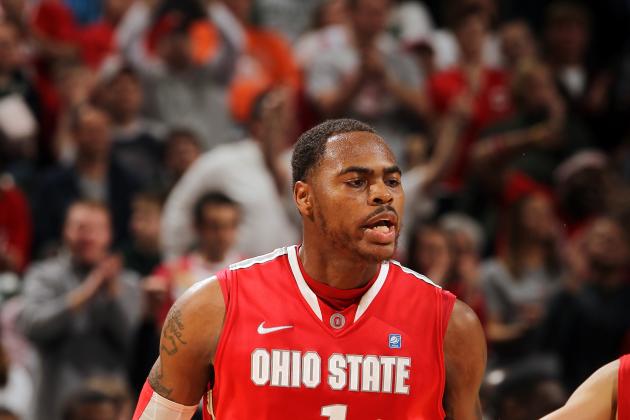 Jonathan Daniel/Getty Images

Jared Sullinger is the unquestionable star of Ohio State, but why not give the spotlight to teammate DeShaun Thomas for a change of pace?
Here's what I wrote about Thomas in my breakdown of the East region's Top 15 players:
Deshaun Thomas burst onto the national scene this year, more than doubling his freshman scoring average. The sophomore averaged 15.5 points on 53.7 percent shooting to go with five boards per game.

In the three games Ohio State played without Jared Sullinger, Thomas adopted his fellow sophomore's scoring role. The Buckeyes only needed 11 points from Thomas in an easy 64-35 win over Texas-Pan American, but the 6'7" forward poured in 19 against Kansas and 30 against South Carolina.

Thomas, who has been in double figures in all but four games, topped 20 points on seven occasions.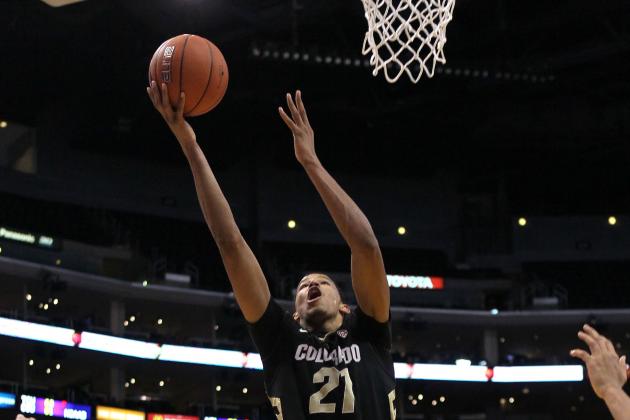 Stephen Dunn/Getty Images

Playing for Colorado, Andre Roberson has flown under the radar this year. However, the sophomore averaged 11.6 points and 11.8 rebounds, ranking No. 5 nationally in rebounds and double-doubles.
He also shot 50.9 percent from the floor and swatted 1.9 shots per game.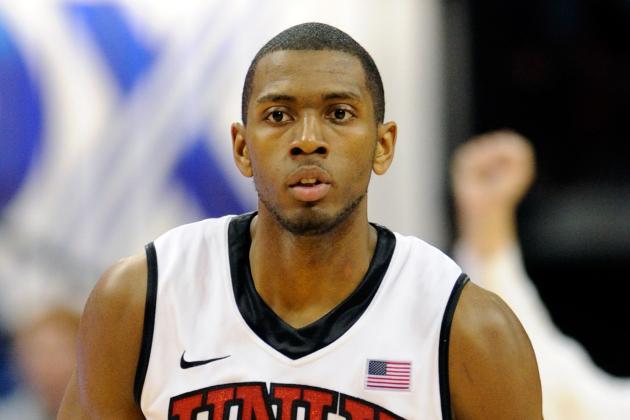 Ethan Miller/Getty Images

Early in the season, Mike Moser was in the Player of the Year discussion. He went for 23 points, 17 rebounds, six assists and five steals on Nov. 20 against Morgan State and went for 16 points and 18 boards in UNLV's signature win over UNC on Nov. 26.
Though he cooled off considerably, Moser finished the season with averages of 14.1 points, 10.6 rebounds and 1.8 steals.
He's undoubtedly an impact player, and in the tournament, he could be very difficult to contain.