MLB Trade Speculation: Gerardo Parra, Chris Young Fit with Cleveland Indians
March 15, 2012
Jared Wickerham/Getty Images
Even though the price may be too steep, the Cleveland Indians should try to trade for one of the two Arizona Diamondbacks outfielders currently on the market, Gerardo Parra or Chris Young.
Despite all of Cleveland collectively hoping and praying that Grady Sizemore's body would not break down on him again this season, he's already out until at least early May. I do still have hope that Sizemore will add some value to the team upon his return to the lineup, but he certainly is not starting 2012 off on the right foot.
More than likely, the Indians will fill the hole created by Sizemore's absence internally. I've already argued that Shelley Duncan could be deserving of a look in left field (with Michael Brantley, a breakout candidate in his own right, moving to center field), but the Tribe could get creative and make a trade.
If the Indians are going to make a trade for an outfielder, they should call the Diamondbacks about Gerardo Parra and Chris Young.
Both of these outfielders are talented players, but the Diamondbacks' offseason signing of Jason Kubel has created a logjam in Arizona's outfield. The Diamondbacks' front office is claiming right now that they do not have to trade anyone, but without a DH, there is little point in carrying Justin Upton, Kubel, Young and Parra on the roster. A trade for pitching (which no team can have enough of) or some middle infield depth (with Stephen Drew's status in doubt) would make more sense.
Gerardo Parra would make sense for the Indians on a few different levels. First, he is only entering his age-25 season and will not be a free agent until 2016. Second, eh is a solid defender who should be capable of handling center field. Even without Sizemore, the Indians would be covered pretty well in center with Parra and Brantley. Third, Parra took a big step forward with his bat in 2011: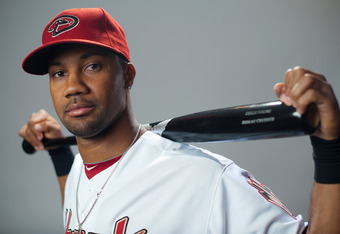 Rob Tringali/Getty Images
.292/.357/.427 slash line, .784 OPS (113 OPS+), .340 wOBA (109 wRC+), 8 HR, 46 RBI, 15 SB, 55 R, 2.8 fWAR in 493 PA
Since Parra is relatively young and just entering his prime, it is not unreasonable to expect his bat and defense to improve at least a little more. Even at the level he is at now, Parra would be useful to any team and would add a ton to the 2012 Indians.
Unlike Parra, Chris Young is not very cheap. His contract pays him $7 million in 2012, $8.5 million in 2013 and has a team option in 2014 for $11 million. Some may think that is a lot of money to commit to a player coming off of a (seemingly) rough 2011 season:
.236/.331/.420 slash line, .751 OPS (103 OPS+), .330 wOBA (102 wRC+), 20 HR, 71 RBI, 22 SB, 89 R in 659 PA
Young didn't have the best of offensive seasons last year, but he still had a 4.6 fWAR in each of the past two seasons. While Young still strikes out too much, he has improved his walk rates and plays very good defense in center field - no easy feat. 
As I'm sure you know, the Indians don't have much money to spend, making Young's contract harder to absorb. With the news that Fausto Carmona/Roberto Hernandez's contract has been reworked - possibly saving the Indians some money in 2012 - the Indians may have some money to put toward a legitimate big league center fielder like Young.
The Indians don't have much to offer in the way of prospects, but they have plenty of solid pitching depth - both starting and relieving - and could offer a player like Jason Donald or Cord Phelps to ease the Diamondbacks' burden with Drew. 
I don't know specifically what the Diamondbacks would want, but there seems to be some common ground between them and the Indians. The addition of either Parra or Young would certainly help the Indians compete for the pennant in the loaded American League.