NBA Trade Deadline: Why the New Jersey Nets Must Trade Deron Williams Now
March 15, 2012

Chris Chambers/Getty Images
Ironically enough, Dwight Howard could do the New Jersey Nets more good by opting to stay with the Orlando Magic than if he were to be traded to the New Jersey Nets. 
It looks more and more as if Howard will opt in to an extra year with the Orlando Magic. That means the New Jersey Nets are now faced with the difficult decision of either hanging on to Deron Williams—at the risk of losing him for nothing this summer—or making a last-minute trade before the deadline in an attempt to at least get something in return for the star PG, which ironically enough is what New Jersey did last year to get D-Will in the first place.
However, do not fret, Nets fans. Instead, I encourage you to read on as I explain why the Nets will benefit from not trading for Howard and trading Williams instead…
The bottom line is the Nets could still have reason to celebrate as they move to Brooklyn, not just because of the move, but because by the start of next season they will at least be a playoff team, if not a championship contender. 
Of the many possible Williams deals out there, I can think of two in particular that benefit both teams and Williams. I am confident he would be compelled to re-sign with either of these suggested teams, the most storied franchises in NBA history… the Los Angeles Lakers and the Boston Celtics.
D-Will to LAL for Pau Gasol and LAL's 2012 first-round pick
Why New Jersey makes the trade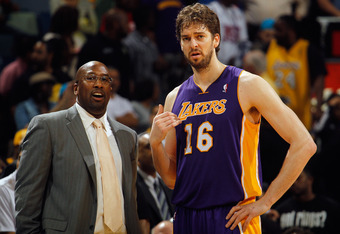 Chris Graythen/Getty Images
1. As I mentioned above, the Nets really have no other choice. Taking a risk on Gasol and a late-first-rounder beats losing D-Will for nothing any day.
2. Gasol is still one of the best big men in the NBA.  Yes, he is 31 years old, however he has been relatively healthy throughout his career, and big men usually have a longer shelf life in the NBA.
3. He is still a star.  Gasol is a legit 7-footer who can score, rebound and play average-to-above average defence (it depends who you ask, though).
4. Gasol not only has playoff experience, he also has championship experience and two championship rings to show for his troubles.  This young team will need a leader if it hopes to contend, and Gasol can be that man.
5. Keep in mind the Nets are going to have a high lottery pick in this year's NBA draft—at least a top-10 pick.  That means you can throw a guy like Harrison Barnes or Michael Kidd-Gilchrist in to the mix.
To sum it all up
Assuming they re-sign Brook Lopez, this leaves the Nets with a core of Brook Lopez, Pau Gasol, Marshon Brooks and their lottery pick in this year's draft.  Then, they can look to trade Kris Humphries for help at PG and use the ample cap room they'll have—most notably the $10 million they'll free up with the expiring contract of Mehmet Okur—to build the Brooklyn Nets around this core and create a championship-caliber team.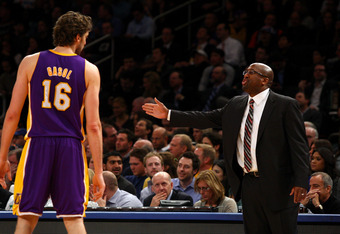 Chris Chambers/Getty Images
OR they can avoid the hole at PG completely if they chose deal No. 2, more on that later…  
Why the Lakers make the trade
It's basically the Chris Paul trade 2.0. They can sacrifice Gasol because they have Andrew Bynum and they desperately need a star PG. D-Will should easily re-sign with the Lakers, where he will flourish under the bright lights of Tinseltown. Furthermore, the Lakers preserve their traded player exception and can go out and make the rumored deal that would land them Michael Beasley in a three-team deal with the Wolves and Blazers while reportedly only having to give up Steve Blake.
It's a win-win for the Lakers.  They get their PG, they can still get a SF and Kobe is happy! All will once again be as it should in Los Angeles, with the Lakers, not the Clippers, running the city.
Deron Williams to Boston for Rajon Rondo and Jermaine O'Neil
Danny Ainge has said that he will only trade Rondo if he gets a star in return.  Well, I'll do you one better, Danny. How about a star PG in return?  Again, I am confident D-Will would be willing to re-sign with a storied franchise such as the Boston Celtics, plus they'll have the cap room—thanks to the expiring deals of Ray Allen and Kevin Garnett—as well as the required allure to bring in the necessary piece or pieces to build around D-Will.
Why New Jersey Makes the Trade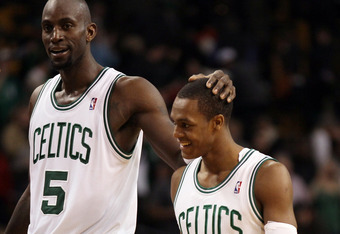 Elsa/Getty Images
1. Again, the Nets really have their hands tied. They can either trade Williams or risk losing him for nothing this summer, so why not make the smart move and trade him for an equal, or perhaps better (depends who you ask and when you ask them), PG in Rondo.
2. As I'm sure you've all heard many times, Rondo is by far the more cost effective option.  He'll give you pretty much exactly what you got from Williams in terms of production and PER but for a far more affordable price. Rondo will make $11 million, $12 million and $13 million over the next three years, respectively. Williams, on the other hand, made $17 million this year and will command a max contract should New Jersey try to re-sign him this summer.
3. O'Neil is an expiring contract, giving them an extra $6 million in cap room come free agency—in addition to the $10 million they'll already be saving with the expiring contract of Mehmet Okur.
To sum it all up
In the long run, the team is better off, thanks to this trade, not only financially but talent- and security-wise. Rondo would be back next season for sure, Williams would most likely not.  Combine Rondo with the young talent the Nets already have in Marshon Brooks, Brook Lopez (assuming they re-sign him) and their lottery pick in this year's draft and the Nets will not only make the playoffs their first year in Brooklyn, but if they play their cards right in free agency and in the trade department they could also be championship contenders very soon.  
Why Boston makes the trade
1. It is clear the Celtics are not satisfied with Rondo as their PG, otherwise we would have never seen his name come up in the rumor mill. This is as a good deal as any they're going to get, and when you consider the importance of having a star PG in today's NBA this deal becomes even more of a no-brainer.
2. Although Williams will cost them more, they will get the same level of production at PG. Combine that with the expiring contracts of Ray Allen and Kevin Garnett, and the Celtics shouldn't have a problem building around Williams.
Final Thoughts
If Howard stays with the Magic, the New Jersey Nets will be in a tough spot with Williams. That being said, it doesn't mean they shouldn't make the best of it, or as I demonstrated, improve their team by capitalizing on the opportunities that will present themselves. Howard could very well make the Nets a better team in the long run without ever putting on a Nets Jersey.