NFL Free Agents 2012: Why Matt Flynn Isn't a Good Fit for the Seattle Seahawks
March 15, 2012

Jonathan Daniel/Getty Images
There are reports surfacing that the Seattle Seahawks plan to host free agent quarterback Matt Flynn today. This comes on the heels of news that Peyton Manning turned down a chance to meet with Pete Carroll and Co.
Is signing Flynn a good idea? My answer to this question is an unequivocal no! Here are the reasons for this.
High Risk, High Reward
There is no doubt in my mind that Matt Flynn has a tremendous amount of upside and could turn into an above-average starting quarterback in the NFL. He possesses the arm, accuracy and field awareness to be a pretty good player.
The issue with possibly signing Flynn is that he would be demanding a rather lofty contract. The Seahawks are not built to pay a quarterback franchise type money and they don't have to. This is a team that is built around a strong running game, great play in the trenches and a solid defense.
The landscape of acquiring a quarterback via the draft has changed a great deal under the new Collective Bargaining Agreement. While a team would still be on the hook for giving up a high pick for a player that doesn't pan out, they are not going to be on the hook for tens of millions of dollars. This has changed the focus a great deal due to the new rookie wage scale.
Why risk a horrible contract (see Kevin Kolb in Arizona) when you really don't need to have that franchise type guy on offense?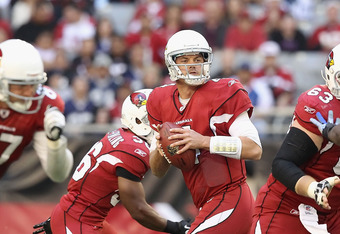 Christian Petersen/Getty Images
Small Sample Size
Lets face it, Matt Flynn did not set the world on fire while he was with LSU in college. At this point it is all pure conjecture that he is going to be a great starting quarterback in the NFL.
One remarkable game against a putrid Detroit Lions secondary to end the 2011 season isn't going to change this. It is one thing to take a chance on an unproven rookie out of college. It is an entirely different thing to take a chance on someone that has ridden the pine in the NFL for the last few seasons.
This doesn't mean Flynn cannot be a good quarterback. It just indicates that we don't have enough to go on in order to fully believe that he is the "answer."
The Tarvaris Jackson Factor
While Jackson wasn't a great quarterback by any standards last season, he was serviceable. I know that isn't the word Seahawks fans want to hear describe your quarterback. Take it from someone that follows the San Francisco 49ers, I get that.
The larger question here is if Flynn is actually an upgrade over Jackson? If Seattle thinks so they probably will sign the young quarterback. If not, they wont. It really is that simple.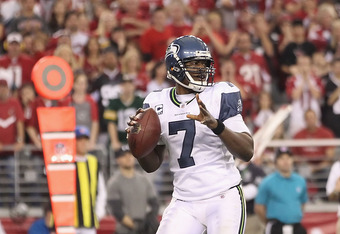 Christian Petersen/Getty Images
Obviously we have to look at the possible structure of the contract. Indications are that the market has thinned out in regard to Flynn. If that is the case, they might get him rather cheaply. If not, you are looking at a deal similar to the one Matt Cassel received from the Kansas City Chiefs after he was traded by the New England Patriots.
This is pure conjecture, but another starting point in negotiations might be the aforementioned Kevin Kolb deal in Arizona.
If Seattle comes to the conclusion that Flynn is an upgrade over Jackson their next step will be to set a value to that and figure out exactly how much of an upgrade he is. At this point I would have to conclude that he isn't a huge upgrade over your starting quarterback right now. In fact, if Jackson was still on the roster following a possible Flynn signing they would be battling it out in training camp for the starting position.
The NFC West Factor
While Seattle might not be on par with the 49ers at this point, they are clearly the second best team in the division. Is replacing Jackson with Flynn going to put the Seahawks over the hump? I highly doubt that.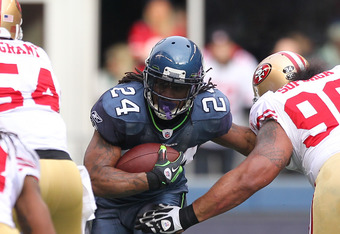 Otto Greule Jr/Getty Images
They are contenders for a wild card spot with both quarterbacks and could conceivably challenge San Francisco for the division no matter who the quarterback is.
At this point the difference in money between the two quarterbacks would be better served allocated to other areas of need on the roster in order to contend with San Francisco for the division title. After all, that has to be the ultimate goal here.
The Draft
History shows us that if you want to get a quarterback to take you to the promised land you do it through the draft. Rarely does a team trade for or sign a veteran backup and ends up competing in the long run.
Of course there are situations that fly in the face of this hypothesis. Kurt Warner with the Arizona Cardinals and possibly Peyton Manning come to mind first.
Would you really couple Flynn with that group? I didn't think so.
While Seattle doesn't have the capability to grab either Andrew Luck or Robert Griffin III, they do have the ability to get one of the second-tier quarterback prospects later in the draft.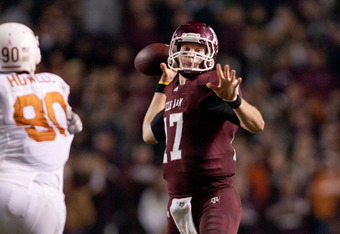 Darren Carroll/Getty Images
Ryan Tannehill and Brandon Weeden seem like solid possibilities in the second round. They wouldn't be anywhere near the financial risk of Flynn and could provide Seattle with the "quarterback of the future" that every franchise seems to be looking for.
If you don't want to go that high in the draft to pick up a "project" quarterback, both Nick Foles and Kirk Cousins might be available in the third round. Either way, this seems like a much better scenario for Seattle.
Conclusion
There you have it, multiple reasons why Seattle shouldn't sign Matt Flynn. I am by no means saying Flynn wouldn't succeed with the Seahawks. He would have nice weapons on the outside, a strong running game with Marshawn Lynch and a solid tight end. However, the same goes for Tarvaris Jackson as well.
If Seattle was in position to acquire Peyton Manning I wouldn't be making this same argument. Logistically speaking they are not in that position. Instead, we are talking about an unproven commodity that would probably demand a nice contract.
Keep Jackson in the fold, acquire a young quarterback later in the draft, build around the solid nucleus and hope to contend with the 49ers in the division.
It really is that simple.
Follow me on Twitter @VincentFrankNFL