CBI Bracket: Jared Cunningham and Other Most Exciting Players to Watch
March 15, 2012

Stephen Dunn/Getty Images
The CBI Tournament doesn't quite scream prestigious, but it still contains big teams and big-time players. 
Just take a look at the official bracket.
Pittsburgh and Butler jump out as teams that have had very recent success in the NCAA Tournament, but Oregon State and Washington State also add some talent.
Here's a look at the most exciting players who have the ability to make any tournament exciting.
Jared Cunningham, Oregon State Beavers
Not only is Cunningham electric on both offense (17.7 ppg) and defense (2.5 spg), but he does it in an exciting way.
Cunningham is one of the most athletic guards in the country and is absolutely explosive to the hoop. There aren't many more fun players to watch in the country, let alone this tournament. He can easily carry the Beavers to a championship.
Well, CBI championship.
Devon Saddler, Delaware Fightin' Blue Hens
The 6'2" sophomore guard is averaging 19.1 points per game, but it's scary to think of what he could average if he didn't miss so many shots.
Saddler only shoots 39 percent from the field and 31 percent from deep, yet he still lights up the scoreboard on any given night, mostly due to his amazing ability to get to the hoop and finish or draw the foul.
The young guard scored 30 against Drexel, arguably an NCAA-Tournament worthy team, earlier in the year, so has the ability to shine. Look out for this kid in the next two years.
Ashton Gibbs, Pittsburgh Panthers
Despite shooting much worse than he did last year, Gibbs has still managed to score 15.5 points per game to go along with 2.4 rebounds and 2.2 assists.
Still, if he manages to shoot like he did last year when he hit an amazing 49 percent of his threes, he could score 25 fairly easily.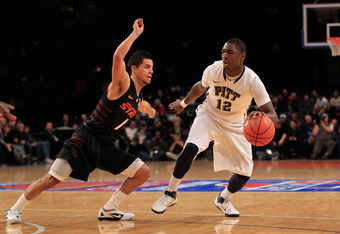 Chris Trotman/Getty Images
Against weaker competition, Gibbs should put forth some big nights.
Brock Motum, Washington State Cougars
Motum isn't necessarily the most exciting player to watch, per se, but he's a big man who can score from inside and out, as evidenced by his 18.3 points per game—an amazing 11-point increase over last season.
Much like Cunningham, the junior from Australia would have been a legitimate choice for Pac-12 Player of the Year had the Cougars been more successful this season.