Aaron Nagler, an Introduction: Let's Do This
March 15, 2012

I can't tell you what a thrill it is to be joining Bleacher Report today as the lead NFL blogger. I'll be living here at The Go Route.
Those of you who know me from CheeseheadTV.com can expect more of the same, only with a much wider lens that looks to take in the entire NFL. For those of you who may have wandered in off the street or from some random corner of the Internet—welcome. I hope you'll stick around and come back often.
What's that? Who am I and why should you care?
Good question. Where to begin?
First of all, I've been obsessed with football pretty much since I arrived on the planet. My earliest memory in life is of my Grandpa Ralph taking me to Lambeau Field when I was three years old to watch the Packers take on the Lions. (They won that day, a rare treat in what I call the Packers' "Dark Days" of the '70s and '80s) My Sunday afternoons were spent sitting on the floor in the living room in front of my Dad's big chair, watching football.
Not just the Packers, mind you, but we would watch that early game and then whatever late game was on as well. Often, this would end up being a game featuring the Dan Fouts-led Chargers against some other AFC road kill opponent, which ended up making me a huge Fouts fan. (Still a criminally underrated quarterback in my opinion.) My father and I wouldn't move from our spots, sometime for hours on end. Hell, sometimes, we didn't even speak.
We didn't need to. We were watching football.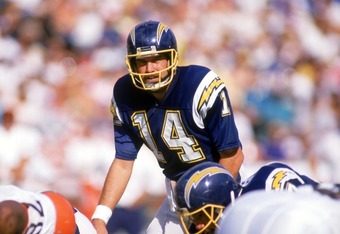 Stephen Dunn/Getty Images
Speaking of which, enough of the touchy-feely stuff. Lets get down to brass tacks here.
I'm going to be writing about NFL football—what I think about the latest developments around the league, what I think about the major (and not-so-major) football stories of the day. And "football" is a key word here. I care about the game—almost to an unfortunate degree.
What I do not care about is much of the auxiliary crap that happens around it. So if you come here looking for my take on the news of an NFL player appearing on a reality show (Yes, I'm looking at you Donald Driver…) I won't have much to offer you.
If, on the other hand, you want to read my feelings regarding Dan Snyder and how he will never preside over a successful team in Washington (sorry, Redskins fans)—or how I feel about the insipid rules protecting the quarterback in today's game—or my take on the nuts and bolts of what teams need to do when implementing a 3-4 defense when they've run a 4-3 for over a decade…well then, you've come to the right place.
When I was talking to B/R about coming on board, there was obviously a lot going on in the NFL, from the Saints' bounty story to the salary cap penalties being meted out by everyone's favorite commissioner. (For the record, I'm a Goodell fan. I look forward to our arguments on this subject.) And of course there's the small matter of a future Hall of Fame quarterback needing to pick a new team.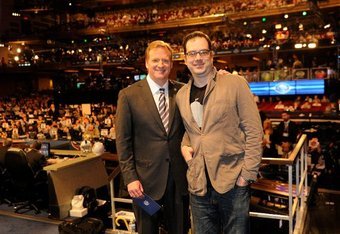 I'll be weighing in on all these subjects over the course of the next few days and of course there's the NFL free agency frenzy happening as you read this. There's plenty to dive into and I look forward to putting stuff out there for you all to tear apart either in the comment section or on Twitter, where I spend way too much time. (By the way—if you are an NFL fan and you're not on Twitter, you're doing it wrong. Sign up today and follow me: @Aaron_Nagler.)
Speaking of which, let's get something out of the way right from the get-go: Those of you who have been reading me over at CheeseheadTV.com for any length of time know that when I'm wrong about something I've written, be it about a player or team, I am the first to admit it. I don't hide. I only ask that we try to remain civil to one another when challenging each other's opinions. We've tried very hard to cultivate a culture of tenuous civility over at CHTV (of course this isn't always achieved, but the attempt is always made) and I'd like to try and continue that practice with my work here—but please, feel free to gently tell me I'm full of it when I very clearly am.
With all of that said—I can't wait to get started and to dive into what is already a crazy new league year that has given us the usual crazy contracts (Remember my note earlier about the Redskins? Exactly.) along with the regular rapid movement of players from one team to another that we've come to expect in the early days of the free agency period. (For the record, I really like what the Cowboys have done so far. You have no idea how hard that was to type.)
Let's do this.