The 10 Wackiest and Wildest Team Names in the NCAA Tournament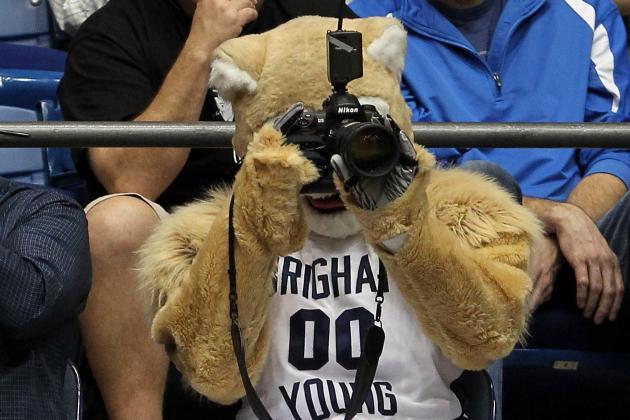 Gregory Shamus/Getty Images
In the mascot version of Spygate, BYU's lion takes top secret photography to study the ways of the more creative NCAA counterparts in the tournament.
This week a lot will be said about bracketology, which team will win it all and workplace efficiency during the fever-pitch days of March Madness, but few have ventured into the territory of following the most unusual and creative team nicknames to grace the NCAA tournament this year.
Though the UC-Irvine Anteaters and the Western Illinois Leathernecks didn't make it this year there are many creative team names (several of which are the underdogs we come to love at this time of year) to root for in this year's NCAA tournament.
If uniform design has become a competitive advantage at Oregon in football, then surely mascot names and outfits can have an impact on the NCAA basketball tournament.
Let's take a light-hearted look at the most interesting team names in this year's March Madness and ponder "what's in a name?"
Begin Slideshow

»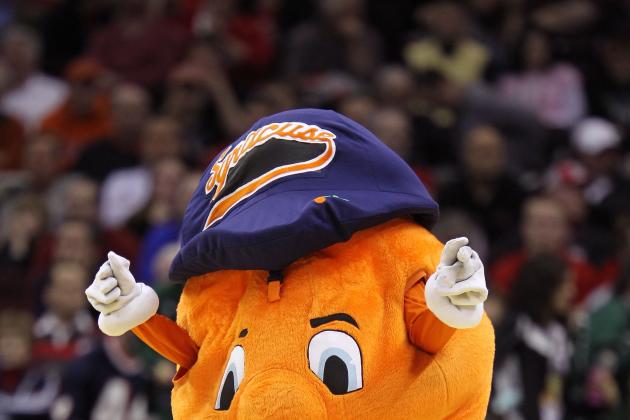 Andy Lyons/Getty Images
If you were wondering what a New York Orange looks like in person, here is a rarely seen glimpse of the creature. Note the long legs with arms coming out where the ears should be.
Orange is both metaphysical and symbolic. Orange is a "hot" color and a traffic cone. Orange is just before the "panic" stage on former President Bush's red alert scale of impending danger, providing fodder to such comedians as Jon Stewart and Stephen Colbert.
But to Syracuse fans Orange is a way of life.
There are no citrus trees in New York so the team name isn't in honor of orange trees (you'd think that would work for a Florida team) but someway, somehow this team earned the No. 1 seed simply being known as "Orange."
The decision-makers for the name weren't big fans of Stanley Kubrick's film Clockwork Orange and their players don't come from the Netherlands and this author doesn't know the full story, only that they found an awesome name that nobody else in the country has.
One imagines the Board of Trustees way back in Syracuse's early years, stagnating at the table of endless debate between the over-used "Wildcats," "Bears" and devilish names (i.e. Arizona State, Duke) only to have the quietest man at the table, the Tiny Tim of Syracuse history, exclaim, "We are the Orange!" as the board slow-clapped towards a crescendo of wild exhilaration.
All jokes aside, Orange has become ubiquitous with basketball success over the past few decades despite recent scandals that may tarnish Boeheim's legacy. This year's Orange are equally formidable and should make noise deep into the tournament.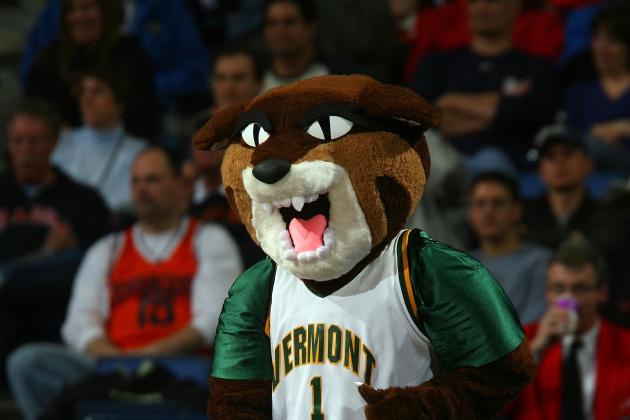 Rick Stewart/Getty Images
The Catamount is more ferocious and stealthy than your typical wild cat as evidenced by its ability to wear human clothing.
Continuing on the trend of over-duplicating the Wildcats team name (which is one of the most popular nationwide), in Vermont, they took wildcat a step further.
Rather than simply saying "well we have cougars here and they're a pretty formidable symbol for a team" (also known as mountain lions in other parts of the country) the Vermont university gurus decided to get more specific.
Hence "The Catamounts" were born.
How often is catamount used in the common American vocabulary? I have two university degrees and have never used it except to learn about Vermont.
Those that seek to add this animal to their bracketology vocabulary should study up on the Merriam-Webster definition.
Unfortunately for the "Cats of the Mountains," they face No. 1 seed North Carolina in the first round.
Honorable Mention for Creative Cats: Cincinnati Bearcats
Much like the Liger of Napolean Dynamite fame, the Bearcat is a hybrid blending of genes between a bear and a cat. If you thought the Kentucky Wildcats were fierce, try playing against a Bearcat.
Honorable Mention for other Mountainous Creatures as Creative Team Names: Lehigh Mountain Hawks
Similar to Cincy, the folks at Lehigh knew they had to do better than simply "The Hawks." The only thing more honorable and powerful than your average city-dwelling cooper's hawk is a mountain hawk and the magnitude of mountains is what propelled this team to the tournament this year to face Duke's Blue Devils from Dante's Inferno's sixth circle of hell. If that doesn't sound epic enough, you're not a basketball fan.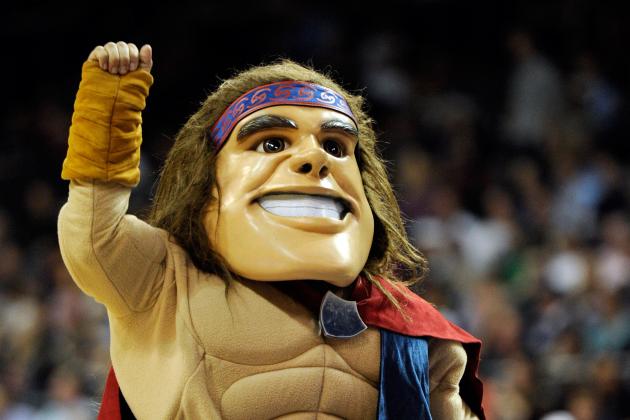 Ethan Miller/Getty Images
Apparently this is what a Highland Celt who speaks Gaelic looks like.
It's no secret March Madness falls at around the same time of St. Patrick's Day festivities celebrated by the many who need one more excuse to become inebriated.
This March Madness features not just one Irish special but two; the well-known Notre Dame Fighting Irish and the underdog, lesser-known, St. Mary Gaels.
In case you didn't study up on the tourney enough, a Gael is a person who speaks Gaelic who is an inhabitant of Ireland, Scotland or the Isle of Man.
That's a pretty creative nickname although somehow the folks in Iona got a hold of it too.
If Iona had beaten BYU in the play-in round, NCAA officials might have had to exchange the Gatorade for Gaelade, also known as the finest Guinness straight from the Wicklow Mountains of Ireland.
Doug Pensinger/Getty Images
Look out for the Bona Wolf.
When you can't decide on a team nickname just make it sound a bit like the school you come from.
Bonaventure has a nice ring to it alongside the alliteration of Bonnie so a unique team name was born.
That's what St. Bonaventure did as far as I can tell in my research. The Bonnie mascot is a wolf (go figure) who replaced the much-maligned St. Bonaventure "Fanatic."
The team was called the "Brown Indians" not too long ago so it's no wonder they changed away from that controversial name.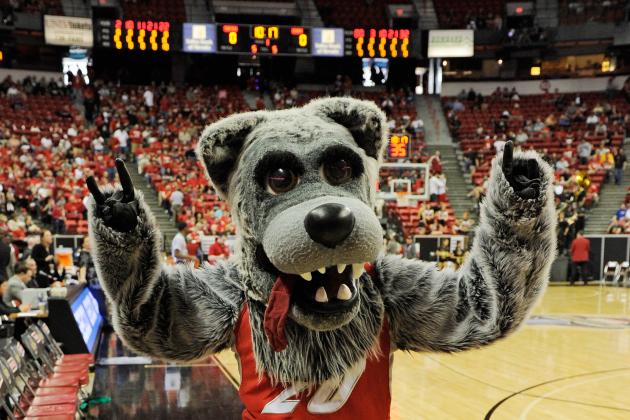 Ethan Miller/Getty Images
In the off-season, this Lobo spends most of his time in Yosemite National Park.
From a Bona Wolf to a Southwestern Wolf not to be confused with the Jackalope... welcome the New Mexico Lobos.
Many people thought it was political when the NBA's Phoenix Suns made their jerseys say "Los Suns" to honor the many Latinos and Latin American immigrants of the Southwest.
My only critique wasn't political in nature, rather it was of the grammatical variety or the lack of translation.
There is no Spanish word called "Suns" and I've never heard any Spanglish speakers come up with this either. If you want to do it right from a translation perspective, "Suns" would be "Soles" (if I've got it right).
The team you want to model for Latino marketing purposes might be the New Mexico Lobos.
They've been the direct translation for "Wolves" as Lobos long before "Los Suns" attempted to trick us. And whoever knew enough Spanish in New Mexico to get it right deserves the gold star for translation services in NCAA basketball.
Now that we've got that cleared up, I'm sure the Suns executives and marketing experts are duly taking note.
Steve Alford's squad this year looks to make some noise in the tournament as the Lobos feature solid defense and an effective offense with big man Drew Gordon leading the attack.
Ethan Miller/Getty Images
The Runnin' Rebel mascot doing the Warrior 1 pose in yoga.
The Mountain West Conference sure knows how to pick the most original names. Enter the UNLV Runnin' Rebels.
When you can't be merely a "rebel," you've got to be a "runnin' rebel." And when you're a rebel you don't spell running correctly because that would show a sign of weakness.
Perhaps the feeling of being on the run makes this name sound more badass, as if they are running from "the law" to bring some sense of Mad Max Thunderdome morals to NCAA basketball.
Add that imagery to the cartoonish mascot of a man wearing a giant cowboy hat such that only an enormously long mustache flows forth and you have one of the zaniest team logos in the NCAA.
The Runnin' Rebels reached the highest of highs in their heyday and the lowest of lows as they had one of the best runs in NCAA basketball history in 1990-91 followed by multiple violations that led to coach Jerry Tarkanian's dismissal in 1992.
This year's Runnin' Rebels hope to knock off the Colorado Buffaloes in round one.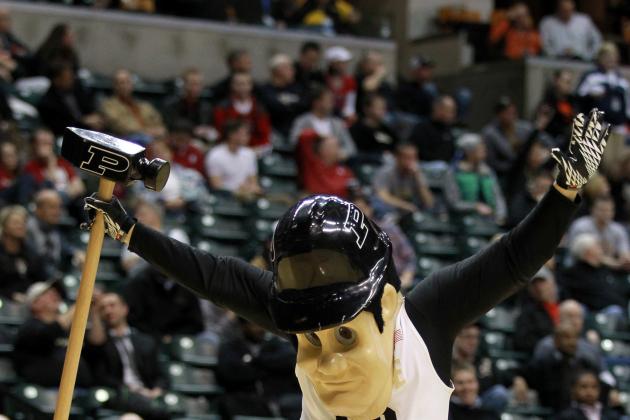 Andy Lyons/Getty Images
Take note ladies, Boilermakers are also great dancers.
Thanks to the Bing dictionary, a Boilermaker is defined as follows:
NOUN 1. whiskey with beer chaser: a drink of whiskey followed by a drink of beer 2. somebody making boilers: an industrial worker who makes large metal objects, especially boilers.
The only thing more American than apple pie are team names with blue collar roots. Icons like the Pittsburgh Steelers and Green Bay Packers have names rooted in the family-supporting jobs that made their towns thrive at one point.
Not many colleges pay homage to our manufacturing and industrial history with their team names. Give credit to Purdue for having a name like this. Bonus points to the guy who made it so the college kids can also drink in honor of their school with a wicked set of brews in succession.
This year's squad hopes to bring some steam into the Midwest bracket versus St. Mary's.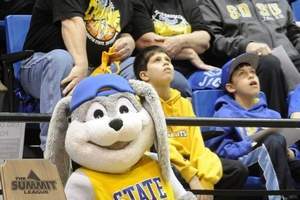 Jack Rabbit is one cool courtside customer.
For some reason the predators in the animal world get all the credit when it comes to NCAA names. But anyone who's seen the Nature Channel knows most of the time the prey make a mockery of the predator.
In the case of jackrabbits, few animals are as agile, graceful and fast.
As for creative points, I couldn't find any other Division I NCAA teams named the Jackrabbits, Hares or other rabbit-like mammals.
This year's Jackrabbits hope to bewilder, confuse and dizzy the languid Bears of Baylor.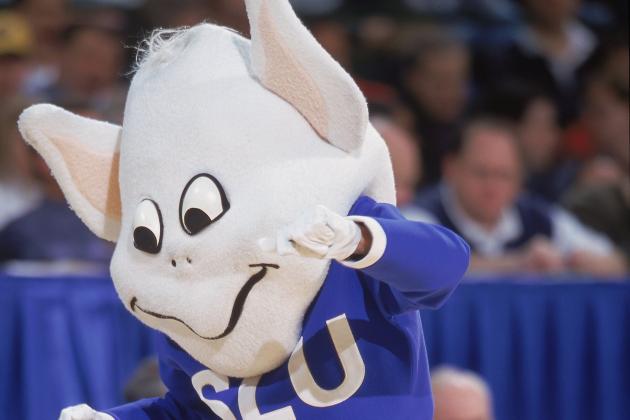 Doug Pensinger/Getty Images
Love him or fear him, the Billiken must be respected at a distance.
Do you think the Saint Louis Billikens won 25 games this year solely with the talent of their starting five?
Of course not, the secret weapon is the Billiken itself. And for the record, this may be the creepiest logo in NCAA history (what is that thing? The X-File Fluke Monster?).
For the record, the Billiken is a good luck charm similar to those furry troll guys you're bound to see at a family dentist where the dentist never grew out of his 1980s post-doctoral days.
Check out this description from Saint Louis University's website:
It's also known that the Billiken was manufactured in the early 1900s as a bank and statuette and was the national rage for about six months -- kind of that period's pet rock. During this time, the Billiken was turned into all sorts of things: dolls, marshmallow candies, metal banks, hatpins, pickle forks, belt buckles, auto hood ornaments, salt and pepper shakers and glass bottles.
This Rick Majerus squad holds opponents to a stingy 57 points per game and looks to knock off the Memphis Tigers.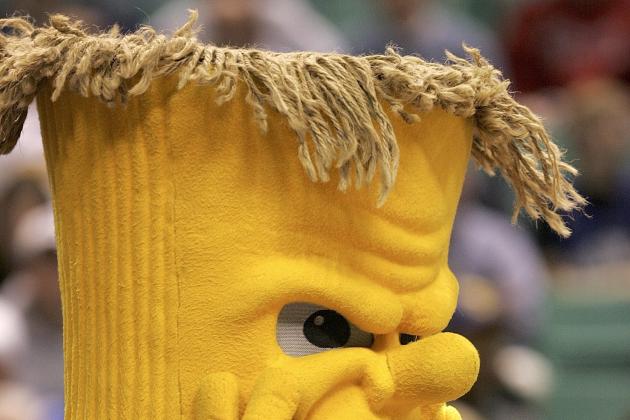 Streeter Lecka/Getty Images
This Shocker even strikes fear in the Children of the Corn.
If you want a Cinderella story than what better team to do it then tiny Wichita State. This mid-major could make plenty of noise as a fifth seed with a deep and talented roster that averages 37.3 percent from three-point distance.
You can just about hear the play on words now from the color commentator, "Wichita State has shocked the Kentucky Wildcats in a thrilling fashion as all of Nebraska will be shocking corn like crazy now!"
Now, I admit, I don't know the correct use of "shock" in terms of corn but I do know enough to say with pride that this novel name comes from the cutting of one of the nation's most important agricultural products; corn.
The NCAA tournament isn't called "madness" for no reason and what better madness than to add some Shockers to the 64-team pool.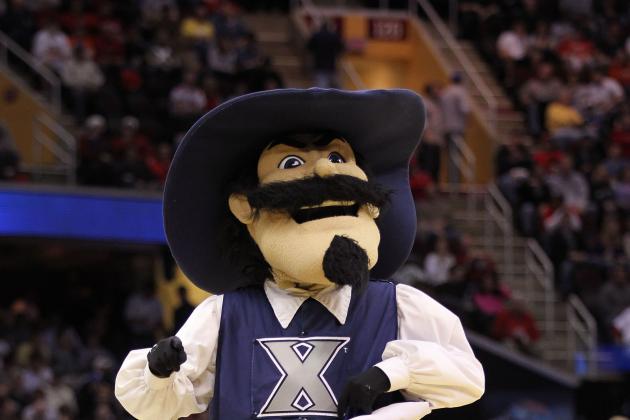 Andy Lyons/Getty Images
Repeat champion in the World Mascot Championships for the category "Most Handsome Mascot," Xavier's Muskateer can't be beat.
Although Leeroy Jenkins might not appear in his Furman Palidin World of Warcraft outfit at this year's tournament (Furman didn't make the dance this year), sports fans everywhere can rest assured the wackiest and wooliest of team names are well represented in this year's tournament.
Though their armor may reduce their three-point percentage, the Xavier Musketeers are a formidable bunch. Each huddle culminates in unison with the battle cry, "all for one and one for all!!!!"
Others worth mention include; The Iowa State Cyclones, the Brooklyn Blackbirds and the Murray State Racers.
Enjoy the madness and be creative next time you create your intramural league or over-30 rec. league.