Brandon Marshall Aside, Chicago Bears GM Making Misguided Offseason Moves
March 14, 2012

Rick Stewart/Getty Images
I love the Marshall Plan.
Trading two third-round picks for Brandon Marshall was one of the best trades the Bears have ever made.
But I'm much more disappointed by the rest of GM Phil Emery's moves so far.
In theory, snagging Jason Campbell, a starting quarterback, to back up Jay Cutler looks brilliant.
After all, Campbell's passer rating is near identical to Cutler's, both in 2011 (84.2 to 85.7, respectively) and career (82.8 to 84.5, respectively).
And the Bears couldn't win when it mattered after Cutler was out for the second straight year with a season-ending thumb injury. The common cry was that the Bears should have invested in the backup quarterback position. And Emery did just that with the Campbell move.
The latest news is the Bears are considering signing Michael Bush, a starting running back, as insurance for a Matt Forte holdout or as an eventual Forte replacement.
But is this "stockpile backup depth" strategy the best use of cap space?
Injuries are freak occurrences and are historically unpredictable. It's just as possible that Cutler doesn't miss a single game the rest of his contract.
Super Bowls are almost always won with a team's starting quarterback. On a few occasions (Jeff Hostetler, Doug Williams, Tom Brady) the backup still led the team to Super Bowl glory, but in general, teams don't win championships without their lead general.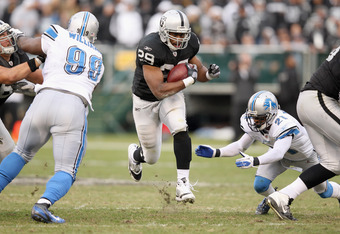 Ezra Shaw/Getty Images
Forte, being a Christian, is not going to hold out. He could have held out last year but didn't. And I would rather draft a running back, where bust rates are lower than other positions, than sign a long-term deal for a soon-to-be 28-year-old running back in Bush.
It's not like the Bears are stocked with playmakers in their starting units and have few holes to fill. On the contrary, the team has a slew of holes to fill.
Take your pick: left tackle, defensive end, defensive tackle, another wide receiver, cornerback, safety or linebacker. The Bears need starters to fill those holes not backups.
Committing cap space to backups who may never see the field (or at least not enough to justify their contract) is not as useful as committing cap space to a starting player that fills a need.
Many Bears fans seem relieved that the team got Marshall as if the team's receiving woes are over. While the receiving corps took a significant spike upward, the team still needs at least one more playmaking wideout to realistically compete for the Super Bowl.
Consider that many teams in the NFL last year had only one star receiver.
Detroit with Calvin Johnson.
Arizona with Larry Fitzgerald.
Pittsburgh with Mike Wallace.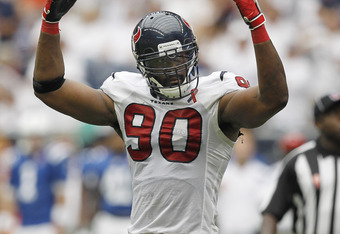 Bob Levey/Getty Images
Kansas City with Dwayne Bowe.
San Diego with Vincent Jackson.
Carolina with Steve Smith.
Houston with Andre Johnson.
Minnesota with Percy Harvin.
Cincinnati with A.J. Green.
Buffalo with Steve Johnson.
Miami with Brandon Marshall.
How many of them made the Super Bowl?
None.
The two Super Bowl teams, on the other hand?
They each had three top receiving threats: the New York Giants with Hakeem Nicks, Victor Cruz and Mario Manningham and the New England Patriots with Wes Welker, Rob Gronkowski and Aaron Hernandez.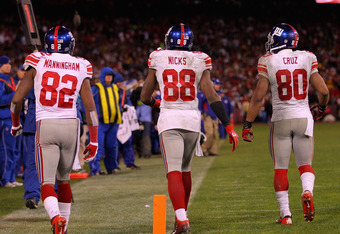 Doug Pensinger/Getty Images
The reason is simple: defenses see opposing offenses with one star receiver every week. Stopping that isn't a unique challenge.
But defenses seeing opposing offenses with multiple receiving threats? That is a serious challenge.
The Bears would be foolish if they feel they are done addressing the receiving corps.
And they would be just as foolish if they continue to pour money into backups and contingency plans rather than into starters who will actually influence the majority of snaps in the majority of games played.
In other words, every dollar spent on a backup is one less dollar to offer a starting difference-maker.
Hopefully Emery's flirtation with Bush is just a smokescreen for a Mario Williams signing or some other impact starter.