Arsenal: Arsene Wenger Has Bought Himself Time with AC Milan Performance
March 15, 2012

Laurence Griffiths/Getty Images
Arsenal's performance against AC Milan on Tuesday, March 6th, 2012 was scintillating.
As a football lover neutral to both teams, I couldn't take my eyes off it for a second.
With Arsenal 4-0 down from the first leg of the tie, it was always going to take something special for them to progress against the mighty AC Milan, but they almost ALMOST pulled it off.
So stylish was the manner of their exit from the Champions League that you could be forgiven for not realising they were expelled that evening. Could that have saved Arsene Wenger's job for a little longer?
Arsenal—whilst not playing the best league football of late—have found themselves propelled back into fourth spot in the Premier League after wins over Tottenham, Liverpool and Newcastle—all of which could have quite easily had different results on another day.
Those results coupled with the Champions League performance against AC Milan could mean that Arsenal fans are willing to give Arsene Wenger some more time in the hot seat, despite clear divide over whether he should be sacked.
Celebrity fan Piers Morgan has made his thoughts clearly known through his Twitter account, stating that he considers Arsene Wenger to perhaps be past his sell-by date, but is that the voice of most Gunners?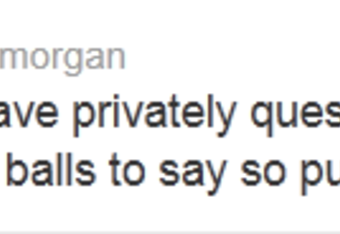 The passion and spirit that the team showed against AC Milan suggests Wenger can still give motivation and drive to the current crop of players at Arsenal, and that is something that hasn't been seen for quite some time.
No trophies in seven seasons is something that gets spoken about a lot, but is that a shortsighted view?
Obviously it is a long time to go without winning a competition, but compare the situation to Liverpool this season. Would Arsenal fans rather have won the Carling Cup and be destined for a seemingly seventh place finish? Or would they rather have Champions League football and no trophy to polish?
It's an interesting point of view to consider when the talk of trophies raises its head.
Arsenal as a club are in an extremely good position financially, something that most teams cannot boast, but does that matter to the fans? Probably not.
If Arsenal had lost to AC Milan by a goal or two—rather than winning 3-0—would the Arsenal boo-boys be calling for Mr Wenger's head to roll? I suspect most would, and that is why the result has probably bought him a little more time.
Thanks for reading and be sure to let me know your thoughts on the Arsenal management situation.
On Twitter? Follow me @petercwebster where I post all my B/R content.