Phil Jackson vs. Jerry Sloan: Which Coach Would Win Title First as Knicks Coach?
March 14, 2012

Kevork Djansezian/Getty Images
After the unexpected resignation of Knicks head coach, Mike D'Antoni, one thing is clear in New York, and that is that it's time for a new era to begin in the Big Apple.
The only question for the Knicks now is, who's going to be the guy to take over the Knicks' head coaching vacancy?
While only the Knicks front office knows which direction they are planning on going with their head coaching position, there are two names that have quickly risen to the top as possible replacements—Jerry Sloan and Phil Jackson.
Sam Amick of Sports Illustrated, is reporting that Jerry Sloan is linked to the New York Knicks' head coaching vacancy and while there's no concrete evidence that points to Phil Jackson's interest in the Knicks, there are a lot of reasons why Jackson could be interested in being the Knicks head coach.
Let's take a trip down "what-if lane" and explore the championship possibilities of the New York Knicks with each respective speculated head coach.
Jerry Sloan as Knicks Head Coach
 There's one thing that Jerry Sloan hasn't done in is 26-year NBA head coaching career, and that is bring home an NBA championship. Of course, this seriously impacts the feasibility of him bringing an NBA title to the city of New York.
While Sloan is a legendary coach with a brilliant mindset for the fundamentals of the game, he just could never get the Utah Jazz to that elusive next level. Sloan is one of only a handful coaches to get 1,000 wins in their coaching careers. He reached that milestone by helping the Jazz reach the Western Conference Finals six times and the NBA Finals twice.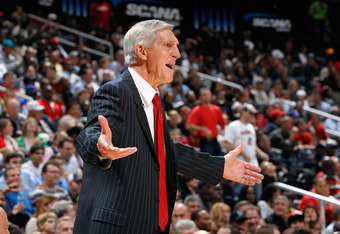 Kevin C. Cox/Getty Images
While there's no doubt that Sloan is a good coach, his inability to win an NBA championship with the Utah Jazz—especially in his years with Karl Malone and John Stockton—leads me to believe that he won't be able to get it done with the talent the New York Knicks have.
One more issue with Sloan is the way that he handled the situation that came up with Deron Williams in his final year with the Jazz. While the details on the relationship between Williams and Sloan aren't very clear, it's evident that Sloan didn't have control of the team as a whole, in addition to his superstar point guard.
With the egos in New York—specifically Carmelo Anthony—it's hard to believe that Sloan would be able to hold them in check, and that's a major reason why he wouldn't be able to win a championship if he became the fearless leader of the New York Knicks.
Phil Jackson as Knicks Head Coach
The one thing that Phil Jackson has that Jerry Sloan doesn't have is an NBA title to his name. Actually, Jackson has 11 more NBA titles than Jerry Sloan has, which is pretty ridiculous since Sloan is a legendary coach who is known for his ability to win games.
Either way, Jackson undoubtedly knows how to motivate his team and create offensive and defensive systems that fit the style of his players.
More importantly, Jackson proved in his years in Chicago and Los Angeles that he knows how to handle players with big egos, which is something the New York Knicks have in Carmelo Anthony and even J.R. Smith.
Jackson figured out how to demand respect from players that clearly thought they were God's gift to basketball, which is something that the Knicks desperately need if they want to win games and subsequently NBA championships in the years to come.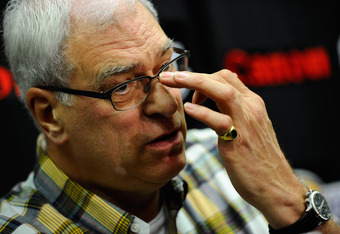 Kevork Djansezian/Getty Images
Jackson, the guru of basketball, is heads and shoulders above any other head coach in the NBA today and if the Knicks have the possibility of bringing him on board, the Knicks would be smart to move forward with him as the future of their franchise.
With the head coaching of Jackson, the Knicks could transform from an annually inconsistent franchise into a legitimate Eastern Conference contender in a year or two, and that's something for Knicks fans to be excited about.
When it comes to which speculated coach could bring the Knicks an NBA title first, there's no doubt that Phil Jackson is the guy who can make it happen.
He's led the Bulls and Lakers to so many NBA titles in the past, it's realistic to think that he could do it again with the New York Knicks. 
Thanks for checking out the article, and don't forget to follow me on Twitter @petermerick.