The Longest Shot on Each MLB Team to Make the Opening Day Roster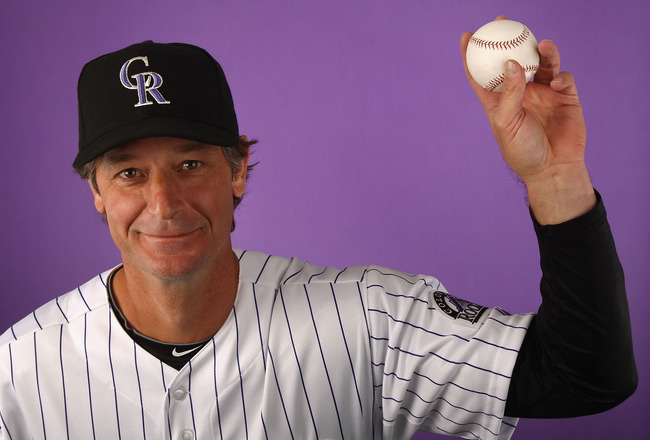 Christian Petersen/Getty Images
MLB spring training is the time of year where you get to see three things. First, you see up-and-coming prospects playing alongside guys in their prime. Second, you see old players giving it one last shot alongside guys in their prime.
The third, and perhaps best thing, is the position battles, as well as battles for a spot on the roster. Given that the 40-man roster and non-roster invitees can amount to many players, it's tough to get noticed, and some players become extreme long shots to make the team.
Here is the longest shot from every team's 40-man roster. I did not add in non-roster invitees, so Jamie Moyer above does not get to represent Colorado. Besides, Moyer's pitching quite well in spring training anyway.
Baltimore Orioles: Oliver Drake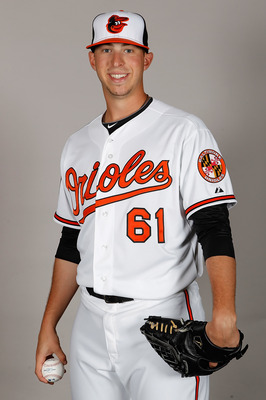 J. Meric/Getty Images
The Baltimore Orioles definitely need starting pitching heading into 2012, so spring training can be big in finding those final couple of guys to make the roster. They have 21 pitchers on their roster now, and obviously that number will go down.
One that is the furthest out is Oliver Drake. In three games, he has a loss and hasn't shown much to prove to the Orioles that he should be in the majors. He only has one game of AAA experience, though, so I can't see the Orioles skipping him past that.
Boston Red Sox: Drake Britton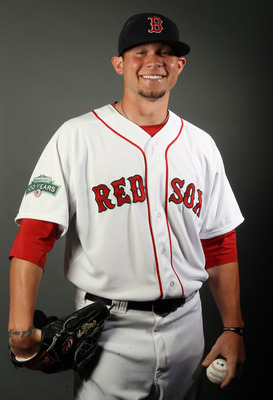 Elsa/Getty Images
Despite appearing on the 40-man roster currently and being a highly touted prospect, Drake Britton went 1-13 at Class A-Advanced Salem with a 6.91 ERA. There's no way to spin those numbers in a positive light.
He hasn't been optioned to minor league camp yet, but he hasn't appeared in a spring training game, either. How he's still on the major league roster baffles me, as there's no way he's actually going to end up on the 25-man roster.
New York Yankees: Corban Joseph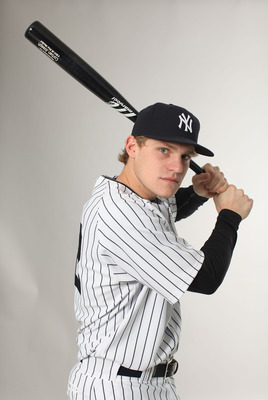 Nick Laham/Getty Images
The New York Yankees have a good number of young players trying to prove themselves in spring training. Pitcher Dellin Betances, outfielder Zoilo Almonte and others are making their names known even if they end up cut at the end.
Second baseman Corban Joseph, however, hasn't been to worry about that, as he's far outside already. Three hits in nine games isn't too bad, but at best he'll be the starting second baseman at AAA next year, though, he'll have to fight to get it.
Tampa Bay Rays: Brandon Guyer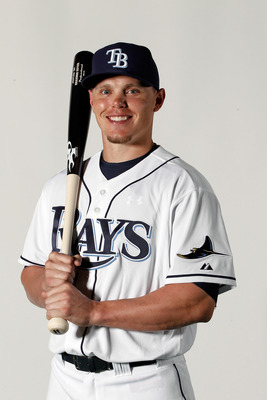 Jonathan Ferrey/Getty Images
The Tampa Bay Rays have a crowded catcher lineup, with four players fighting for two spots. All four, however, have at least some shot at making the team. Outfielder Brandon Guyer, on the other hand, doesn't have much of a chance.
Guyer put up some nice numbers in AAA Durham last year and made his major league debut last year as well. However, Sam Fuld, B.J. Upton, Matt Joyce and Desmond Jennings have the outfield locked up, with Luke Scott and Ben Zobrist perhaps getting time there as well.
There's nowhere for Guyer to fit in unless he has an amazing spring, but a .136 average won't cut it. He's earned a major league spot, and he'll at least be on the 40-man roster.
Toronto Blue Jays: Mike McDade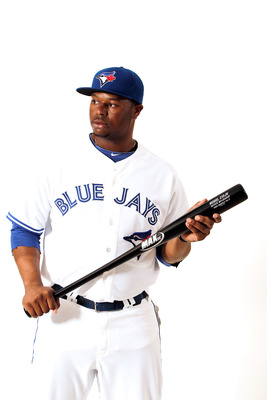 Jonathan Ferrey/Getty Images
The Toronto Blue Jays have plenty of up-and-comers in the field already, and more could be on the way. J.P. Arencibia, Brett Lawrie and others will be starters, and veterans Edwin Encarnacion, Adam Lind and others will see playing time in the infield.
Where does that leave someone like Mike McDade? The first baseman has only made it as high as AA New Hampshire to begin with, and while he has performed well so far, he's not expected to be in the majors yet, and won't be to start the season.
Chicago White Sox: Tyler Saladino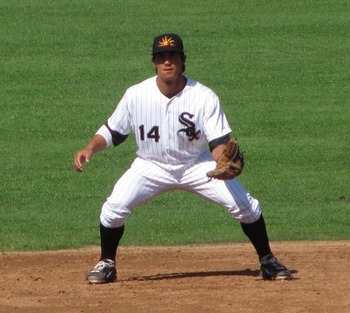 Tyler Saladino is a new call-up to the White Sox's spring training roster, but manager Robin Ventura has already admitted he has no chance of making the club. Why was he brought in then?
Apparently, White Sox management has liked what they've seen from the lower-level prospect, who will likely play in AA this year. A shortstop by trade, he could very well be a utility infielder at the major league level late next year.
Cleveland Indians: Juan Diaz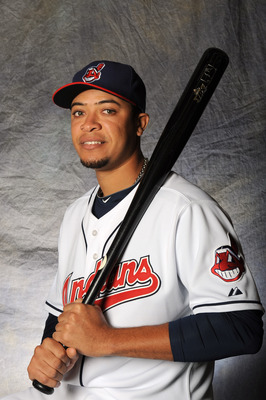 Rich Pilling/Getty Images
Right now, the Cleveland Indians have 10 active infielders on their roster. If we say they keep six, then the 10th guy on that list is a no-brainer to be cut. That player is Juan Diaz.
Diaz spent 2011 at AA Akron and could have potential at shortstop. He's not going to usurp Asdrubal Cabrera or even be his backup anytime soon, though, not with Francisco Lindor and Tony Wolters in the farm system.
Detroit Tigers: Brayan Villarreal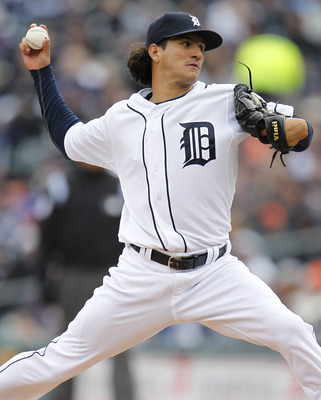 Gregory Shamus/Getty Images
This is a tough one since the Detroit Tigers are loaded with pitching talent and will have to send some names that may be surprising to the minors. Brayan Villarreal may have the longest road of any of the pitchers.
Villarreal was actually on the Tigers' roster to start 2011, yet he struggled not only in the majors, but at AAA Toledo as well. That likely raised some eyebrows, and with the relief additions made, I can't see him being more than someone who's called up when an injury happens.
Kansas City Royals: Derrick Robinson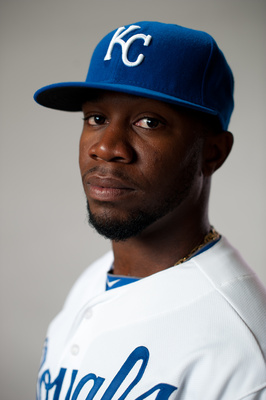 Rob Tringali/Getty Images
With seven outfielders currently on the Royals' active roster, it's only logical that a couple are going to be cut, especially since the infielders have the DH spot handled. Derrick Robinson is likely lowest on the totem pole.
Robinson has shown great speed and at 24, he still has upside, but a year at AAA to make sure he can handle the everyday center field spot seems like a most likely bet. The fact that his spring training playing time is the same as the past two seasons also says everything we need to know.
Minnesota Twins: Terry Doyle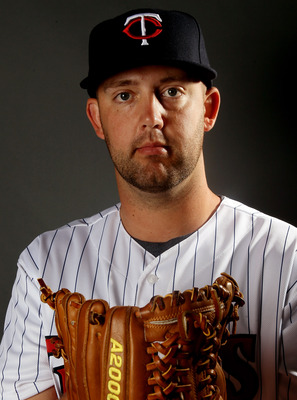 Elsa/Getty Images
The Twins don't have very many left on their active roster compared to other teams if you exclude non-roster invitees, making the long shot someone who could make the team.
Terry Doyle has slowly risen through the ranks of Chicago's farm system when Minnesota picked him up in the Rule 5 draft. This should give him an advantage making the roster, but a 16.88 ERA in three spring training games never helps your case.
Los Angeles Angels of Anaheim: Andrew Romine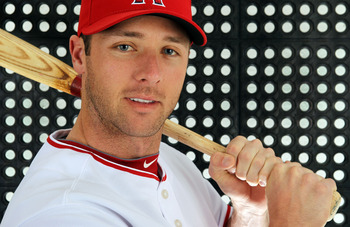 Jamie Squire/Getty Images
The Los Angeles Angels of Anaheim have a very crowded infield on the spring training roster, so quite a few people, such as highly touted prospect Jean Segura, will be cut.
However, I'm focusing on the far end with Andrew Romine, who has had a handful of games in the majors. Suffice it to say, he didn't show much in those games and is having trouble proving himself yet again with a .111 batting average in spring training.
Unlike others on this list who are rather young, at 26, Romine's going to need to make a splash soon.
Oakland Athletics: Michael Taylor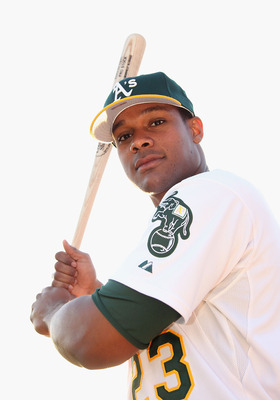 Christian Petersen/Getty Images
The Athletics have a huge helping of prospects after all their trades this past offseason. Despite all of them, certainly a few of them have almost no chance of making the team, one of them being outfielder Michael Taylor.
Taylor has looked good in the Nationals' farm system so far, but he's only gotten as far as Class A; obviously, he won't make his major league debut just yet.
Seattle Mariners: Lucas Luetge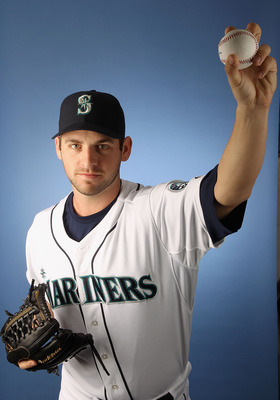 Christian Petersen/Getty Images
The Seattle Mariners are loaded with pitching talent, so any farm prospects, let alone new acquisitions, are going to have to do a lot to make their presence felt.
Lucas Luetge was brought in from the Milwaukee Brewers' farm system, and after a 6.00 ERA in three games, it's clear that he's not going to make the Opening Day roster, though, he could be a AAA reliever in 2012.
Texas Rangers: Roman Mendez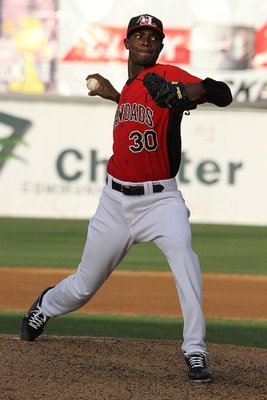 Roman Mendez is quickly looking like an ace of the future, going 9-1 in Class-A Hickory for the Rangers last year. He's also only 21 and has a lot of room to grow.
However, he's not going to make the 25-man roster yet. He's at least a full season away from making the squad, though, depending on how the Rangers' season goes, he could be on the roster in 2013.
Atlanta Braves: Robert Fish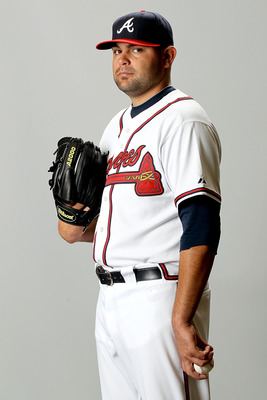 Matthew Stockman/Getty Images
The Atlanta Braves have a huge number of great pitchers, not only in their rotation, but also in the farm system, making it nearly impossible for anyone trying to crack this roster.
One of these pitchers who doesn't have a chance is Robert Fish, a holdover from the Angels' farm system. He played well in AA last year, but as a reliever it will be tough enough for him to rise up, and he's been unimpressive in three spring training games.
Miami Marlins: Ramon Benjamin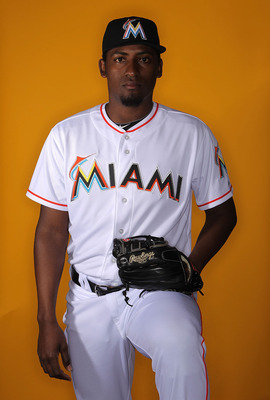 Marc Serota/Getty Images
The Miami Marlins have most of their talent in the majors already, so the spring training battles shouldn't be too big of a deal. Of course, that's not going to stop farm talent from making a name for themselves.
Ramon Benjamin spent some time in AA this past season as a reliever, so with a rotation already crowded with enough relievers, he's not going to make the roster, especially since he hasn't seen any playing time.
New York Mets: Reese Havens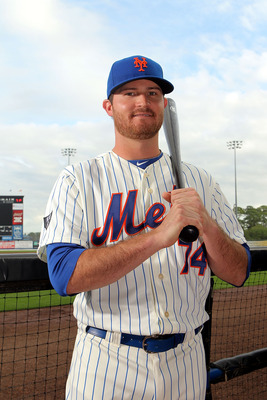 Marc Serota/Getty Images
With 11 players on the active infield roster, there are a good number of players that will be cut, and it doesn't help to be on the bottom of that list, where Reese Havens is.
Havens played 58 AA games last year at second base, but he'll need a full season there or above before he's ready yet. Besides, he hasn't even seen the field for spring training this year.
Philadelphia Phillies: Tyson Gillies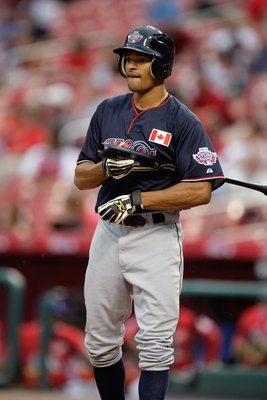 Jamie Squire/Getty Images
The Phillies have their outfield pretty much set this year. Shane Victorino and Hunter Pence have center and right field locked down, while Domonic Brown, John Mayberry, and Laynce Nix are competing for left field and the backup job.
As for Tyson Gillies, he won't be in that discussion. He barely played in 2011 at all, is hitting .143 in spring training and it's impressive that he was on the 40-man roster at all, honestly.
Washington Nationals: Jhonatan Solano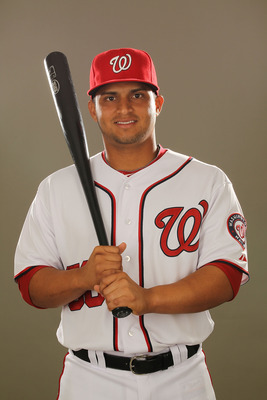 Al Bello/Getty Images
The Washington Nationals are set at catcher with Wilson Ramos as their long-term catcher, as well as Jesus Flores as a backup. Where does that leave Jhonatan Solano?
In Solano's case, he'll be in AAA for another year, where he started to show some promise. A .083 average in spring training doesn't exactly help your case.
Chicago Cubs: Rafael Dolis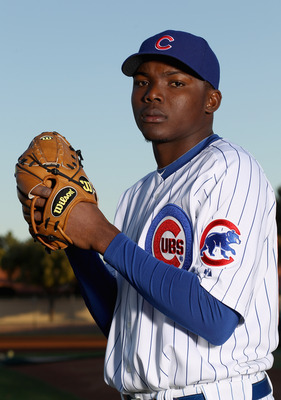 Ezra Shaw/Getty Images
The Chicago Cubs are rebuilding, and they picked up quite a bit of rotation depth to let future greats develop further. Rafael Dolis is in that latter category, and as a result, he won't make it on the team.
Dolis has one major league appearance and performed quite well at AA Tennessee last year, but with how little game experience he's getting, it doesn't look like they're prepping him to be in a roster battle.
Cincinnati Reds: Andrew Brackman
Rich Pilling/Getty Images
This is an easy one. Why, oh why do people keep promoting Andrew Brackman? He got a huge deal with the Yankees, and despite terrible minor league seasons, he continued to be promoted, even playing a couple major league games.
His struggles in four games this spring says it all. If he actually makes the 25-man roster, then the Reds can say hi to third place at best this year; it would be that bad of a move keeping him.
Houston Astros: Rhiner Cruz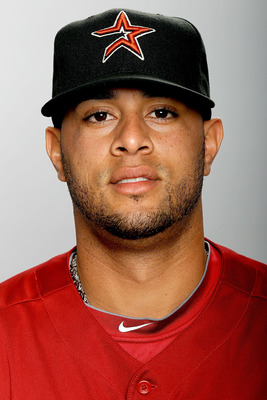 Matthew Stockman/Getty Images
I was ready to put Paul Clemens in this slide just because a Houston pitcher names Clemens at the bottom of the depth chart would be worthy of a laugh, but he's off the 25-man roster as of Thursday.
That leaves Rhiner Cruz, who has a 108 ERA in two spring training games. Factor in that he made it to AA partway through 2011, and he's not going to be in the majors this April or this year.
Milwaukee Brewers: Brock Kjeldgaard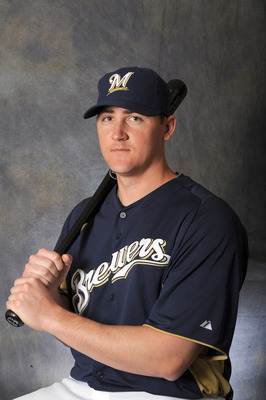 Rich Pilling/Getty Images
How do you get into an outfield rotation with Corey Hart, Ryan Braun Nyjer Morgan and Norichika Aoki? Well, if you're Brock Kjeldgaard, you don't.
Kjeldgaard has split time in the minors between first base and the outfield, showing good power so far. Still, he just made it to AA last year, so he's got a year of development left. It didn't help that he was behind Mat Gamel, who was behind Prince Fielder.
Pittsburgh Pirates: Kyle McPherson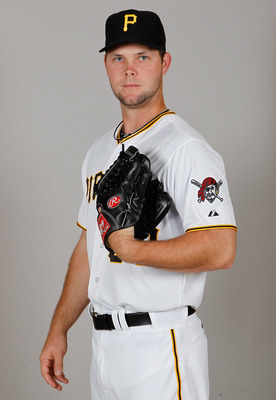 J. Meric/Getty Images
The Pittsburgh Pirates refurnished their starting rotation this past season, and even with A.J. Burnett injured, it does look a lot better. As a result, players still in AA aren't going to make the roster, though, they may have years earlier.
Kyle McPherson has looked good in the minors so far, going 8-5 in AA Altoona last year, and he should be in AAA this year as a result. However, he's still a year away from making the Pirates' rotation.
St. Louis Cardinals: Erik Komatsu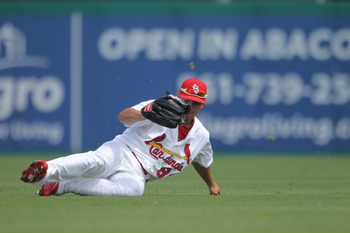 Marc Serota/Getty Images
The St. Louis Cardinals gained outfield depth this offseason in acquiring Carlos Beltran, who can play alongside Allen Craig, Jon Jay and Matt Holliday. Of course, that leaves off any prospects who might try to squeeze in.
Erik Komatsu spent the past few seasons in the Brewers' farm system, and thanks to his speed and high batting average in the minors and spring training, he actually had a very small chance of making the team.
This would require Craig starting the year on the DL and him surpassing two other prospects in the next two weeks, though. The other two also have major league and AAA experience, which Komatsu doesn't.
Arizona Diamondbacks: Brett Lorin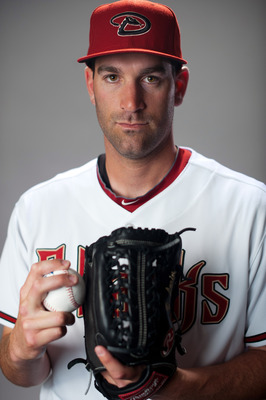 Rob Tringali/Getty Images
A lot of people might have Trevor Bauer in this spot, but with how he's been playing this spring, he's actually played himself into contention, though, he's far from guaranteed a spot on the team.
Brett Lorin, meanwhile, is from the Pirates' farm system and hasn't even played AA yet. He's looked great in four spring training games, but he still needs a year in AA/AAA, though, he had a great year at Class-A Advanced Bradenton.
Colorado Rockies: Hector Gomez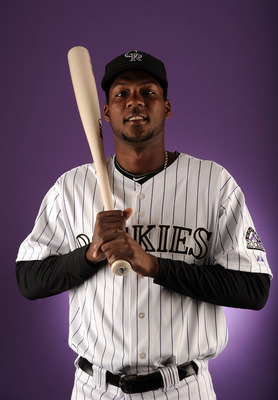 Harry How/Getty Images
The Rockies have an immense pitching battle involving a slew of players, so almost any pitcher on the squad still had a shot. As for the infield, Hector Gomez is already out.
It doesn't help that he's a shortstop behind Troy Tulowitzki and now Marco Scutaro, but a season in AAA and developing his third base game could definitely cause him to warrant another September call-up.
Los Angeles Dodgers: Tim Federowicz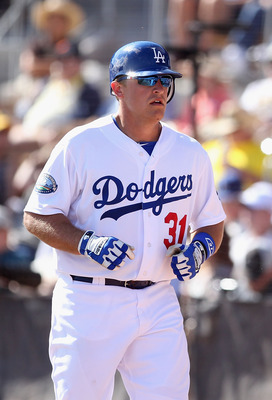 Christian Petersen/Getty Images
Do the Los Angeles Dodgers feel that they're going to need three catchers? I doubt that, and Matt Treanor and A.J. Ellis will likely split time, leaving Tim Federowicz the odd man out.
Federowicz was a September call-up last year and looks like he may be able to make the roster at some point in 2012, but he's had a bad spring and has only had 25 games of experience in AAA. With the massive recent cuts knocking out any other options for this list, suddenly this guy is the next on the chopping block.
San Diego Padres: Nick Vincent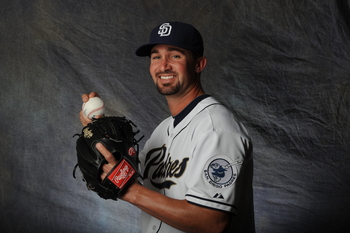 Rich Pilling/Getty Images
The San Diego Padres can put pretty much anyone into their starting rotation and they look good. They have an opening or two this year, but some players who had cups of coffee in 2011 will likely be in the minors.
Nick Vincent, meanwhile, has yet to play in the majors, and he won't be on the Opening Day roster. He had a great year in relief at AA San Antonio, meaning he'll obviously be in AAA next year. He's 25, so if out of nowhere he's on the Opening Day roster, it wouldn't be the worst move.
San Francisco Giants: Hector Sanchez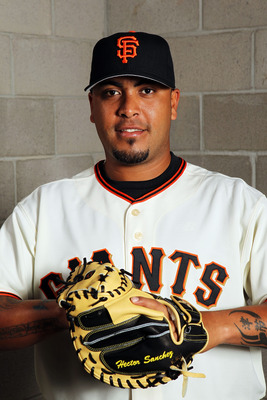 Jamie Squire/Getty Images
The Giants probably wish they could put Barry Zito on here, but they're stuck with his contract. Instead, they have four catchers on their roster if Buster Posey is included, so a minimum of one will be cut.
Hector Sanchez is the youngest and the lowest on that totem pole. He saw a bit of playing time in 2011, but Eli Whiteside and Chris Stewart have more catching experience at that level. This also gives Sanchez a year at AAA to polish up his game.
Keep Reading