Fantasy Hockey Impact: Sell High and Buy Low
March 14, 2012

Bruce Bennett/Getty Images
Each week we will highlight one player who is playing above their regular contribution level, meaning you should sell high.  We will also highlight one player who is playing below their usual level, making their value low and therefore a player you should buy now. 
Sell High: Curtis Glencross (Calgary Flames)
Glencross is smoking red hot right now.  Before last night's game, he was riding a seven-game point streak where he scored 10 points.  Glencross would have likely continued his scoring streak had it not been for a boarding major that ejected him from the game in the first period.
During his point streak, Glencross has scored a goal in each of the seven games.  Those seven goals pushed his goal total this season to his career high of 25, and he is on pace for 30 goals.  Glencross has also tied career high in points with 43 but did it in 24 fewer games this season.
Glencross is a career 0.5 point-per-game player, and this season he is scoring points at a 0.78 point-per-game rate.  He is playing well above his usual level and riding the scoring machine called the Flames, who are pushing for a playoff spot.  The Flames are on a four-game winning streak and are averaging 4.25 goals a game. 
Trade Glencross now before the Flames start to fizzle and his production returns to its normal level.
Buy Low: Alexander Radulov (Nashville Predators)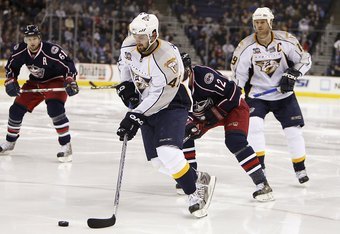 Gregory Shamus/Getty Images
Radulov is not your typical buy-low player as he is probably the best hockey player in the world not playing in the NHL.  There are so many rumours of him possibly returning to the NHL this season; however, we have heard this story too many times before, potentially making him a buy-low player.
Radulov is an elite, offensive sniper who followed the money to Russia. However, Nashville still owns his rights.  With his season over in Russia and the Predators wanting to make a run at the Cup, they want Radulov back in the fold.  It's a win-win for everyone, as the Predators would get an elite player in their lineup and Radulov would finish out his contract with Nashville and becomes an UFA for next season.
In his two seasons in the NHL, Radulov scored 44 goals and 99 points in 145 games; that's a 0.68 point-per-game rate.  In the KHL, he scored 91 goals and 254 points in 210 games; that's a goal every two games and a scoring rate of 1.21 points per game.
Most fantasy GMs are fed up on Radulov rumours and have either dropped him or will trade him for cheap.  Don't overpay, but take the gamble on him and you could end up with a superstar sniper who is back in the NHL next season. 
---------------------------------------------------------------------------------------------
Aaron Brouwer is the co-creator of www.fantasyhockeycoach.com.  FHC is a free fantasy hockey service that developed a ranking system combining post-lockout statistics, current factors and our own hockey knowledge.  You can contact Coach Brouwer at brouwer@fantasyhockeycoach.com.