Pittsburgh Steelers Free Agency: Steelers Better off Than AFC North Rivals
March 15, 2012

The 2011 NFL season came down to the wire in the AFC North. The Ravens, Steelers and Bengals all made the playoffs, with the No. 2 seed going to the Baltimore Ravens, the No. 5 seed going to the Pittsburgh Steelers (by virtue of the same record, but losing the head-to-head games) and the No. 6 seed going to the Bengals, who finished the season with a 9-7 record (four of those losses came against the Steelers and Ravens).
While some people are predicting the Bengals to continue to get better and the Ravens to stay great, many people outside of Steelers Nation see the Steelers' released players as a sign that their best days are behind them, and their years of mediocrity are here.
Yes, the Steelers did release quite a few players, such as James Farrior and Aaron Smith—two players who have meant a lot to the Black and Yellow over the years. But having guys of Smith's and Farrior's ages on the roster had these same people saying that the Steelers were too old to make a run in 2011.
And yes, the Steelers offense took a few hits as well. Longtime fan favorite Hines Ward had his Steelers career come to an end. Guard Chris Kemoeatu was also released, though you won't hear many members of Steelers Nation crying over that one.
To say that Pittsburgh lost veteran leadership cannot be denied, but to say that they are not as good of a team, or possibly an even better team, would be foolish, at best.
While everyone outside of Pittsburgh is looking at the Steelers and believing they are on the downside, apparently none of them are looking at those other two AFC North teams who made the playoffs.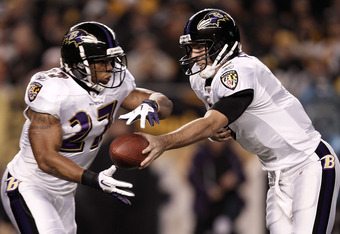 Jared Wickerham/Getty Images
Baltimore Ravens
One of the Baltimore Ravens' key offensive linemen, Ben Grubbs, is being pursued by the New Orleans Saints and Washington Redskins, either of whom will likely pay him as one of the best guards in the NFL.
One of the keys to the Ravens offense was their running game, and losing a player of Grubbs' quality is going to hurt.
To add to that, defensive end Cory Redding has joined former Ravens defensive coordinator Chuck Pagano in Indianapolis, leaving a hole on the defensive line.
Outside linebacker Jarret Johnson has also departed from the Ravens, moving to the AFC West to join the San Diego Chargers on a four-year contract.
The Ravens' biggest issue heading into free agency was retaining Ray Rice, and they were forced to use their franchise tag to keep Rice in Baltimore. The biggest problem may be that the Texans have paid Arian Foster ($43.5 million/$20.75 million guaranteed over 5 years) and Seattle has paid Marshawn Lynch ($31 million/$18 million guaranteed over 4 years) driving up the price for Rice, whom many believe is better than both of them.  Rice and his agent have said they want Adrian Peterson money, and may hold out until they get it.
Baltimore still has the issue of Joe Flacco heading into the final year of his contract as well. Flacco wants to be paid like one of the top five QBs in the NFL, and apparently the Ravens don't believe he is worth that kind of money, even though he has taken them to the playoffs every year he has been in the NFL.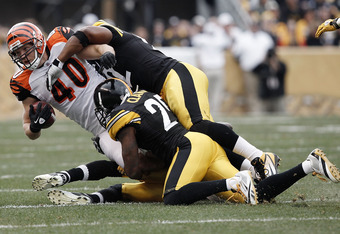 Jared Wickerham/Getty Images
With nearly $50 million in salary cap space, many people believed the Cincinnati Bengals would take a good deal of that money and improve their roster. Though they have set up meetings with free agents BenJarvus Green-Ellis, Aaron Ross, Kendall Langford, Michael Bush and Terrance Newman, none of them have even been offered contracts to this point, and none of those players could be considered great improvements over what was in Cincinnati in 2011.
The Bengals could also decide to end their relationship with Cedric Benson, who has been their leading rusher the last four seasons. If they are to sign Green-Ellis or Bush, this may not be a big deal. If they don't, then this could spell disaster for second-year pro Andy Dalton.
Defensive end Jonathan Fanene has also decided to take his talents away from the Bengals and signed with the reigning AFC champion Patriots.
Also gone from the Bengals' defensive line is Frostee Rucker, who will move north to Cleveland to the Bengals' cross-state rivals, the Cleveland Browns.
Now, the Steelers still have a host of restricted free agents they could lose. In the case of players who have been tendered offers, though, the Steelers may lose a person, but they will acquire a draft pick in exchange.
So, as bleak as it may have looked in the Steel City only a week ago, things are looking a lot worse in Baltimore and Cincinnati than they do in Pittsburgh.