Fantasy Baseball Rankings 2012: Top Pitchers You Can Wait to Grab
March 14, 2012

Hunter Martin/Getty Images
Fantasy baseball enthusiasts take drafts seriously...seriously enough to wear their team colors and do incantations before they join the draft room.
Every fantasy baseball purist has his or her own strategy. Should you go with the big slugger early on or a legitimate ace who won't let you down?
Fortunately for those who prefer to wait a bit for pitching, there are several sleepers far down the rankings this season that will be great bargains.
Here are some top pitchers you can wait to grab, giving you another edge on the competition.
3. Jonathan Sanchez, SP, Kansas City Royals
The negatives on Jonathan Sanchez: His control has never been consistent, he gives up his fair share of home runs and he's playing for the Kansas City Royals.
The good news: He has electric stuff (will give you lots of strikeouts), batters hit for a low average against him and, well, the Royals might actually be a good team this season.
If you're looking for a guy to help you in WHIP, Sanchez isn't your guy, given his high walk totals. But if you're looking for help in strikeouts, and possibly even ERA and wins this season, I think Sanchez will be a pleasant surprise on a rising team.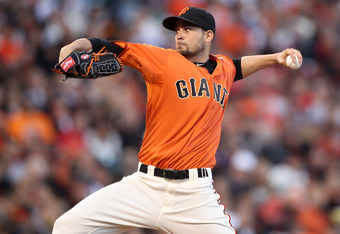 Jed Jacobsohn/Getty Images
2. Mike Leake, SP, Cincinnati Reds
I can't figure out why Mike Leake is ranked so low. He's not going to get you a lot of strikeouts, but he'll help you in ERA and WHIP, and he's on a Reds team that could win the National League Central this year (translation: many wins).
Leake posted a 3.86 ERA and 1.18 WHIP last season and racked up 12 wins. I expect the third-year pro to improve on all those numbers in 2012.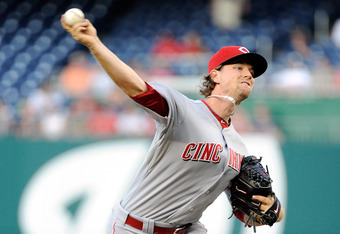 Greg Fiume/Getty Images
1. Vance Worley, SP, Philadelphia Phillies
Some people are skeptical about Vance Worley and see him enduring a sophomore slump in 2012.
I don't see it.
Worley has electric stuff, as evidenced by his 3.01 ERA and 119 strikeouts in 132 innings last season. He had 11 wins last season for the Phillies in 2011, and that only figures to get better as he starts an entire season in 2012.
The one thing you have to watch out for with Worley, like Sanchez, is his control. He had a 1.23 WHIP last season, and he had multiple games where he walked at least three batters.
But this kid looks even better in spring training. He threw four perfect innings against the Pittsburgh Pirates on Monday, striking out eight batters in the process. Yes, it's the Pirates, and yes, it's spring training, but the fact of the matter is that Worley pitched better and continues to show a tailing fastball that absolutely can baffle hitters (particularly left-handers).
I have a lot of faith in Worley, and I can't wait to see what he has in store for 2012.
Plus, he reminds me of "Wild Thing" from Major League, so...that's awesome.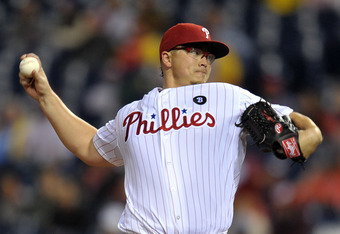 Drew Hallowell/Getty Images
Follow me on Twitter. We can talk about fantasy baseball.