NFL Free Agency: Paul Soliai and Brandon Meriweather Visit Denver Broncos
March 14, 2012

Marc Serota/Getty Images
Two top defensive free agents have visited or scheduled visits to meet the Denver Broncos' brass and coaching staff this week to gauge interest and talk contracts for the 2012 season.
These two prospects include: Brandon Meriweather, a safety, formerly with the Chicago Bears and New England Patriots, and Paul Soliai, a defensive tackle, who played for the Miami Dolphins last season.
Adam Schefter reported yesterday via Twitter that the Denver Broncos scheduled a late-night meeting with Brandon Meriweather on Tuesday night:
@AdamSchefter: Free-agent safety Brandon Meriweather plans to visit the Denver Broncos tonight.
The NFL Network's Jason La Canfora, via Twitter, was the first to report Soliai's intentions to meet with the Broncos this week:
@JasonLaCanfora: Dolphins trying to retain NT Paul Soliai, who they franchised a year ago, but he has a trip scheduled to Denver #freeagency
Both of these talented players would fill some of the gaps that the Broncos currently have on their ever-improving defense. The Sun-Sentinel has reported that Soliai will be meeting with the Denver Broncos on Thursday, March 15.
Paul Soliai played for the Miami Dolphins last season after they used their franchise tag to keep him in South Florida. He is considered to be a top prospect at nose tackle. The Broncos' defense really struggled last season at times clogging up the middle to stuff the run and more significantly, failed to get any push up the middle to apply pressure to opposing quarterbacks.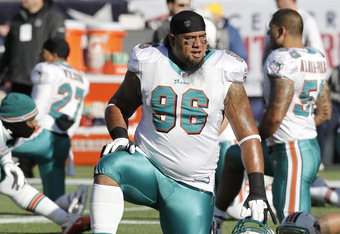 Winslow Townson/Getty Images
Also, the Broncos find themselves without any help at defensive tackle in 2012 since both Brodrick Bunkley and Marcus Thomas are now unrestricted free agents free to sign with any team they like.
Ty Warren, who was injured in last season's training camp, will also be back to compete at nose tackle, but without any guarantee of how he will play. He is aging and is in the final year of his contract.
Soliai is huge. He is listed at 6'4" and 355 pounds. It is hard for opposing offensive lines to move the big load he is when they try to run his way.
Right now, however, the Broncos and other potential suitors, such as Miami and San Francisco, find themselves handcuffed by their attempts to lock up the marquee quarterback of 2012's free agency, superstar Peyton Manning.
The Broncos will likely be bidding with teams such as the Chiefs, Colts, Patriots and Falcons in addition to the 49ers and Dolphins. This situation will likely drive up Soliai's price tag, which I expect to be around $14 million for this season. Soliai will also be looking for a long-term contract that will extend beyond 2012.
However, I think for the Broncos to pay for a top-notch centerpiece on the defensive line is the right thing to do. The Broncos have to be able to call on their defensive leader on the line to make a stand in goal-line situations or on fourth-and-short to take the ball out of the opposing team's hands.
Soliai doesn't have off-field issues. He isn't in the news for some stupid comment. He is a blue-collar guy with a huge stature that is a game changer. He is that guy to change the attitude of the defense on the front lines. The Broncos need to get it figured out right now by making him a sizable offer.
Figuring out the future on the defensive line would also save a draft pick in April in a draft that isn't front-loaded with quality talent at defensive tackle.
Now, on to the topic of Brandon Meriweather.
I am a little wary of bringing in Brandon Meriweather to bolster the safety position, where the Broncos started two rookies last year at times when all-pro veteran Brian Dawkins was hurt.
Besides rookies Rahim Moore and Quinton Carter, the Broncos have David Bruton who played just average defense last year when called upon. The key for the Broncos will be to add a player with about three to four seasons of experience, and who isn't on the verge of retirement.
Brian Dawkins has not made up his mind whether he plans to play in 2012, which has spurred the Broncos to find some extra help (and depth) at safety in case Dawkins retires, or is injured and cannot finish the 2012 season.
The Dawkins injury was a crucial blow to the Broncos late in 2011 when they needed the defense to play their best. It was at a critical point where the Broncos were trying to win the AFC West. Despite "backing into the playoffs" and losing three games straight to close out the year, the Broncos made it to the playoffs with little help from the defensive secondary.
High-octane passing offenses carved up the beat-up and over-matched Broncos secondary with alarming effortlessness.
Notwithstanding the Broncos' safety needs, Meriweather is not the kind of player who can help the Broncos. At the end of training camp last season, Meriweather was cut by the New England Patriots. The Bears signed him after his release, but he didn't really help the team.
His stats were pedestrian for the Bears, and he was only active for 11 of 16 games. Despite his lack of playing time, he still managed to rack up $45,000 in fines for illegal hits on defenseless players.
I think passing on Meriweather would be a wise choice for Denver.