2012 NFL Free Agency: Kyle Orton Signing Places More Urgency on Running Game
March 14, 2012

Jamie Squire/Getty Images
As expected, the Dallas Cowboys refused to place themselves in the hands of an unproven starting quarterback next season.
According to ESPN's Adam Schefter, Dallas has reached a three-year contract agreement with Kyle Orton, 31, who will play second fiddle to starter Tony Romo. Orton is precisely average as a starting quarterback, at least with respect to wins and losses, but still has enough arm and experience to warrant a degree of trust from any NFL franchise as a backup.
I could always see the difference between a pass thrown by Romo and another tossed by former backup Jon Kitna.
Don't get me wrong, Kitna can still throw a pretty nice pass, but it's not quite starting quality anymore. There is definitely a difference in velocity at the very least. Orton should be more comparable in arm strength to Romo, but there will be a drop-off if, in fact, Orton sees playing time in 2012.
So it would be wise, especially amidst the talk of adding cornerbacks and pass-rushers this offseason, to start strengthening this leaky offensive line which surely has some changes coming. The question is: How many and will these be enough?
Simply put, the Cowboys have to become a better running team on a down-by-down basis. This is a simple fact that will not go away.
No matter who is lining up under center, a strong rushing attack is necessary to maintain control of the game.
Romo can win games with lousy pass protection and there's numerous examples of this. But it would be completely inappropriate to assume that Orton can do the same.
The good news is that if the run blocking improves you can just about bet that the pass blocking will improve as well.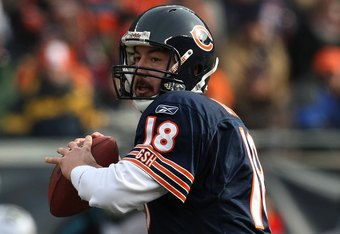 Jonathan Daniel/Getty Images
Not so much because of Orton, but it might be wise to draft another tackle in April if the Cowboys feel that Doug Free would be better suited moving inside to right guard. There is no question that Free is better suited for guard than Kosier and this might be the time to consider a longer future at this position.
Orton can win some games if needed, but not so long as Dallas keeps on facing so many third-and-long situations.
There was some question as to whether or not Dallas would spend the kind of money necessary to land a credible veteran like Orton in the wake of the $5 million penalty imposed by the NFL this week against the 2012 salary cap. You will see the shortages elsewhere both because of the penalty and the need for a pricey veteran.
In 1993, the defending Super Bowl champion Cowboys signed veteran starter Bernie Kosar mid-season following his release from Cleveland.
The reason?
To back-up Troy Aikman, period.
Kosar would end paying huge dividends for Dallas as he ended up having to relieve an injured Aikman in the NFC Championship Game later that season. Kosar's 42-yard touchdown strike to wide receiver Alvin Harper probably re-wrote history as it was apparent that the 49ers were gaining some momentum.
Point is this: Owner Jerry Jones will always pay the freight for a veteran backup quarterback.
And is it possible to imagine that Orton might be the last veteran quarterback to backup Romo. The three-time Pro Bowler will be 34 by the end of Orton's contract and it will be time to start preparing for the future if it is not figured out already.