NFL Free Agents 2012: 5 Moves Dallas Cowboys Must Make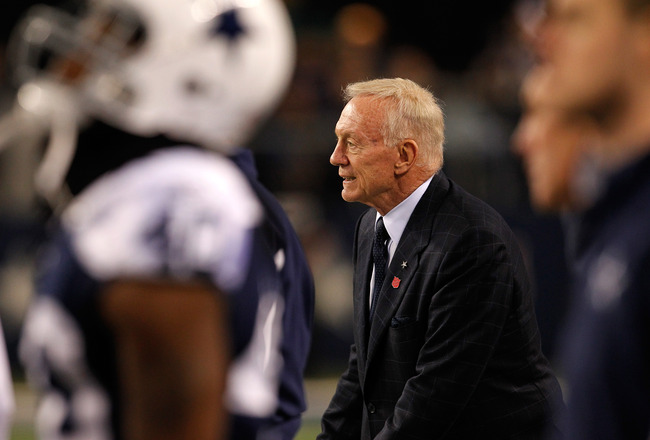 Tom Pennington/Getty Images
The Dallas Cowboys are trying not to get too caught up in all this free agent frenzy.
They already made a deal today with cornerback Brandon Carr to be their shutdown corner and are surely interested in making a few other moves before the free agency period ends.
Here are five players who must have the Cowboys' attention and should be signed as soon as possible.
Tracy Porter, Cornerback, New Orleans Saints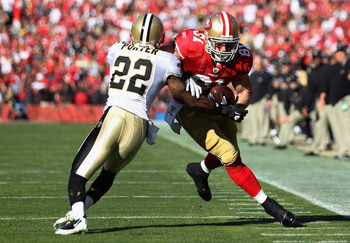 Jed Jacobsohn/Getty Images
The more the better at cornerback for the Cowboys. Even though they just signed former Kansas City cornerback Brandon Carr to a five-year deal, they still have holes to fill at the position.
Whether they look that direction in the draft or in free agency, it would be best for the Cowboys to make another move for a player in the defensive backfield.
Tracy Porter has shown he can play multiple sets with the Saints. He had 52 tackles and one interception in New Orleans last year, and he could make the Cowboys secondary instantly better with his and Carr's additions.
Paul Soliai, Defensive Tackle, Miami Dolphins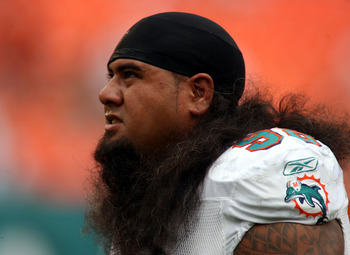 Marc Serota/Getty Images
Jay Ratliff has been a fantastic nose tackle for the Cowboys for the past few seasons, but what the defense really needs is a space-eater to fill the gaps. Rob Ryan would be smarter to move Ratliff to the end spot in the 3-4 scheme—he has the quickness to be successful there.
Bringing in a guy like Soliai (who is a massive 6'4", 355 pounds) to fill in at the nose guard position would be just what the doctor ordered. Bolstering the front line with both Soliai and Ratliff, along with Jason Hatcher, would easily improve the 'Boys run defense.
Making a play for any defensive lineman with size should be in the Cowboys' best interest.
LaDainian Tomlinson, Running Back, New York Jets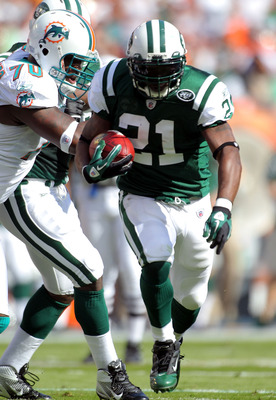 Marc Serota/Getty Images
Why not?
I could see this deal happening simply because the Cowboys always seem to end up thin on the depth chart at running back toward the end of the season. Demarco Murray and Felix Jones are very talented and exciting backs, but they have had issues staying healthy.
The future Hall of Famer would not see very many carries barring injuries to Murray and Jones, but if they could sign him to a low salary he could become a contributor to the backfield.
Jerry Jones has been known to take a few chances on aging veterans who are past their prime (see Zack Thomas and Keith Brooking). Plus Tomlinson went to school at nearby TCU and grew up in Waco, Texas.
A welcome home parade should be in order for one of the greatest running backs in recent memory.
Ben Grubbs, Guard, Baltimore Ravens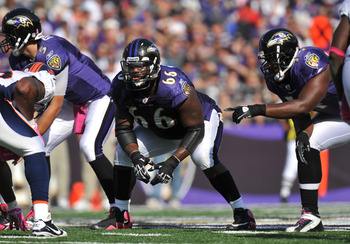 Larry French/Getty Images
It may not be very likely that the Cowboys shell out the dough for an interior offensive linemen in free agency. They already picked up Mackenzy Bernadeau from the Panthers in free agency to compete for playing time at the guard spot, but still are in need of a big name, everyday starter.
With Carl Nicks already off the market (he signed with the Buccaneers), the next logical choice would be Ben Grubbs. Now that Nicks is off the market, the most highly sought-after interior lineman in free agency is Grubbs.
It may not work out in the Cowboys' favor as Grubbs may not be in their price range, but it would be smart to go after him. Grubbs has made 70 starts for the Ravens in the past five seasons and has more experience than anyone on the current Cowboys offensive line.
London Fletcher, Linebacker, Redskins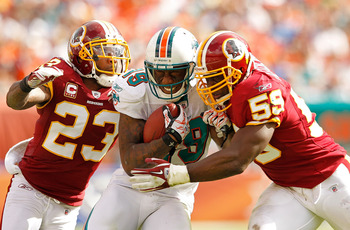 Mike Ehrmann/Getty Images
He is getting up there in age, but when has that ever stopped Dallas from pulling the trigger on a guy?
Fletcher had a monster year in 2011 leading the NFL in tackles at the ripe age of 36. Yes, the Cowboys are loaded at inside linebacker, but Fletcher does what a linebacker should do best: tackle.
He could follow in the same path as some other aging linebackers such as Keith Brooking and Zach Thomas. This is a guy who the Cowboys hated seeing on the other side of the ball the past five seasons, and it would be smart to get him on their team.
The last time Fletcher had less than 100 tackles in a season was 1999, his second year in the NFL. Fletcher seems like a low-risk, high-reward player for any team who takes him.
Keep Reading

Dallas Cowboys: Like this team?