NFL Rumors: Ranking Best Fits for Free-Agent RB Michael Bush
March 14, 2012

Ezra Shaw/Getty Images
With Marshawn Lynch, Ray Rice and Matt Forte all staying with their respective teams this offseason, Michael Bush is arguably the best running back on the free-agent market.
Lucky him.
Bush been used mainly as a sidekick to Darren McFadden in his time with the Oakland Raiders, but he stands to gain a starting job out on the open market, and it sounds like he's going to have plenty of options.
On Wednesday, ESPN's Adam Schefter shared Bush's plans for the next couple days:
Raiders free-agent running back Michael Bush is visiting Chicago today and is scheduled to meet with the Bengals on Monday.

— Adam Schefter (@AdamSchefter) March 14, 2012
So we know the Bears and Bengals are interested, and we can presume to know that the Raiders are interested in bringing Bush back. The question now is where Bush fits best.
Here's how I rank his suitors.
4. Tampa Bay Buccaneers
Before you ask, Bush does not have a visit lined up with the Buccaneers, who have already been very active in free agency.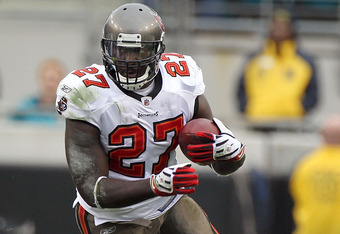 Sam Greenwood/Getty Images
I'm including them on this list primarily because Ira Kaufman of the Tampa Tribune basically begged the Bucs to sign Bush back in February, arguing that he would provide the "proven depth" the team needs behind LeGarrette Blount.
My retort: Why on earth would Bush want to go back up LeGarrette Blount?
For that matter, why on earth would the Bucs want to sign another powerful runner to back up the one they already have? It makes far more sense for them to sign or draft a speedy, play-making threat that they can use alongside Blount. As it is, Blount is better suited for backup duties than starting duties.
In short, I'm of the mind that Bush would be a totally lousy fit for the Bucs.
3. Chicago Bears
On the Bears, Bush would be a sidekick to Matt Forte, much like he was McFadden's sidekick in Oakland.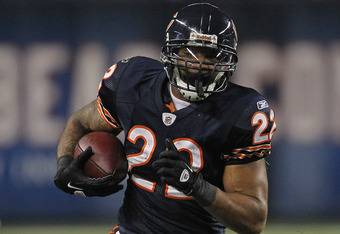 Jonathan Daniel/Getty Images
This duo would give the Bears a pretty outstanding rushing attack, but there likely wouldn't be a whole lot of work for Bush in Chicago. The Bears would want Forte out on the field as much as possible, and let's not forget that they traded for Brandon Marshall on Tuesday. He's going to open up all sorts of opportunities for Jay Cutler and Chicago's passing attack.
Given the other pieces that are already in place, Bush would be a third wheel in Chicago. He'd stand to gain a starting job if he signed a multi-year deal and then watched Forte walk, but he'd be rolling the dice with that expectation.
Bush can do better.
2. Oakland Raiders
We have to include the Raiders on this list simply because this is where Bush is coming from.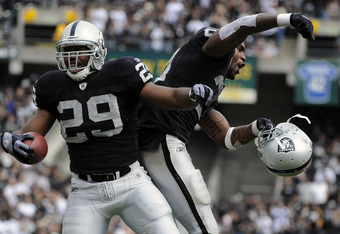 Thearon W. Henderson/Getty Images
In late February, Steve Corkran of the Contra Costa Times tweeted that the odds were not good that Bush would end up back with the Raiders, and that's due in large part to the fact that the Raiders have a lot of work to do to get under the salary cap.
Despite the fact they probably won't be able to bring Bush back, the Raiders still qualify as a good fit for him. He and McFadden form one of the best running back duos in the NFL, with McFadden as the lightning and Bush as the thunder. When the two of them are rolling, the Raiders are a hard team to beat.
So, if Bush feels like taking a pay cut, he'll know the Raiders would be glad to have him back.
1. Cincinnati Bengals
It's looking more and more like the Bengals have no interest whatsoever in bringing back Cedric Benson. If they were to sign Bush instead, they'd be getting a younger runner with plenty of upside.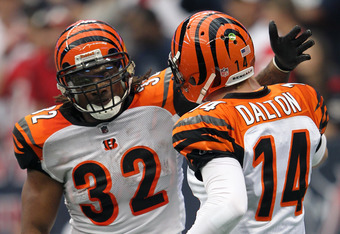 Jamie Squire/Getty Images
Put simply, the Bengals would be upgrading.
Bush would likely be used in much the same way Benson was used. His job was to pick up all the tough yards, and he did it well. When Benson was rolling, Cincinnati's offense was a lot harder to contain. Bush could easily do exactly what Benson did, and then some.
If Bush wants a starting job (what running back doesn't?), Cincinnati is the place for him. Unless they draft somebody, Bush would be the Bengals' starter by default.
In addition, the Bengals are a team on the rise. Playing for them is a golden chance for Bush to play on a winner.