NBA Rumors: 5 Contenders That Don't Need Deadline Deal
Sam Greenwood/Getty Images
There's not a lot to not like about the way the Heat have played this season.
Fans that have been closely monitoring the upcoming NBA Trade Deadline know all too well which teams are actively involved in potential trades—big and small—as it approaches.
The Lakers, Clippers, Bulls and Celtics are all teams that have been frequently mentioned in trade rumors. Some will finalize deals and some will not.
A better questions is: Do these teams actually need to make deals?
Some teams, such as the Celtics, who have a front court ravaged by injuries and two aging stars with expiring contracts in Ray Allen and Kevin Garnett are in obvious need of some player movement.
Yet there are others who may not even need the high-profile trades they seem to be so doggedly pursuing. There are also teams who aren't mentioned in numerous trade rumors who have good reason not to be searching for big player personnel changes.
Who doesn't really need a trade?
Begin Slideshow

»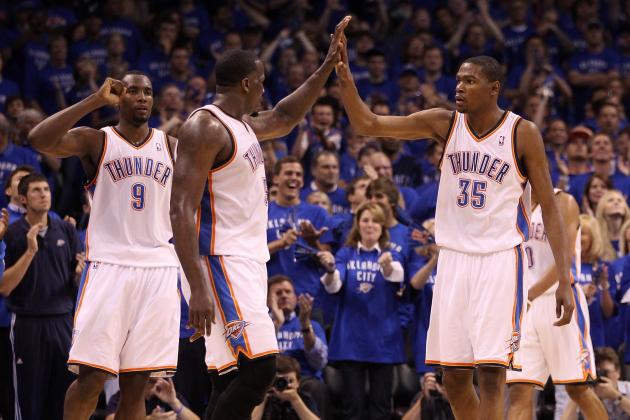 Christian Petersen/Getty Images
Kevin Durant and the Thunder have reason to be content with their team right now.
Odds are if you've got the second best record in all of basketball and the best record in your conference, then your team can't have too many major problems.
That's the case in Oklahoma City this season as Kevin Durant and Russell Westbrook have guided their team to an impressive 32-10 record.
The Thunder aren't an unbeatable team, but they've got all the needed ingredients to win a title. The question for the Thunder is: Can the players on their team, the same players who have gotten them to their current record, continue to play at a high level in the postseason even if the pace of the game slows?
The Thunder love to get up and down the floor and score easy baskets. That's not always quite as easy in the postseason. It's a problem that doesn't have a "quick-fix" solution via trade. The solution is probably one that requires its young star players to gain experience and discipline. Unless the Thunder can trade for a time machine, then they'll likely stand pat at the deadline.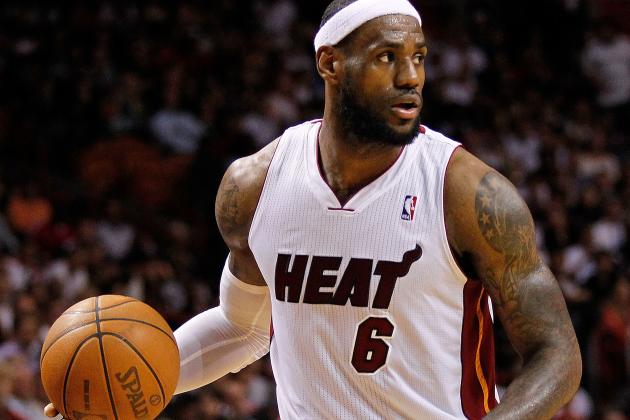 Mike Ehrmann/Getty Images
LeBron and the Heat look poised to make another run at a ring.
When LeBron James came to Miami, he famously declared that he and the Heat would win multiple titles.
As of now, he and the Heat would be thrilled with one. Last season, Miami made it all the way to the Finals. The team struggled to gel during the regular season, but then proceeded to tear through the Eastern Conference Playoffs and advance to the Finals.
In the Finals, they ran into a determined Dallas team that won the series in six games.
The Heat look even better and more focused this season. One could nit-pick at the roster and probably declare that the team has some areas that could use strengthening. Given what's out there and the salary cap, it's probably unrealistic, and it's also quite possibly unnecessary.
The Miami Heat as comprised currently are plenty good enough to win an NBA title. The greatest obstacle to that title is probably the mental strength of the players themselves. Toughness is taught, not traded for.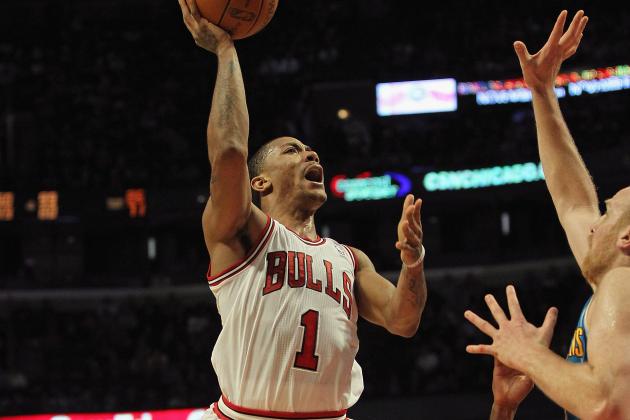 Jonathan Daniel/Getty Images
Derrick Rose and the Bulls are aiming high this postseason.
The Chicago Bulls are having a season vaguely reminiscent of the last one.
What does that mean?
It means that the Bulls have the best record, not just in the Eastern Conference but in the entire league. It means that Derrick Rose is once again having a fantastic season, proving he's one of the best young point guards in the league.
They hope it doesn't mean that they lose in the Eastern Conference Finals again.
Bulls coach Tom Thibodeau was recently quoted as saying he's quite happy with the current state of the Chicago Bulls.
"We're more than happy with the roster that we have. We feel very good about that." -ESPN Chicago 3/8/12
This team was very close to making the finals last year, so Thibodeau may very well be right.
Could a deadline deal make the Bulls better? Maybe. However, to suggest they absolutely need one might be a bit of a stretch.
Mike Ehrmann/Getty Images
Tim Duncan would love to make one more run at a title.
Tim Duncan, remember him?
Oh sure, he's slowed down a bit as he's advanced in age, but it's worth mentioning that arguably the greatest power forward in NBA history is not found in Springfield, Massachusetts, not yet anyway. That's because he's still playing basketball for the San Antonio Spurs.
He's pretty good and the supporting cast that surrounds him is fairly reminiscent of the cast that won the NBA title in 2007. Tony Parker is still at point guard, and Manu Ginobili is still instant offense. Greg Popovich is still the head coach too.
The Spurs have had some injuries this season, but through it all they're sitting pretty with the No. 2 seed in the Western Conference right now.
It's hard to add new players to a crew of successful veterans.
The Spurs need to keep their veterans as rested as possible and, more importantly, be healthy. If they do that, then a trade probably isn't that critical.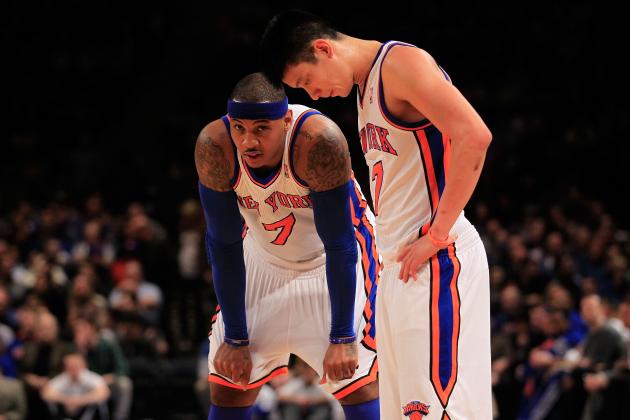 Chris Trotman/Getty Images
The Knicks greatest problems have nothing to do with their roster.
The New York Knicks?
Aren't they 18-24 and on the outside looking in from the postseason right now?
Yes, yes they are.
One could debate whether the Knicks are a "contender." In their current state, they most certainly are not.
The roster, however, is not the problem due to the fact the roster is pretty good. Carmelo Anthony is in the midst of career worst season, but he's not a bad player by any stretch of the imagination. Amar'e Stoudemire is also a pretty good option.
Steve Novak is the type of dead-eye shooter that kills double-teams in a playoff series. Jeremy Lin might be too young, but Baron Davis isn't. Plus didn't Tyson Chandler just play a critical role on a championship team less than a year ago? This team has size, depth and athleticism.
The New York Knicks need a lot of things. One of them—a change in leadership—just took place less than an hour ago. A trade is not an essential part of what the Knicks need.
Can the Knicks win an NBA title with the current roster? It's not out of the question, although they may have dug themselves too deep a hole to accomplish that this year.