Brandon Jennings and Monta Ellis Will Form NBA's Most Dynamic Duo
March 14, 2012

Jonathan Daniel/Getty Images
Brandon Jennings and Monta Ellis will form the NBA's most dynamic duo for the Milwaukee Bucks.
The recent trade that sent Ellis to Milwaukee to pair him in the backcourt with Jennings has made the Bucks much more explosive on offense and has a good chance of helping the team rise in the playoff standing from their current position as the eighth and last team in.
There are very few other duos in the league that could compare to this duo has far as being dynamic on the offensive side of the ball.
Both are scorers who can do a bit of distributing at the same time. Ellis will help take the pressure off of Jennings, who at times has had to bear too much of the offensive load on his own.
Ellis has proven he can play with another backcourt scorer during his time with Stephen Curry in Golden State and that he can have success doing so.
With two scoring combo guards on the floor, the rest of the team will be able to space out and hit the open jumpers that are sure to follow.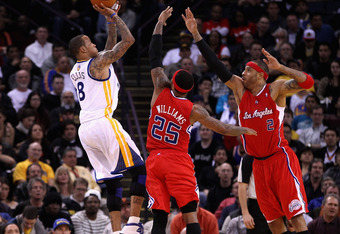 Ezra Shaw/Getty Images
Shared Pressure
A lot of pressure has rested on Jennings as the guy to carry the franchise to wins. While he can do that at times, he's still too young to really be able to that much on his own.
Ellis helps share that burden and give Jennings another offensive option to lean on that is better than any he has had so far in his short career.
This way, Jennings does always have to be on and can count on Ellis, an offensive juggernaut, to help him out.
No man is an island, especially in the NBA.
Everyone needs help and now Brandon Jennings has his.
Bulky Stats
Whether or not Jennings and Ellis can maintain their current levels of production together remains to be seen, but it seems likely that they can.
Ellis knows how to share the ball with another backcourt scorer from his time with the Warriors.
If that is the case, they will make a duo that is the best offensive duo statistically in the NBA. When you add up their current per game stats, it is mind-blowing.
Right now, it equates to 41 points and 11.7 assists per game. Each guys also pulls in around 3.5 rebounds per game, which is solid for guys who are only 6'3" (Ellis) and 6'1" (Jennings).
Both guys also shoot around the 80 percent mark from the free throw line and average 1.5 steals per game.
Taking all these stats into account, it's tough to find a duo better-rounded than these two in all categories.
This move will help the Bucks get higher in the playoff seeding. They are still a relatively-young team, so they may not contend for the big stuff just yet, but they will have a good shot with these two in the coming years.
For now, all we can do is sit back and watch a fantastic new duo and the fireworks they'll produce.