John Carlson to Minnesota Vikings: Deal Analysis, Grade and Twitter Reaction
March 14, 2012

Otto Greule Jr/Getty Images
The Minnesota Vikings have one of the NFL's young and emerging tight ends in 2011 second-round pick Kyle Rudolph, but that didn't stop them from making a splash at that position on the second day of free agency. 
According to Adam Caplan of The Sideline View, the Vikings agreed to a five-year, $25 million contract with free-agent tight end John Carlson. The deal includes $11 million in guarantees.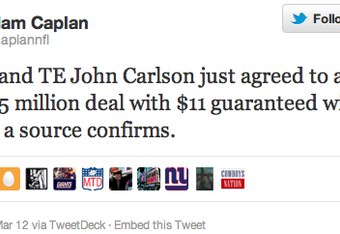 The move is somewhat surprising, considering Carlson missed the entire 2011 season with a shoulder injury and the Vikings already have a player who expects to get starter snaps next season in Rudolph. 
But as Minnesota continues to build around second-year quarterback Christian Ponder, finding another pass-catching tight end apparently was on the Vikings' priority list, especially considering long-time starter Visanthe Shiancoe is expected to leave in free agency.
The Vikings also use two-tight-end sets frequently, and the NFL in general is starting to shift more toward the position.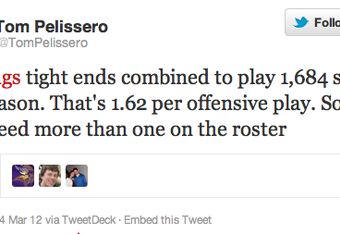 A former Seattle Seahawk, Carlson caught more than 110 passes and had 12 touchdowns during his first two seasons in the NFL. An injury-plagued 2010 season saw his production drop, and a shoulder injury before 2011 robbed him of the entire season.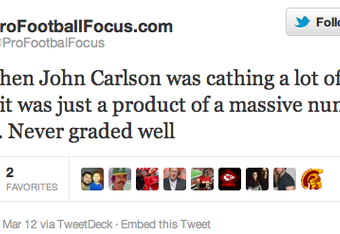 As an unrestricted free agent, Carlson received interest from several teams, including the Kansas City Chiefs and Indianapolis Colts.
Interestingly enough, Carlson grew up in the state of Minnesota and attended Notre Dame—two things he'll share with Rudolph, his new tight end teammate with the Vikings. In the end, playing for his hometown team could have persuaded Carlson to pick Minnesota over other suitors that may have been better opportunities.
Overall, the Vikings likely overpaid for a player that has been underwhelming in his career and may possess injury issues. But if healthy, Carlson and Rudolph present the Vikings a solid tight end duo to helps Ponder progress.
While not a sexy move by any means, it is certainly one that makes the Vikings offense better for 2012.
Grade: B-